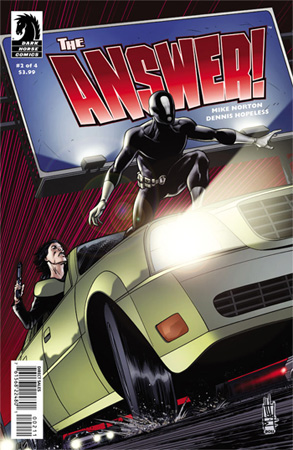 When The Answer! #2 starts, The Answer is being attacked by what look like hospital workers. Devin is taken by a group of people in a limo who claim to work for an organization called the Brain Trust. They were impressed by Devin's intelligence on the puzzle ball website and want to recruit her.
Note: This recap may contain spoilers!
They explain to her that they were rescuing her from The Answer, who is seen as a terrorist by the media, believing that Devin was his hostage. Meanwhile, The Answer has managed to evade his attackers and follows the limo.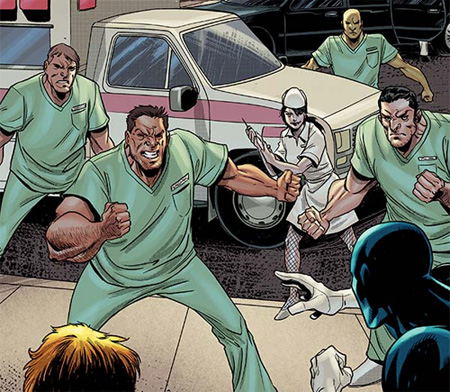 The Brain Trust convinces Devin to work for them, even though she doesn't trust them, and captures The Answer, saying that he is ill and will get help. Devin is taken to the Brain Trust facility and given access to books, computers, and anything else she would desire. However, since she is so smart, she knows that everything the Brain Trust said was a lie, but she really didn't have a choice. On the other hand, The Answer is in more immediate danger as he seems to be in a very bad psychiatric hospital. It's probably one owned by the Brain Trust and where their enemies are put and kept out of the way.
I feel that this issue really picked up its pace. At some points you do doubt that The Answer is actually helping Devin, but you realize it's a little too convenient that the Brain Trust showed up. I also liked how you got to see more of The Answer being funny. He reminded me of Spider-Man and Deadpool, with his quips and sense of humor. Devin is also very good in this issue. She is afraid of what's going on around her, but she will fight back to save her life and she even cares about what happens to The Answer, even if she did call him "a spandex-clad male power fantasy". I'm very excited to see what happens next issue. I have no idea how The Answer will get out of that hospital or how Devin will get out of the Brain Trust, but I can't wait to find out.