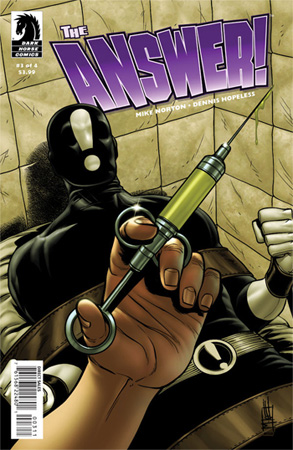 At the opening of issue three, Devin has changed her mind about the Brain Trust, mostly because of the great food. Soon, she's given a wonder drug that makes the brain move faster, so that the people working for the Brain Trust can figure things out faster.
Note: This recap may contain spoilers!
The leaders of the Brain Trust say that the drug is safe, but I find that highly unlikely. Earlier, Devin had seen that another person at the Trust, Kara, has been rebelling against taking the drug. Kara was carted away and others called her paranoid. Devin forgets about Kara until Kara jumps her and ties her up.
Meanwhile, The Answer is in a bit of a bind as he is tied up and about to be attacked by someone he had previously fought, who is now an orderly at the Trust. The Answer gains the upper hand but, unfortunately for him, the orderly is able to turn off The Answer's muscle control with a lovely device thought up by the kids in the Trust.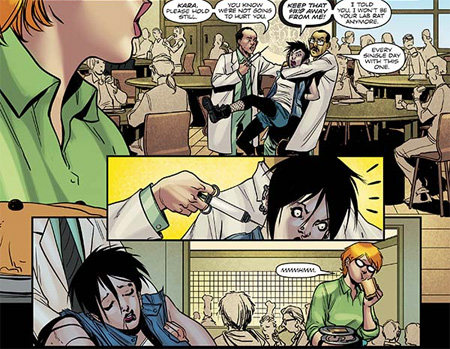 Kara is explaining things that happen with the "wonder drug" to Devin while some inmates help The Answer gain control back of his body, which doesn't happen as quick as the superhero would like. Soon though, Devin and The Answer meet back up, while Devin explains how she helped break Kara away from some orderlies. She demands answers from The Answer, but before he can explain, someone else shows up and says he can explain everything.
I really liked how Devin was able to be roped into the trappings of the Brain Trust, despite her earlier misgivings. It makes her seem more relatable since the place gave her a creepy feeling, but the Trust seemed to be an okay place after some time (and drugs). The Answer continues to make me laugh with his quips and comebacks. I'm very interested to see how it ends, and I hope it continues in another series, as I don't quite know how they'll be able to wrap everything up in the next issue.