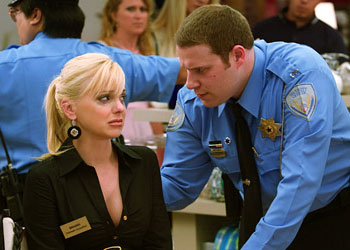 Something hit me while watching Seth Rogen and Anna Faris' dark new comedy, Observe and Report, this past weekend: comedies are getting more violent. Not that "violence" hasn't been a large part of comedy on film in the past-no, there's a long history of violence being used for comedic effect in cinema. Even before the invention of film, slapstick was being used to lighten the tone of serious religious plays in England and to entertain the masses in American vaudeville houses nationwide. Other infamous examples of America's love affair with "violent" comedy include Buster Keaton and Charlie Chaplin's silent films, the antics of the Three Stooges, and even Saturday-morning cartoons like Looney Tunes and Bugs Bunny.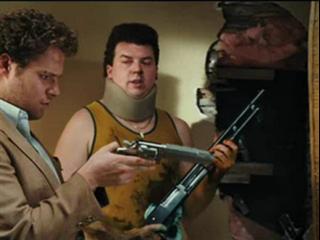 Traditional slapstick films generally include five major characteristics:
Pain without significant consequence
Impossible situations
Confusing zoom angles and speeds
Editing that casts events as even more unrealistic than they may already be, and
Wacky extradiegetic sound effects.
Clearly, films like Tropic Thunder, Pineapple Express, Burn After Reading, or Observe and Report (a short list of recently released movies that immediately come to mind when I think of "black comedy") fall outside the realm of "traditional" slapstick comedies (whereas contemporary movies like Home Alone and Scary Movie follow its definition more closely). I would argue, however, that these films can find their origins in the good 'ol slapstick comedies of the pre-talkie era. The major difference between slapstick and black comedies is the relationship of each to violence. Where characters in slapstick comedies never bled (that would have upset the sensibilities of many audience members of the time) and might end up with a bandage or two from time to time, characters in black comedies are put through much more gruesome and bloody tortures, although the consequences of such are never as realistic as they should be.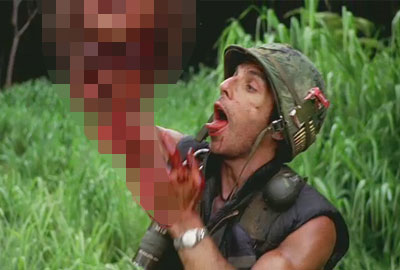 But before we get too far in our discussion of black comedies' origin in slapstick, we must answer an important question: what is a "black comedy"? Many modern moviegoers assume an implicit knowledge of this genre based solely on viewing experience, however black comedies are defined by some surprisingly specific characteristics of which the average viewer may not be entirely aware. Black comedy is considered a sub-genre of comedy that treats typically taboo subjects as humorous or satirical. It is the introduction of generally taboo subjects-most often rape, murder, suicide, war, terminal illness, abuse, insanity, disease, and/or crime-that tends to drive down those all-important box office numbers. Take the short list of gross U.S. box office figures1 and taboo subjects compiled for the black comedies previously mentioned as an example:
Tropic Thunder ($110 million) – mental retardation, war
Pineapple Express ($87.3 million) – murder, drug trafficking, organized crime, substance abuse
Fargo ($24.6 million) – murder, kidnap for ransom
Burn After Reading ($60.3 million) – blackmail, adultery, murder
Observe and Report ($11 million, opening weekend only) – mental illness, alcoholism, rape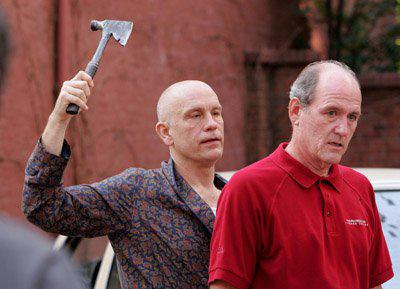 The best example of audiences' condemnation of the very elements of a film that define its genre is the recent controversy sparked by Observe and Report, the story of a bipolar mall security guard named Ronnie Barnhardt and his quest to capture a flasher who frequents the mall parking lot. During the course of Ronnie's "investigation", he ends up in bed with Brandi (Anna Faris), the mall makeup-counter girl of his dreams. The controversial aspect of the scene involves the fact that Brandi clearly is not only intoxicated, but is also drugged up while Ronnie has sex with her. Despite Brandi's response to Ronnie's inquiries as to whether she is alright ("Why are you stopping, motherfucker?"), the scene has been touted as one that makes light of the serious issue of date rape. While I do not condone date rape, or any form of rape for that matter, the joke is clear enough: Brandi is such a whore that even when she is too intoxicated to know who she is having sex with she's still down for the ride, so to speak. Of course, such a stereotypical characerization raises a whole other set of issues regarding the treatment and construction of female characters in film, but that's a discussion for another forum.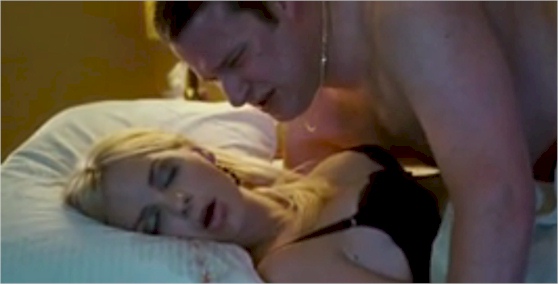 While some may look at such scenes and argue that the tone or subject matter of black comedies is fundamentally different from the types of situations and relationships examined by slapstick black-and-whites, closer examination may reveal more similarities than differences. Charlie Chaplain's films serve as a good example of these similarities: for instance, take his 1931 film City Lights, which explores the implications of class differences through the lens of a romance between two street urchins. Another example is Chaplain's 1936 film Modern Times, which interrogates the changes that took place during the industrialization of the U.S. and the implications this movement had on the average U.S. Worker. Similarly, modern black comedies like those listed above also take a comedic look at serious issues-fatal consequences of murder, greed, and human nature in Fargo, for example, the deadly ramifications of blackmail and adultery in Burn After Reading, and bipolar disorder and the result of prescription medication abuse in Observe and Report.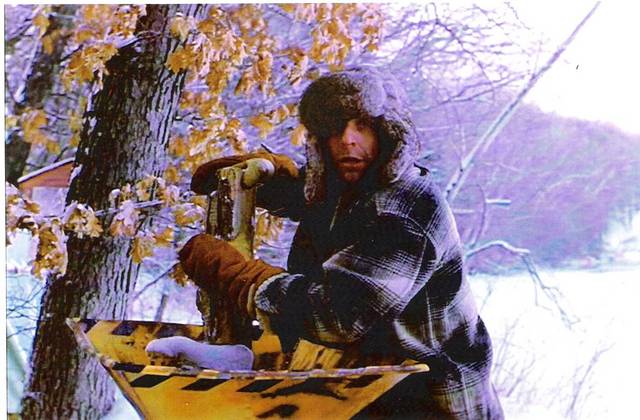 Although audiences are reacting positively to the addition of the type of violence and gore traditionally seen in thriller, slasher and horror films (Saw, Hostel, etc.), their taste for black comedies hasn't quite matured yet. Inevitably there will always be a subset of people who find the genre's lighthearted or comedic take on issues like rape, murder and crime to be offensive, but based on the trends seen in the frequency of black comedy releases over the past five years, it is likely that audiences will be given many more opportunities to hone their comedic taste. For the moment, we won't expect any surprises at the box office.
1Does not take inflation into account in generation of gross U.S. Box office figures; courtesy of IMDb.com