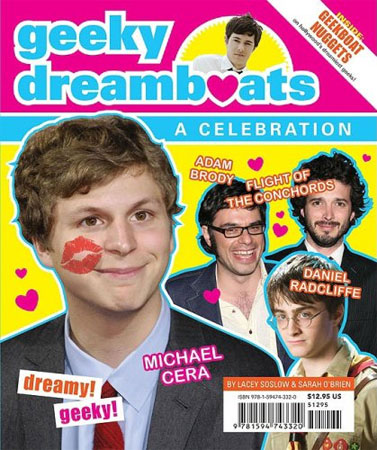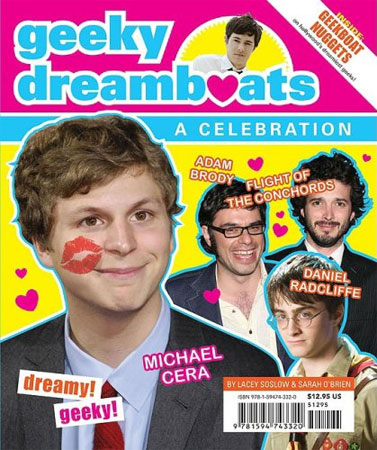 From Lacey Soslow, the vice president of the Philadelphia chapter of the Michael Cera fan club (yes, there's a Michael Cera fan club and yes, it has multiple chapters… yeah, we know…), and author/editor Sarah O'Brien comes yet another intriguing release from independent book publisher Quirk Books: Geeky Dreamboats: A Celebration. Released this past May, Geeky Dreamboats features over 50 of the geekiest guys that Hollywood and the music industry has to offer. For each geeky dreamboat, Lacey and Sarah provide basic information, including birthday, astrological sign, and nationality, as well as fun facts and a blurb description of why each geeky dreamboat was included on this relatively short list.
Lacey and Sarah's writing is both lighthearted and witty, befitting of a book that celebrates geeky dreamboats like Michael Cera and Matthew Broderick while channeling the feeling of teen magazines like Tiger Beat and Teen Beat. The "geekboat meter" that the authors use to rate each of the stars included in Geeky Dreamboats is also a cute way of calculating each of the guys' geek factor. As someone who enjoys a geeky boy as much as the next girl, I was overjoyed to encounter this quirky little book (at only slightly larger than 6″ x 5″, the book is practically pocket sized), and decided to test Sarah and Lacey's geeky boy choices against my own. Basically, Geeky Dreamboats would receive my personal five-star rating if the following five actors were included: 1. Shia LeBeouf (Transformers, Transformers: Revenge of the Fallen); 2. Topher Grace (That 70's Show, Spider-Man); 3. Justin Long (Live Free or Die Hard); 4. Seth Rogen (Pineapple Express, Observe and Report); and 5. Zachary Levi (Chuck) were all included.
Much to my surprise, four out of the five actors listed above are included in Geeky Dreamboats, the exception being Zachary Levi of the NBC show Chuck. Despite this omission, I was pleasantly surprised to find several other actors that I had not expected to be included, including John Cusack (1408, War, Inc.), Mark Ruffalo (13 Going on 30, Zodiac), Simon Pegg (Shaun of the Dead, Hot Fuzz), Edward Norton (Fight Club, The Incredible Hulk), and Luke and Owen Wilson.
Overall, Geeky Dreamboats is a fun book to have around when friends come over, as it certainly will incite some interesting arguments about the geek factor of actors like Elijah Wood or the dreaminess of someone like Sacha Baron Cohen. Geeky Dreamboats: A Celebration is available from Quirk Books at www.irreference.com.
book review
,
edward norton
,
john cusack
,
justin long
,
luke wilson
,
mark ruffalo
,
matthew broderick
,
michael cera
,
owen wilson
,
Quirk Books
,
Seth Rogen
,
shai lebeouf
,
simon pegg
,
topher grace