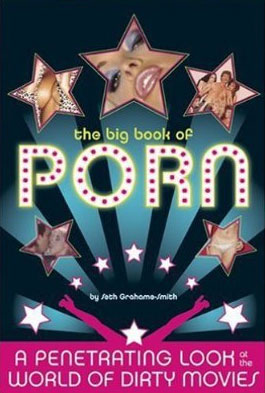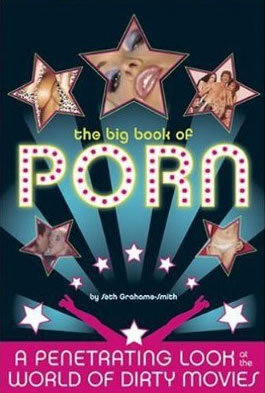 "A sort of funny, encyclopedic look at the porn industry. Kind of like the history of it, the weirdness of it—the different cultures and countries behind it." – Seth Grahame-Smith on The Big Book of Porn: A Penetrating Look at the World of Dirty Movies
Now that Seth Grahame-Smith has become a household name due to the popularity and success of the author's latest mash-up novel, Pride and Prejudice and Zombies (a New York Times Bestseller since its release this past April), it's time to introduce Seth's new fans to some of his previous work, including a fantastic book published in 2005 by Quirk Books titled The Big Book of Porn: A Penetrating Look at the World of Dirty Movies.
It's logical to connect the development and proliferation of porn with that of the cinema, but as Seth Grahame-Smith's book, The Big Book of Porn: A Penetrating Look at the World of Dirty Movies (2005), illustrates, pornography is actually the culmination of myriad influences and events ranging as far back as Johann Heinrich Schulze's 1727 discovery of silver nitrate's ability to darken when exposed to sunlight (a discovery that ultimately led to the invention of photographic plates, photographic paper, and, in turn, photography and eventually motion pictures). The Big Book of Porn details the development of pornography from the inception of film through porn's Golden Age (the 1970s) and on to pornography's explosion with the Internet age.
But The Big Book of Porn offers much more than a simple history of the development of pornography as we know it (whether we admit it or not) today. In fact, Grahame-Smith's book will allow even the most naive of readers to become something of an expert on the various areas of pornography. The Big Book of Porn walks readers through twenty of pornography's greatest classics-complete with descriptions, cast lists, directors and even fetishes covered-and five of the industry's modern classics (not including Pirates, which was released in 2005, the same year The Big Book of Porn came out), while also providing an intimate look at some of the best known leading ladies (and men… yeah, Ron Jeremy) of porno, including Annette Haven, Ginger Lynn, Marilyn Chambers, Tera Patrick, and Jessie Jane as well as a brief glimpse of some well-known porn directors. For readers unfamiliar with pornography, Seth Grahame-Smith provides a guide to twenty of the largest genres of pornography (no longer will you be unfamiliar with the term "gonzo" or miss out on the joke when someone mentions "Hentai").
But that's not all that The Big Book of Porn offers. It also comes equipped with a glossary-so don't worry if you don't have a working knowledge of "corsetting" or "docking", Seth's got you covered with a far-reaching list of terms and definitions-an extensive list of pornography resources (because Seth knows that someone like you wouldn't have any idea where to find information on porn… other than in his book, of course), a list of annual porn-related events across the country, and even a list of 300 interesting porn titles (our favorites being Pulp Friction and Battlestar Orgasmica… yeah). For more information on The Big Book of Porn: A Penetrating Look at the World of Dirty Movies, head on over to Quirk Books Web site, http://www.irreference.com. I highly recommend you take a peek at this valuable tome of titillating information, even if you don't tell anyone that you did.
Overall rating: A