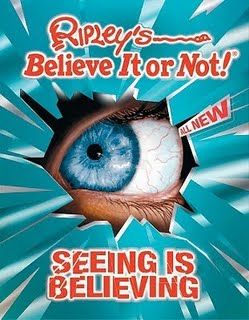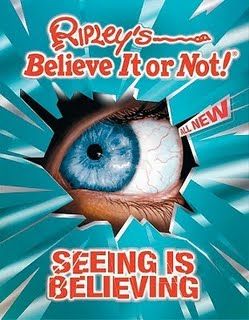 Title: Ripley's Believe It or Not! Seeing Is Believing!

Publisher: Ripley Publishing
Release Date: August 4, 2009
Seeing really is believing with the Ripley's Believe It or Not! book. I have always been fascinated by the oddities and rarities on display at the different actual locations I've been to. The weird is fascinating and mind boggling, but what do you do if you don't live near or can't visit one of the Ripley's Believe It or Not! locations? Pick up this book of course! It has everything you would expect from its namesake, such as animals with extra appendages to things you may not see, like tattoos on the eye, and covers the entire world of oddities from your back door to the other side of the globe.
The cover, if you will excuse the obvious pun, is eye catching. I have leafed through the book several times now and each time I find something new to catch my eye. This isn't the kind of book you read from cover to cover once. Personally I like to open it up to a random page and start exploring from there. The colors are bold and instantly draw you in and before you know it you've spent and hour and a half flipping through pages reading about the weird and mysterious.
The pictures come with informative blurbs about each of them, and I found that on many of the subjects I would have liked more information, but really you could devote volumes and volumes of information on each subject and it still wouldn't be enough to satisfy me. This encourages wonderment and there are other sources if you really want to know the world's tallest woman's favorite ice cream flavor. Ripley's Believe It or Not! Seeing is Believing is a visual appetizer for anyone curious about things outside of the mundane.
No coffee table would be complete without this book, especially if you have ever enjoyed going into a Ripley's location. Like the exhibits you will find there, every time you look in this book you will see something new or be astounded again. The world is full of the unique and the bizarre and this tome has all of those things in one place for you. While some of the pictures may be a bit graphic for the youngest kids, this book is appropriate for all ages. While the colorful pictures and very notable cover is probably aimed at a younger crowd don't pass this book up if you get the chance to check it out.