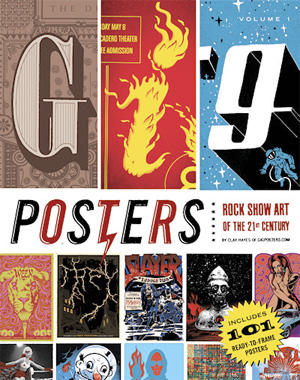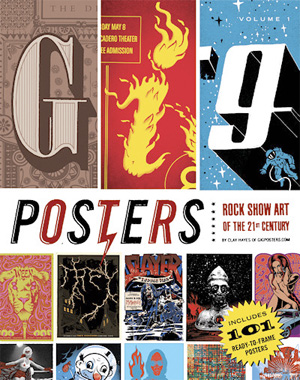 Another exceptional release from independent publisher Quirk Books (Pride and Prejudice and Zombies, The Big Book of Porn) hit stores on June 1 — Gig Posters Volume 1: Rock Show Art of the 21st Century. Perfect for any coffee table or dorm room bookshelf, Gig Posters Volume 1 includes posters from rock shows featuring hundreds of artists, including Radiohead, Sonic Youth, Snow Patrol, The Decemberists, The Black Keys, Minus the Bear, Flogging Molly, Beastie Boys, Arcade Fire, Death Cab for Cutie, New York Dolls, and The Hold Steady, to name just a few.
Organized by designer/artist, each page of Gig Posters Volume 1 features information about the artist as well as his or her insights on influences, methods and mediums, as well as motivations for doing what they do. Perhaps the best feature of Gig Posters Volume 1 is that each of the pages in this 11″ x 14″ book are perforated, making it a fantastic source of over 100 colorful, eye-catching, ready-to-hang rock posters.
Each of the posters featured in Gig Posters Volume 1 originates from Gigposters.com, a Web site that has been the Internet's first and best resource for concert art since 2001. The massive Gigposters.com database features over 100,000 posters from 8,000 different designers and Gig Posters Volume 1 highlights the best examples from that collection. Written by Gigposters.com founder Clay Hayes, Gig Posters Volume 1 features artists including Rob Jones, made famous by his work with The White Stripes, The Decoder Ring, house artists for Modest Mouse, and Tara McPherson, whose artwork has been featured in various media such as Spin magazine and the popular movie Juno, as well as links to more information on and artwork by each of the featured designers.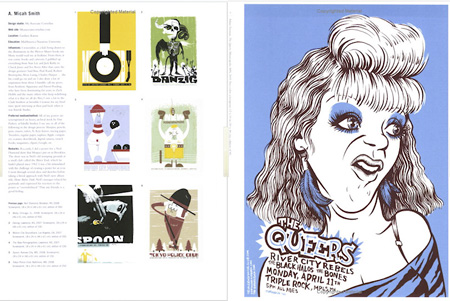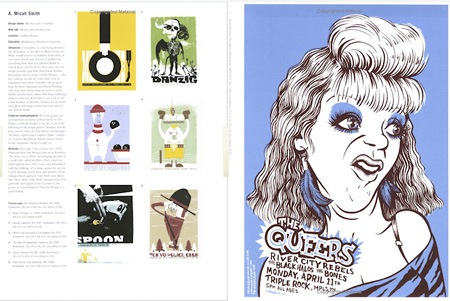 So for any of you who have ever admired one of the many rock posters that appear outside local concert venues, plastered to the walls of warehouses and abandoned buildings, take the time to check out Quirk's Gig Posters Volume 1: Rock Show Art of the 21st Century. Guaranteed to be a conversation starter (or a cheap way to decorate a dorm room or apartment), Gig Posters Volume 1 is available for just $40.00 from various vendors. We highly recommend picking up a copy — you won't be disappointed.
__________________________________________________________________________________
Quirk Books is an independent book publisher based in Philadelphia that was founded in 2002. Quirk Books publishes books in the genre of what they like to call "irreference" (irreverence + reference), as well as pop culture, parenting, food and drink, history, humor and lifestyle. Quirk Books also is the official publisher of author Seth Graheme-Smith, whose latest release, Pride and Prejudice and Zombies, has been on the New York Times bestseller list for 11 weeks since its release in early April of this year. For more information, or to purchase any of the titles released by Quirk Books, visit www.irreference.com.
Arcade Fire
,
Beastie Boys
,
book review
,
Deathcab for Cutie
,
Flogging Molly
,
Gigposters.com
,
Minus the Bear
,
New York Dolls
,
posters
,
Quirk Books
,
Radiohead
,
rock
,
Snow Patrol
,
Sonic Youth
,
The Black Keys
,
The Decemberists
,
The Hold Steady
,
The White Stripes