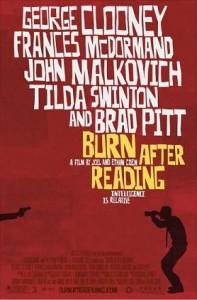 Burn After Reading
Starring: George Clooney, Frances McDormand, John Malkovich, Tilda Swinton, J.K. Simmons, Richard Jenkins, and Brad Pitt
Written and Directed by: Joel and Ethan Coen
SYNOPSIS: A burned out CIA Analyst, Osborne Cox (Malkovich), quits the agency and opts to drown his sorrows in booze while writing his memoirs. When Cox's wife Katie (Swinton) conspires to leave her husband for Harry Pfarrer (Clooney), she digs up dirt on her husband for her divorce lawyer by saving it on a CD along with Osborne's memoirs. Through a seemingly ridiculous set of circumstances the memoirs end up in the hands of Chad and Linda (Pitt and McDormand), a pair of gym employees of questionable intelligence who attempt to make a profit from Osborne's memoirs. What transpires next is a chain of events so confusing and bizarre that even the CIA can't even figure out what's going on!

ANALYSIS: After The Coen Brothers finally earned Oscar gold with No Country For Old Men, it seems natural that they would go back to the genre that earned them a cult following. Burn After Reading is definitely a worthy addition to their list of bizarre dark comedies, but I fear that something may be missing from this one.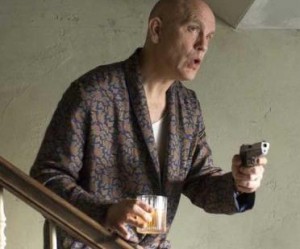 In their comedies Raising Arizona, Fargo, The Big Lebowski, O Brother Where Art Thou?, Intolerable Cruelty, and even the Ladykillers, there is a sort of otherworldly lunacy to it with the worlds they created contained inside this sphere of absurdity. The events that occur in these films seem so outrageous that you have no problem laughing when things like brutal axe murders, KKK dance sequences, and rug pissings occur. Burn After Reading feels different in that respect. The characters of this film aren't really as archetypal as those in the Coens' earlier comedies. The characters seem like regular people who find themselves reacting in ways they never would have expected when they are confronted with bizarre situations. By no means am I saying that this is a bad thing; it's just unexpected when you approach it expecting something similar to the Coens' prior comedic endeavors.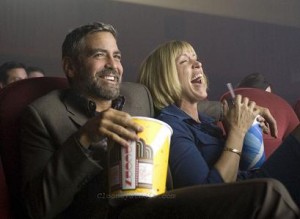 I would definitely say that Frances McDormand's character Linda is the glue that holds this story together, because it is through her that the main story kicks off and the characters reach their destinies. The humorous aspect of her character lies in the fact that her motives stem from vanity on a hilariously pathetic level. She thinks she can blackmail Malkovich's character for money he doesn't have, over information of which she has absolutely no comprehension. For that matter, neither does her friend and cohort Chad (Pitt). They simply think that because this information is from someone who works for the CIA that it must be important. Pitt is absolutely pitch perfect as Chad, a clueless muscle-head whose attempts to wrap Osborne around his finger naturally go to pot and then to hell after he meets George Clooney's character.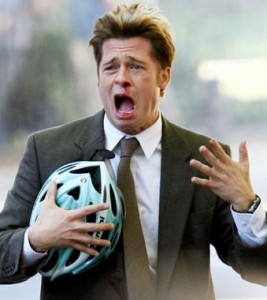 This is definitely a ride where the characters fight for control of the steering wheel, and it actually affects the way we perceive the story. When the movie begins we are confused as to who the main character really is and with whom we are supposed to connect. It isn't until the riotous epilogue that you realize that the character we are meant to sympathize with is the CIA itself! As the CIA Director (J.K. Simmons) attempts to make sense of this whole debacle, it is then that we realize that they are in the same boat we are. It's a brilliant bit of writing from the Coens, which acknowledges how thoroughly ridiculous the film becomes, and it winds up being resolved in a way that says, "Let's just mop this up and pray to God it doesn't happen again." It's that absurdist element that makes the experience of this film rewarding.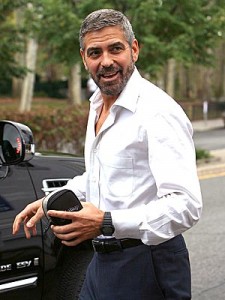 This sort of absurdity is clearly embraced by the cast as their characters attempt to make sense of how they've arrived at their particular positions. Clooney's character becomes increasingly paranoid, and he attempts to take comfort in his relationships with Katie (Swinton), his wife, and ultimately Linda. When all those fizzle out, his inevitable freak-out is totally justified. In a roundabout way, so is Osborne's. Malkovich's performance as the frustrated CIA analyst is total bliss. You witness him swirl down the drain of sanity, and he ends up exploding in unexpectedly grisly ways. The only character who feels like the weak link in the chain is Swinton's character, Katie. Though Katie does kick off the proceedings, her presence in the rest of film seems like an afterthought, and it never really feels like she belongs with the rest of the group. Swinton still delivers the goods, but was the effort truly worth it?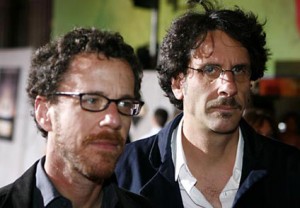 The Coen Brothers still rock the house with their dialogue. I still have Malkovich's line, "You're a Mormon. Next to you, we ALL have a drinking problem," ringing in my ears. They still have the gift to shock us with their words and, more importantly, their stories. The final resolution of the story is indeed an eye opener, and it owes heavily to the chaos into which this story devolves. The thing that doesn't feel right about this one is the cinematography, which is understandable since Roger Deakins was apparently unavailable to shoot this one. That is a shame, because Deakins would have been able to make this feel more like a Coen Brothers movie. Emmanuel Luzbeki's work is fine, but I think it may have been a bit too real for a story this ridiculous. That could be another reason why this films lacks that edge that Deakins' collaborations with the Coens possess.
ESSENTIALLY: Burn After Reading is still a genuine "must" for Coen Brothers fans. It's a wacked out dark comedy, befitting the duo's abilities and repertoire. It just doesn't have that outrageousness which drove The Coens' prior comedies, despite of the sharp cast and direction.
FINAL GRADE: B- (Good Effort)