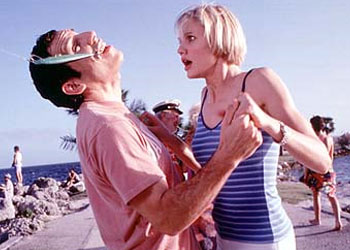 Guys, it's that time again, the time when the wine and dine industries get a little spike in profits. It's also the time when the cast and crew of many romantic flicks get a nice little spike in their residuals. That's right, there's nothing better to cap off a fantastic night of romance than to curl up with your girl to watch a romance, as only Hollywood could deliver. There's just one problem… Many of those films are like going into diabetic shock.
They're so unrealistically sweet that guys are left checking their watches in boredom or worse the paranoia that their masculinity is being threatened by watching this film. Ladies, I know your guys should take one for the team, but if the one they take is the equivalent to being beaten down by the Baseball Furies then he may become a bit disenchanted. Reciprocity and relationships go hand in hand, which is exactly why your Valentine's Day flick should be something that both of you can enjoy. Here is a list of romantic flicks which have something for both XX and XY.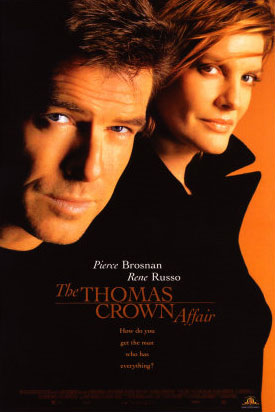 Definitely a more sensual title for the more playful couple. The chemistry between Pierce Brosnan and Rene Russo is steamier than a sauna, and every scene they have together electrifies the screen with intimate intensity. Guys will love the film from the get-go because it starts with a daring museum heist which leads to an insanely sexy cat and mouse romance where you're not sure which is the cat and which is the mouse. You're never sure whethwe Thomas Crown's feelings for Catherine Banning are indeed genuine, and ironically it's vice versa. You really don't know for sure until the last thirty minutes of film.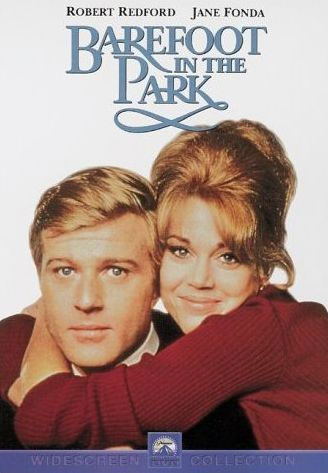 This Neil Simon classic is a must see for any couple who seems to be to complete polar opposites. It's a testament to the idea that in order to sustain a relationship there has to be a balance. Knowing that you love your significant other isn't enough. You have to give something to the relationship. Robert Redford's Paul Bratter is a very reserved, very proper individual, whereas Jane Fonda's Corey Bratter is more fun spirited and reckless. After a hasty marriage and honeymoon, they get off to a rocky start as their respective lifestyles clash. This hilarious comedy teaches every couple the essential lesson that a couple needs to stem the tides with the utmost maturity. Then when the waters calm, learn to loosen up, and have a bit of fun.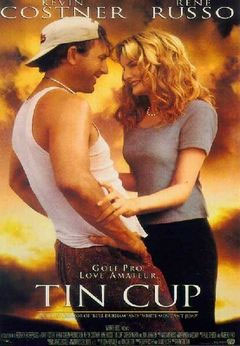 Ron Shelton and Kevin Costner reunite to score a hole in one. Tin Cup teaches us that your ideal love interest is never who you think it is. You discover that the traits one can fall in love with aren't found in wealth or status. Indeed, when Costner's Roy McAvoy falls for Molly Griswold, he tries fighting it, especially when he discovers that she's involved with his egotistical rival. Tin Cup also shows us how potent a force love is when you see that Roy's love for Molly provokes him to take another shot at the pro golf circuit. Ron Shelton is totally in his element with this film and sells a love story to the beer and pizza crowd. At the same time he sells a sports movie to the hearts and flowers crowd.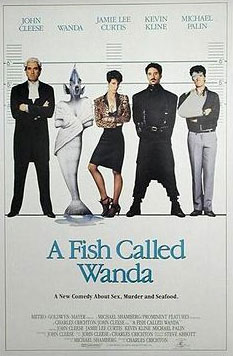 An elaborate jewel heist leads to a double-cross, and the double cross leads to the most bizarre love story ever devised with the most unhinged set of characters. At the center of all the insanity is Jamie Lee Curtis, who attempts to seduce a frustrated barrister played by John Cleese in order to find out where a fortune in stolen diamonds is hidden. Of course this sets off her insanely stupid lover Otto who struggles with his violently jealous tendencies, as he watches Wanda flirt with a foppish Brit. Wanda is an offbeat romantic comedy in every sense of the word. The humor is dark, to say the least. In the course of this film, three dogs die, a tank of fish get eaten raw, and an old lady dies of a heart attack. What's really sick is that all of these gruesome occurrences are insanely funny. The romance of this film is far from usual since the woman enters the relationship for financial gain, and the audience is encouraging the man to cheat on his wife. For all intents and purposes this is a relationship which in any other film would be destined for disaster. In this film it shows that love has a demented sense of propriety, because the conclusion of this film never has us shaking our heads with disbelief.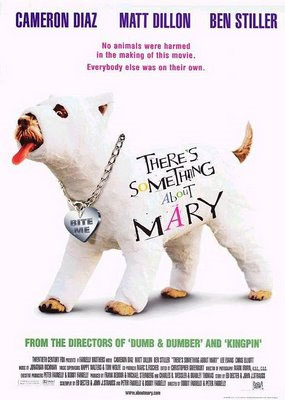 The Farrelly Brothers achieve a terrifying balancing act with a film with a beautiful love story that also happens to be one of the crudest, most shocking, most disgusting romances ever committed to film. The Farrellys give obsession, manipulation, seduction, voyeurism, and mental deficiency a light romantic edge as we see Mary, an all around great gal, become the object of desire for not just two, not three, but an entire army of people. The humor is appropriately sleazy for the Farrellys' repertoire, and that is definitely what has made There's Something About Mary the enduring classic that it has been. However the thing that makes it romantic is that it shows that love can't be gained through deception. Even Ben Stiller's character hits a speedbump in his progress with Mary when he lies about his association with the disgusting Pat Healy (Matt Dillon, who steals the entire movie). The reason Mary chooses him in the end is that he was willing to put his happiness aside so she could be happy. There is a fine line between love and lust, and There's Something About Mary shows us the difference.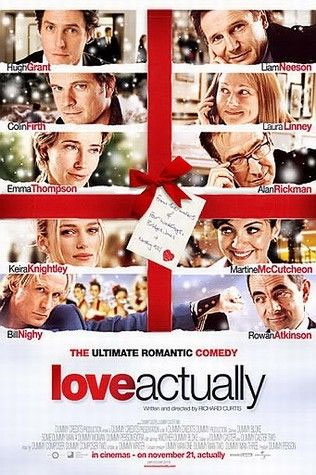 The title of this film screams "chick-flick" but then guys see the first scene featuring burned-out rock star Billy Mack (played with insane glee by Bill Nighy) cursing out to the heavens that he's doing a horrible Christmas cover of a love rock ballad. Then they realize that this isn't going to be a standard boy meets girl movie. As a matter of fact, Love Actually is a collage of stories, all of which show offbeat stories of love in every shape and form. Of course you've got the timid love between Hugh Grant's Prime Minister with his dubiously curvaceous aide. This plot links with a story about a married couple (Emma Thompson and Alan Rickman) where the husband stares into the face of temptation and blinks. Meanwhile, a recently widowed friend of the wife (Liam Neeson) attempts to move past the grief of his wife's passing by helping his young stepson gain the attention of the girl of his dreams. All of these stories could have their
own movie, and they indeed have. Yet all of them are in one movie, and they are intertwined with many other stories which show love in every variation you can imagine. This film is a big favorite with couples because the outcomes of each of these stories are various, and they all reinforce the idea laid down at the beginning of the film that love actually is everywhere. Even the most dimwittedly masculine male can't deny that it's a beautiful thing.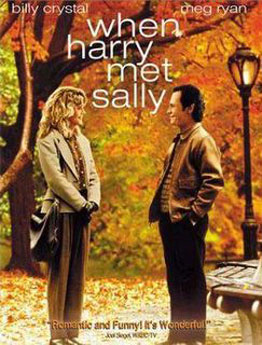 This film dares to throw away all of the superficialities of the standard love story as it debates all the idiocies of modern sexual politics. This film has become a must for every couple because it's written with a sort of aggressive need to deconstruct the laws of attraction and the fallibility of everyone's tendency to only perceive relationships on a surface level. Indeed, many guys feel deflated when it is revealed in the classic diner scene that even though they've got the tools, it doesn't mean they know how to use them. This film dares to ask, "Can two longtime male / female friends stay friends?" The film proceeds to answer the question in a totally non-sentimentalist fashion. Harry and Sally are a pair of friends who have spent years trying to make waves in their respective love lives. They are frustrated that neither can find lovers who truly know them and understand them. We all feel that, and we all look for that individual who we can share all our personal feelings with. When Harry Met Sally tells us not to look too hard. Many times the answer is right in front of you.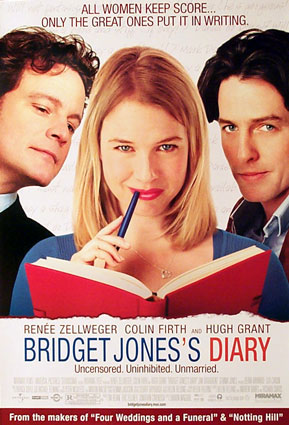 For all you couples who think relationships can be frustrating, guess what? It's even more frustrating to be single! Bridget Jones is the ultimate romantic comedy heroine. Sure, it's easier for women to relate to Bridget's irritations towards the pressures of family and friends to get married and raise a family. The thing is, guys can also find it in themselves to empathize with Bridget, because contrary to popular opinion, women aren't the only ones who are discriminated against for how much they weigh or how they look, and women sure hell aren't the only ones who get perturbed at the constant barrage of nagging from parents who attempt to set you up with blind dates because they think they know what's good for you. Of course, men and women can also mutually relate to the fact that they, like Bridget, don't really know what they want until they get it. After all, we all have these preconceived notions about who we're going to end up with. Miss Jones proves to us that love isn't something you plan for.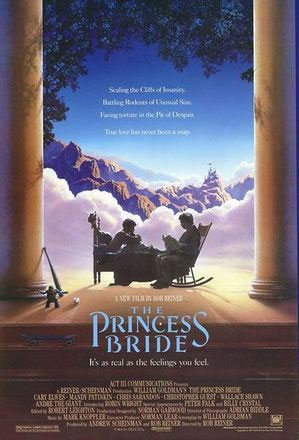 The Princess Bride is the greatest swashbuckling, heartwarming, most inconceivable fairy tale romance with a modern sensibility. This film has so much charm for both sides of the gender spectrum that it's almost impossible to hate this film. With the help of Fred Savage and Peter Falk, The Princess Bride even goes so far as to break the age barrier. The story is relatively simple, and the characters are taken from every classic story that we've ever been told, but it's a common fact that the same story can be told over and over. What matters is the way that the story is told. Rob Reiner's quirky direction combined with William Goldman's sharp script (based on his novel) skews the conventions of the storybook love story with humor that treats the plot points with a sort of deliriously irritated wit. Adding the Greek chorus of the boy and his grandfather involves the viewers by saying exactly what we're thinking all the way through. It also helps us to dispel our tendency to cling to reality as we see the characters fight R.O.U.S's, get resurrected from the dead by neurotic wizards, and terrify castle guards by setting themselves of fire. Then again, the concept of having to put for the effort in enjoying this film is… well… INCONCEIVABLE!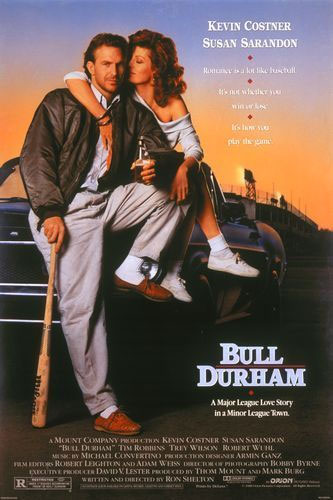 This film isn't just about baseball. This film isn't just about sex. This film isn't just about the love triangle between a hot-headed rookie pitcher, his minor-league veteran mentor, and a philisophical seductress. Bull Durham is a film about three very important things: love, life, and embracing both. This is a film where the lines of gender appeal are totally erased. Men can enjoy the aspects of the film which glorify the love of the game, while the ladies can immerse themselves in Bull Durham's pure, undiluted passion for life in general. Both men and women can revel in the humanistic hilarity brought about by the richly drawn characters. Writer / director Ron Shelton uses baseball as the foundation for a substantial story where the shallow Nuke LaLoosh gets some wisdom about the game and how to love it, while catcher Crash Davis is rescued by Annie from a life of going from town to town alone with his love of the game. We all have things that we're passionate about, and as such we all think that we're alone in our feelings towards those things. Bull Durham is one of most the perfect romances because it reminds us that it is possible to share our passions with other people, whether it be our philosophies, our enthusiasms, or even the way we live life in general.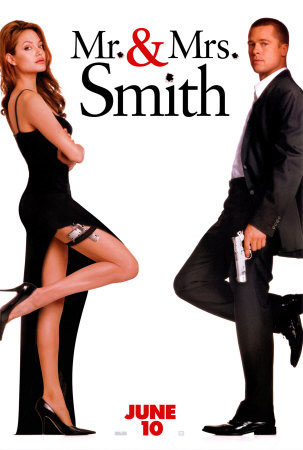 To put it simply, the guys get balls to the wall action and Vince Vaughn being Vince Vaughn, while the ladies get a sexy, steamy story of a marriage that gets a jump-start. Sure, the movie was overshadowed by the tabloid hoopla, but it was worth it to see the sizzling cameraderie between Brangelina and the heat of a wild gun battle that segues into an equally hot make out session… It's PG-13. That's all you get.