Issue: Teen Titans #1
Release Date: September 28, 2011
Writer: Scott Lobdell
Penciller: Brett Booth
Inker: Norm Rapmund
Colorist: Andrew Dalhouse
Letterer: Carlos M. Mangual
Cover: Brett Booth, Norm Rapmund, and Andrew Dalhouse
Publisher: DC Comics
My only real knowledge of Teen Titans came from the show on the Cartoon Network. I had heard of them before, but always assumed the comic was lame since it was just younger versions of the big DC heroes, like Superman and Batman. I was delighted to find out that Teen Titans isn't lame at all and in fact seems to be building towards something amazing along with Superboy.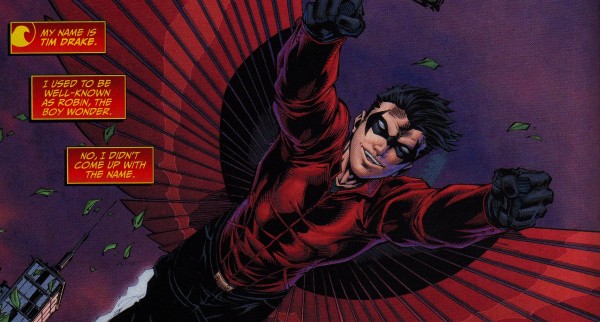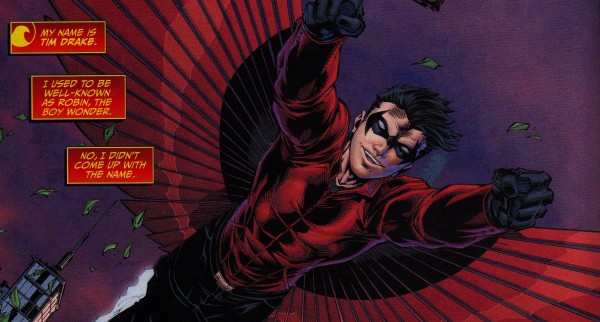 The comic starts with Kid Flash trying to help put out a fire, but making it worse. The news reporter he accosted earlier, trying to gain himself some fame, comments on how metahuman teenagers are popping up everywhere and seem to be causing the world trouble. We are then shown Tim Drake, looking over Kid Flash's latest trouble as well as Static Shock and a few other characters I don't know, but I am sure they will be introduced later. Tim then comes under attack from a mysterious man and his organization, but leaves off of his balcony.
The comic then cuts to Cassie Sandsmark, Wonder Girl, but don't call her that. She comes under attack from someone in the same mysterious organization that just attacked Tim, however Tim arrives and helps her out. He then tells her that the organization will always come after her unless they join up. Unfortunately, the organization's helicopter arrives and attacks them. And in one of my new favorite scenes ever, Cassie changes into her Wonder Girl outfit.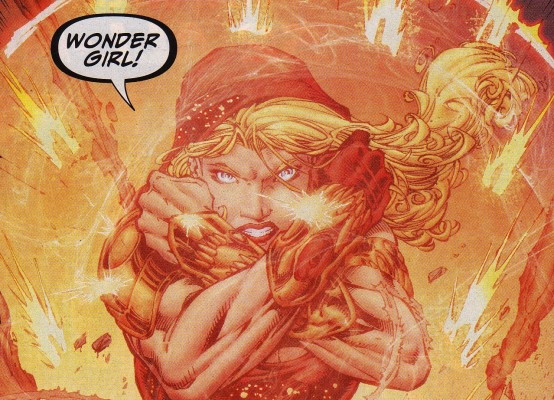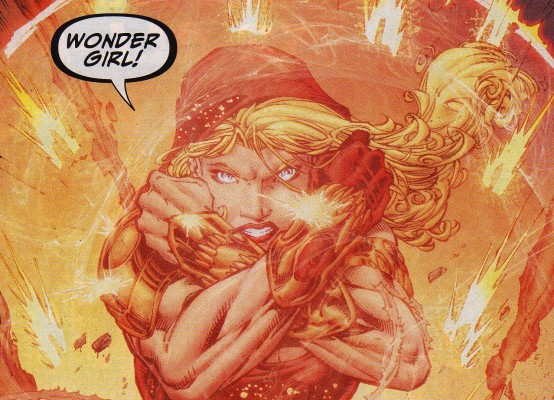 After the helicopter is destroyed, Tim convinces Cassie to work with him. The scene shifts once more to the same ending Superboy #1 had, the man from before telling a doctor that Superboy is being called into action and it sounds like he's going to have to fight the other teenage metahumans.
I really liked Teen Titans. I thought that the story was really interesting and I always enjoy the forming of a new team. I can't wait to see how Tim gets other teenage metahumans to join up with him. I am also eagerly awaiting to see how Superboy goes from fighting the Teen Titans to becoming one. I had never heard of Wonder Girl before, but I'm glad that I have now as she is one of my new favorite characters to watch. I like her attitude and love her outfit. It's always nice to see a female superhero kicking butt. I really enjoyed the art, especially the colors. It was so bright and colorful, which is always nice to see in a comic. I like how Teen Titans fits into the whole DC Universe overall and it'll be interesting to see how actions of the older superheroes effects the younger generation.