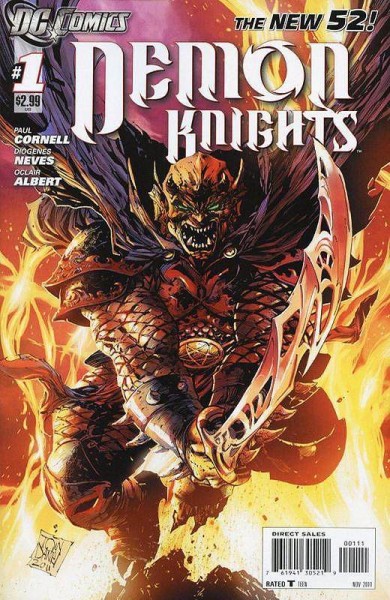 Issue: Demon Knights #1
Release Date: September 14, 2011
Writer: Paul Cornell
Penciller: Diógenes Neves
Inker: Oclair Albert
Colorist: Marcelo Maiolo
Letterer: Jared K. Fletcher
Cover: Tony Daniel and Tomeu Morey
Publisher: DC Comics
Part of the New 52 lineup by DC, Demon Knights is the story of Etrigan the Demon and his companions, Jason and Xanadu. The comic is set in the Dark Ages, but begins at the end of Camelot.
The fabled castle is being destroyed and in last-ditch effort by Merlin, he binds Jason to Etrigan, seeing what will happen in the future. The comic then shifts forward to the Dark Ages, with the Questing Queen marching her army forward, looking for villages to ravage and rule over. She also seems to be looking for something bigger and possibly more dangerous.


We then see Jason and Xanadu, having met up and become lovers and traveling companions, in Little Spring, hoping to find a quite place to have a drink. Unfortunately for them, it doesn't work out that way. We are quickly introduced to more characters that are at a tavern: Vandal Savage, the Shining Knight, Al Jabar, and Exoristos. We also are introduced to one more character whose name (and face) we do not see.

The six in the tavern quickly turn from drinking to fighting when some of the Questing Queen's men barge in and take over the tavern. Etrigan comes to the fore and fights off the invaders, with the help of the others. The Queen's lover, Mordru, senses the battle. So the Queen tells him quickly take action, with one of the funniest lines I've ever read.
Going into this comic, I knew nothing about the characters or the premise, but I don't think that hurt my enjoyment of it. It is a great first issue. It's funny, engaging, and has some nice action scenes. The drawings are amazing; everything has so much detail and color. Every character has a sense of personality and style. I can't wait to see how they interact with each other.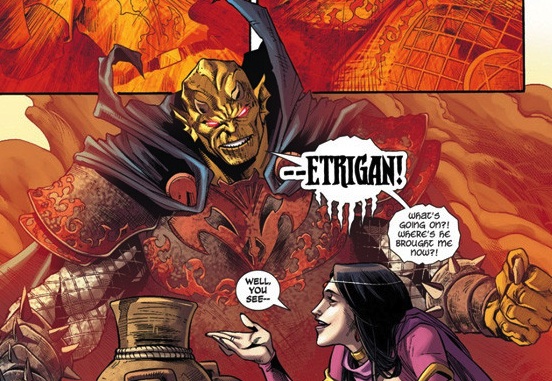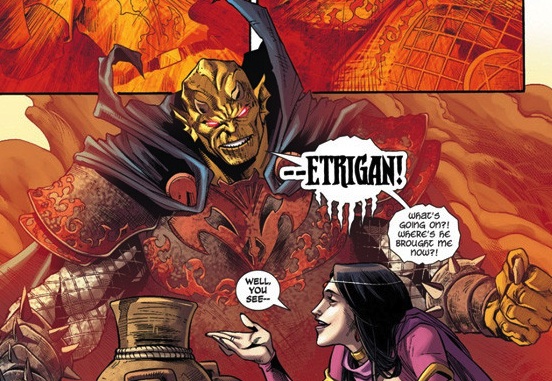 This comic, while set in the DC Universe, has more fantasy elements than others. You can almost forget that the universe will soon be populated with superheroes like Superman and Batman. So, if you enjoy fantasy more than men in tights, then you will probably enjoy this comic.