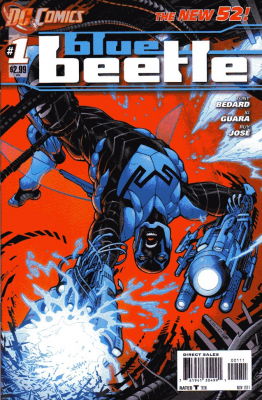 Issue: Blue Beetle #1
Release Date: September 21, 2011
Writer: Tony Bedard
Penciller: Ig Guara
Inker: Ruy Jose
Colorist: Pete Pantazis
Letterer: Rob Leigh
Cover: Tyler Kirkham, Sla Regla, and Nate Eyring
Publisher: DC Comics
Before the New 52, I had never heard of the Blue Beetle. I decided to pick it up, however, because it sounded interesting. This first issue sets up what the scarab is and why it is on Earth. The main character, Jamie Reyes, doesn't even become the Blue Beetle until the very end, leaving it on a huge cliffhanger. The issue begins with an alien world being attacked by The Reach, who commands the scarabs. One particular scarab, Khaji-Da, is headed towards another sector of space, but is stopped by a Green Lantern. Khaji-Da then winds up on Earth. Centuries later, we meet Jamie and his friends at school. One of his friends, Brenda, is having a party, but his parents won't let him attend.
It seems Brenda's aunt is hosting the party and everyone seems to be scared of her. Brenda doesn't even know how her aunt got to be so rich. It seems she is in some shady business as we see her talking to some villains who plan to steal the scarab. However, it seems some other villains got there before them, so both sets of teams have a huge fight. Jaime and his friend, Paco, manage to get in the middle of the fight. Jamie gets the scarab and transforms into the Blue Beetle after it bonds with him.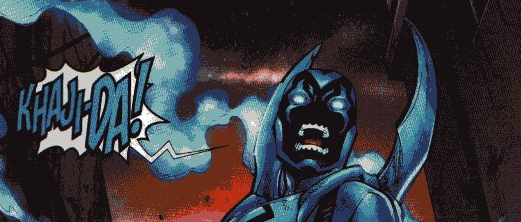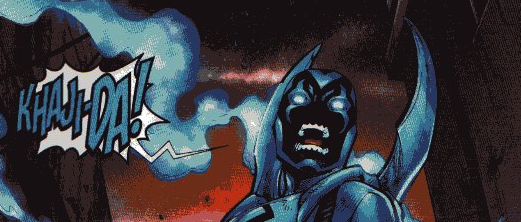 I really liked this comic, especially since it gave a great set up for the rest of the series. I liked how it linked the DC Universe together with not just the Green Lantern, but also the villains. It will be interesting to see if they link it even farther. The art was very good; I loved how Jamie was drawn after he became the Blue Beetle. I'm also interested in seeing how a teenage superhero juggles his family life and his superhero life.