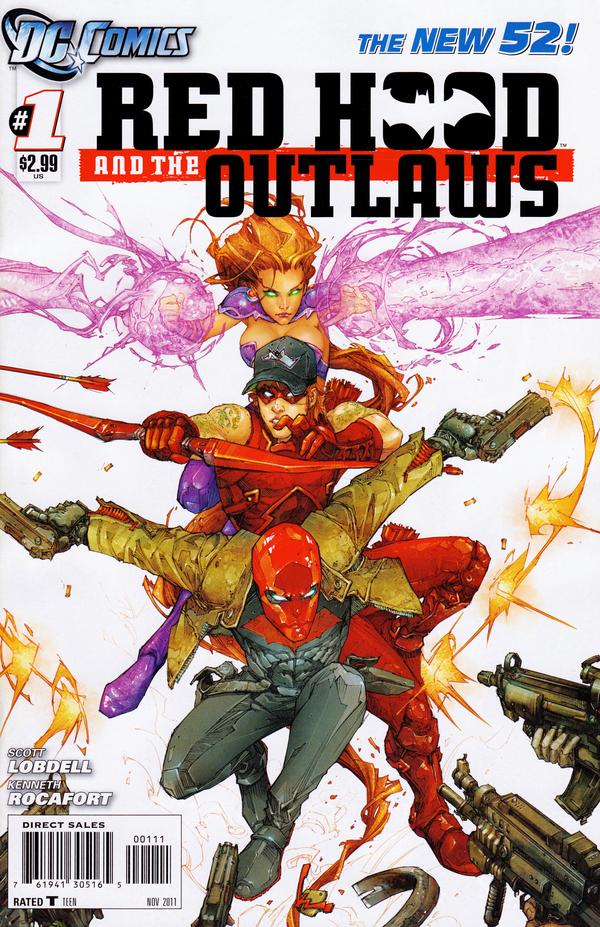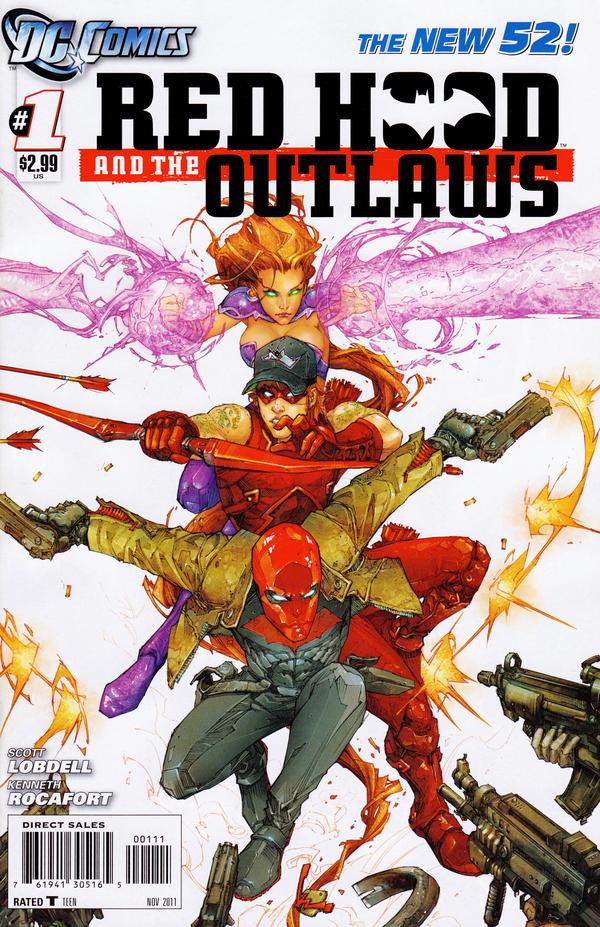 Issue: Red Hood and the Outlaws #1
Release Date: September 2011
Writer: Scott Lobdell
Art: Kenneth Rocafort
Colors: Blond
Letters: Carlos M. Mangual
Cover: Kenneth Rocafort and Blond
Publisher: DC Comics
DC's not only rebooted their comics to the first edition, but they've given Jason Todd his own series. You know Jason: Red Hood, the second Robin, the rejected middle child of the Bat Family, and the best antihero in the Batman mythology. He's leading his own little gang now, comprised of Roy Harper (Arsenal) and Koriand'r (Starfire). They make up a wonderful group and give us the start of what will surely be a great adventure. I know I'm going to be enthralled regardless of where they lead me because it's Jason Todd. I'll follow him anywhere. And to make it doubly fun, every time Jason talks, the voice of Jensen Ackles is reading his lines in my head. Thank you, Under the Red Hood.
We start off the issue with Jason being all social and breaking Roy out of jail in an ingenious disguise. Isn't that nice of him? And he's apparently got a helper by way of Starfire. If you go by just this issue to get a character sketch of her, you'd surmise that she's an alien whose culture doesn't believe in clothes, but they apparently believe in breast implants. If memory serves she wasn't that large before, but I'll try not to dwell too much on it. However, it should be pointed out that Jason did get with her, possibly because he's Jason Todd and he's just that good. On Starfire's side of things, she's lost memories and now pretty much can't tell Roy and Jason apart, so it's a free-for-all on who she'll end up in bed with at any given time.

Jason's gained an invisible friend named Essence. Well, going by the fact that only Jason can see her, I'm going to deem her invisible for the time being. She's come to him with a case about stolen organs that's related to The Untitled. What's a man like to Jason to do? I think you can guess the answer. And while he's busy debating on whether or not to pursue this mission, Starfire's offering to have sex with Roy because she's bored. Is it wrong to admit that I like this amnesiac version of Starfire? Because I do! She's still ultimately powerful and can be a huge help in the trinity that they've set up. And if all else fails, she can be an Internet star thanks to the 11-year-old boy who is taking pictures of her in her bikini and uploading them to fake Facebook. I was a bit creeped out by him, but then again if I was a little boy who was on the edge of puberty and saw breasts that big, my first reaction might be putting them on the Internet, too.
But enough about Starfire, Jason's got a mission. You know when a character vows never to return to such-and-such a place and then always has to go back on that vow? Jason Todd, meet All Caste, you'll see each other again. I have no idea what's going on yet, but I'm very heartened when we end this issue with a perfect Jason Todd line: "Finally, someone to shoot." I've missed Jason so much, with his sense of humor and willingness to kill. I'm very excited for this series!
Rating: 4 / 5 Stars