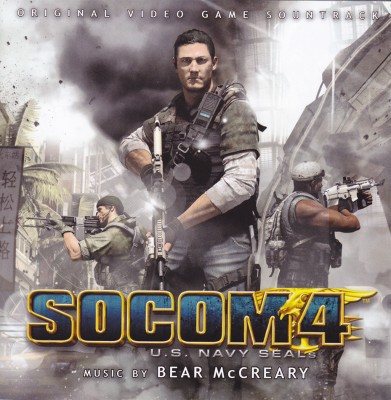 Soundtrack: SOCOM 4: U.S. Navy SEALs
Composer: Bear McCreary
Label: La-La Land Records
Release Date: May 10, 2011
Not being a gamer myself, I will probably never hear this music in its proper context. Nevertheless, when I heard that Fandomania had received a copy of SOCOM 4 for review, I jumped on it because of all the great things I've read about Bear McCreary's work from past Fandomania reviewers — he is the much-touted composer of such genre TV favorites as Battlestar Galactica, Caprica, The Walking Dead, and one of my favorite shows, Eureka. I had pretty high expectations for this soundtrack from the beginning, therefore, and I was not disappointed.
In the video game, players must lead a team through the jungle to fight rebel insurgents and a military commander who is trying to take over a South Asian country. For this reason, "You won't hear patriotic soaring horn lines, or military marches," says McCreary. "Instead, the exotic location and international band of characters are represented by exotic percussion, solo strings and woodwind instruments, and the spectacularly other-worldly tones of the gamelan." It is in fact the orchestration, particularly the use of the gamelan — the collective name for the various types of drums and unique metal percussion instruments as well as the term for the Indonesian ensemble playing them — that makes this such an interesting soundtrack to listen to. The orchestral score is very cinematic and perfectly accessible to gamers and non-gamers alike — you don't need to have any experience with the game itself to appreciate this soundtrack. It has all the elements you'd expect to hear accompanying your basic action movie, with the only difference being that most of the tracks are fast and action-oriented and only a few have slower sections to them. There is also only one main theme that recurs frequently throughout the score, but McCreary has composed a nice melody with a hint of Asian influence that sounds good played by strings, horns, and bamboo flutes alike. This variation in instrumentation and accompaniment when the theme occurs keeps it from being repetitive and boring.
You have two options when it comes to this soundtrack — you can download the 19-track album from iTunes, or you can purchase the two-CD Deluxe Set. Fandomania received the latter, which contains all 19 tracks from the iTunes version plus six more tracks which add nearly forty more minutes of McCreary's great music. The deluxe set also includes a full-color booklet of liner notes from both McCreary and the game's developers, as well as an unspecified "special bonus." Since the CD version of the track called "The Pursuit of Vengeance" is several minutes longer than its iTunes counterpart, however, my guess is that the bonus is the material starting at about the 8 minute mark of the longer track — an awesome old-school video game version of the SOCOM 4 theme music that reminded me very much of Nintendo classics like Ninja Gaiden and Super C from my pre-teen and early teenage years. Only a limited number of deluxe sets are available, so unless you must have the bonus materials you will probably do just as well with the downloadable version. Although the order is different, the tracks are similar enough that the order does not really affect the listening experience, and while the six additional tracks found on the CDs are great, they are not so unique that you miss something by not having them, either.
I can't imagine how this soundtrack fits in with the game, but I'm willing to bet that like any great soundtrack (whether for a game, a movie, or television) it fades into the background because it enhances the atmosphere and action so seamlessly. It seems unfortunate to me that the mark of a great soundtrack composer is the ability to write excellent music that does not stand out. Fortunately, we can get some of these great scores, including SOCOM 4, released as soundtracks we can enjoy listening to for their own sakes. For me, this is definitely a soundtrack that will get its own playlist for future listening and not simply be thrown in to my giant mishmash playlist of background music with so many of the other orchestral soundtracks in my music collection.
Track Listing: iTunes
1. "Theme from SOCOM 4" (4:42)
2. "Countdown" (2:33)
3. "The Pursuit of Vengeance" (7:47)
4. "Leviathan" (4:07)
5. "Onslaught at the Bridge" (3:52)
6. "Turning Point" (3:32)
7. "Battle for Control" (3:36)
8. "Gold Team" (3:14)
9. "Fluid Dynamics" (8:06)
10. "Naga Formation" (3:32)
11. "Means to an End" (4:32)
12. "Clawhammer" (2:20)
13. "Razad's Tarocco" (3:48)
14. "Revelation" (3:31)
15. "Gorman's Orders" (4:12)
16. "The Fortress" (2:08)
17. "Passing the Mantle" (4:24)
18. "Clawhammer's Betrayal" (3:45)
19. "Holding the Trigger" (2:26)
CD 1
1. "Theme from SOCOM 4" (4:42)
2. "Countdown" (2:33)
3. "Naga Formation" (3:32)
4. "Gold Team" (3:14)
5. "Clawhammer" (2:20)
6. "Razad's Tarocco" (3:48)
7. "Rendezvous in the Mountains" (3:36)
8. "Clawhammer's Betrayal" (3:45)
9. "Revelation" (3:31)
10. "Leviathan" (4:07)
11. "The Flooded Fields" (6:26)
12. "Turning Point" (3:32)
13. "Fluid Dynamics" (8:06)
14. "Gorman's Orders" (4:12)
CD 2
1. "Onslaught at the Bridge" (3:52)
2. "Passing the Mantle" (4:24)
3. "Safehouse" (5:06)
4. "Means to an End" (4:32)
5. "Uninvited Guest" (6:08)
6. "Benefaction" (6:47)
7. "White Tiger" (3:34)
8. "The Fortress" (2:08)
9. "Battle for Control" (3:36)
10. "Holding the Trigger" (2:26)
11. "The Pursuit of Vengeance" (10:19)
Rating: 4 / 5 Stars