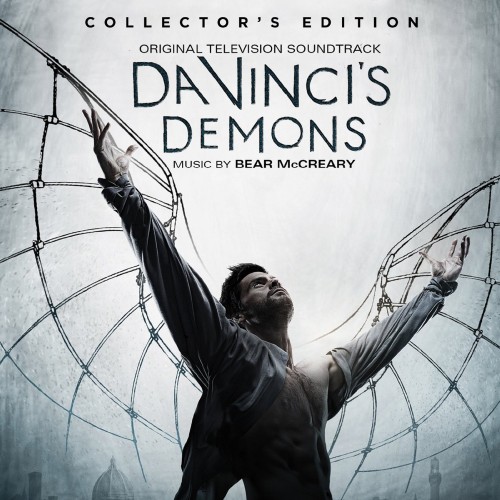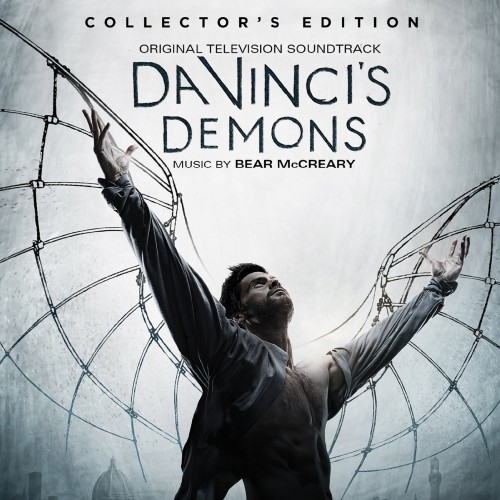 I have not yet heard a Bear McCreary soundtrack that I didn't like, and Da Vinci's Demons is no exception. McCreary, whose current work for television includes The Walking Dead and Marvel's Agents of S.H.I.E.L.D., has managed to create a soundtrack in which Renaissance Italy meets Action Hero Movie for the period drama that aired on STARZ. This collector's edition soundtrack includes 30 minutes of bonus music that was not on the original soundtrack released last May.
The soundtrack starts off with McCreary's Emmy-winning Main Title Theme, which could easily be mistaken for something out of a movie and I think it would definitely succeed in pulling me in to the show if I heard it on television. This main theme is also the motif used for Leonardo himself, and recurs throughout the soundtrack in various guises and instrumentation. I really enjoyed hearing the wide variety of music on these discs — it is an excellent blend of old and new sounds. Most of the time, McCreary reminds us of the setting by adding in Renaissance instruments alongside the modern orchestra and electronic music, lending it flavor without sounding like the listening anthology for a Renaissance music history text. Not that that's a bad thing, however — some of my favorite tracks are the ones that sound authentically Renaissance and could quite easily be mistaken (by me, anyway) for Dufay or Josquin or any of those other guys in the aforementioned music history textbook.
Voices are an important part of the instrumentation as well, which is unsurprising considering the importance of vocal music in da Vinci's time, particularly in the church. Vocal tracks range from simple Latin chants to more elaborate choral works, but almost all use typical Renaissance harmonies and patterns. One of the most interesting of these is "Easter Mass," where the simple, unison chants are heard over a very modern, driving accompaniment of mostly strings and synthesizer.
If you are a Bear McCreary fan, you will enjoy this soundtrack. If you like Renaissance music with a modern twist, you will enjoy this soundtrack. If you are, like me, both a music history nerd and a Bear McCreary fan, this soundtrack is a must-have. If you already bought the first soundtrack, well, I can't help you there — I've only heard this edition, so I can't speak to the amount of value added by the 12 additional tracks. Then again, it's 30 more minutes of great Bear McCreary music — how could you pass that up?
Rating: 5 / 5 Stars