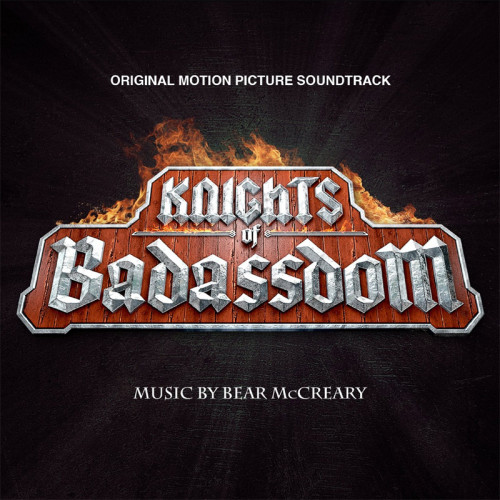 Bear McCreary, the composer of Knights of Badassdom's soundtrack, would like you to think he was inspired. Here's how he describes his process: "In the darkest hours of a cold winter night, I read a script chronicling adventurous LARPers, an evil curse, a disgruntled heavy metal singer, wizards, warriors and the Hell Lord Abominog. As I read, my musical imagination filled with soaring bagpipes, drop-tuned distorted guitars, double kick drums, blaring horns, dulcimers and ethereal vocals — everything I love about music in one epic score."
So it's all about over-the-top baddassery with this effort, which makes sense considering the source material. McCreary never passes up a chance to push it over the cliff. He takes the reliable tropes of heavy metal, infuses them with the necessities of symphonic movie score composition, and smashes your soul with the metal!
A great example is the track "The Kingdom of Eliphaz," a ditty set in ¾ time (of course) that conjures images (see what I did there? I used the word "conjure" to make you think of mages and wizards and whatnot) of Scottish Highlands with its bagpipes and kilts and warrior princesses and immortal highlanders and junk. But the distorted guitars also lend an epic feel to the track as well. And just when you thought it couldn't get any more epic, McCreary throws in the most epic of epic heavy metal tropes: the progression from slow, powerful ballad-like tempo to over-the-top kickass tempo, and back again.
"Your Heart Sucks My Soul" lives up to the title, being more in the tradition of thrash metal, what with the double bass and the palm-muted guitar power chord triplets and all. Then there's "Joe's Power Ballad." Again, the name says it all. A guitar driven power ballad that alternatively conjures images (there I did it again. See that? You thought of wizards, didn't you?) of an aspiring head-banger composing ditties in his bedroom on the one hand, and big-haired arena rockers overindulging onstage on the other hand.
"Demonapes" gets us back into the symphonic metal. "Abonimog" inspires thoughts of marching orc armies and white knights riding to battle. You get the idea. It's all epic, all metal, and all over-the-top.
The only thing missing is a guest appearance by Christopher Lee on vocals. But then again expecting the nonagenarian actor who defined Dracula on bass vocals to appear on this soundtrack (even though he would be perfect for it) is too over the cliff, even for McCreary. We'll just have to wait for the sequel. Until then, snatch up this soundtrack, especially if you're looking for something to psych you up for your next LARPing adventure.
Rating: 4.5 / 5 Stars