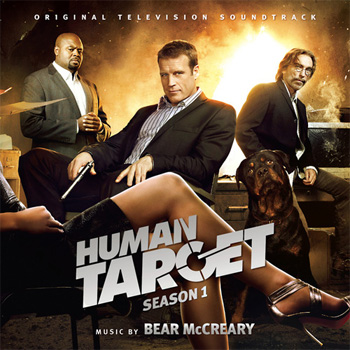 Soundtrack: Human Target (Season 1)
Composer: Bear McCreary
Label: La-La Land Records
Release Date: December 7, 2010
Human Target has become one of my favorite shows on the air at the moment, and Bear McCreary has done some amazing soundtrack work in the past, so I jumped at the chance to review this soundtrack. I'm glad I did. It has a sweeping, epic feel to it that fits with the show quite well. One of the things I particularly like about soundtracks is that they make me pay more attention to the music while watching the show. This one will certainly do that.
At first I wasn't sure if it would become background music since it's entirely instrumental, but I realized that there are some elements that drew me in and made me focus. First, the main theme gets repeated in virtually every single track (I say virtually, but honestly I think it really is every track). I enjoyed listening for it since it wasn't always exactly the same. Sometimes the tempo was different, sometimes it was played on different instruments, sometimes it was just in the background, but it cropped up all the time. It's a shame that the theme for the second season is different (and that Bear McCreary is no longer doing the score); I've gotten so accustomed to looking for the one from first season it'll take me a while to get to know the second season theme.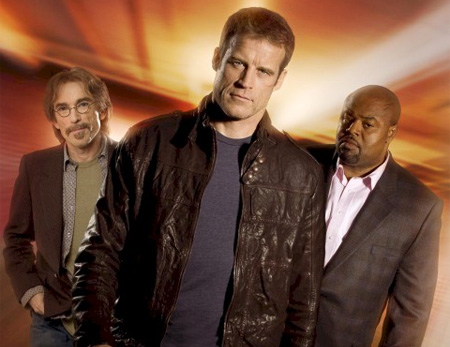 The other element that made me pay attention was listening for the moods of the tracks. As one would expect from a TV soundtrack, the various tracks convey different moods. Typically, the track title gives a clue as to what it is: "Bullet Train," for example, is driving with a constantly repeating rhythm. There's also a recurring electronic riff that shows up in other tracks; I'm honestly not quite sure how to describe it, but it's pretty easy to pick out. Other tracks' moods are obvious if you know the show: "The Katherine Walters File" is pensive and reflective, which makes sense since it was Katherine Walters who made Chance want to be a better person. Similarly, "A Bottle of Japanese Whisky" has a triumphant feel to it. Although Winston may not have approved of the whisky as payment, Chance didn't seem to mind (nor would I — I happen to love Japanese whisky).
Of course, just because there were elements that draw in the listener doesn't mean it's not suitable for background music. In fact, honestly, by the time I got to the third disc of the set, I was certainly using it more for background music than listening intently. As I implied earlier, I'm not necessarily capable of sustaining that sort of focus with instrumental music. Fortunately, it works on both levels. Interestingly, however, I still found myself noticing the theme music whenever it appeared. Goes to show it's highly recognizable.
All in all, I'd definitely recommend this soundtrack. For those who are interested in good instrumental music, either for background or foreground listening, this is certainly worth picking up. And if you're as much of a fan of the show as I am, that makes it even better.
Rating: 4 / 5 Stars