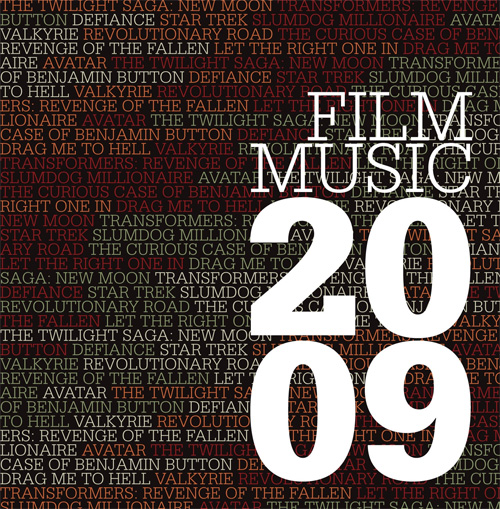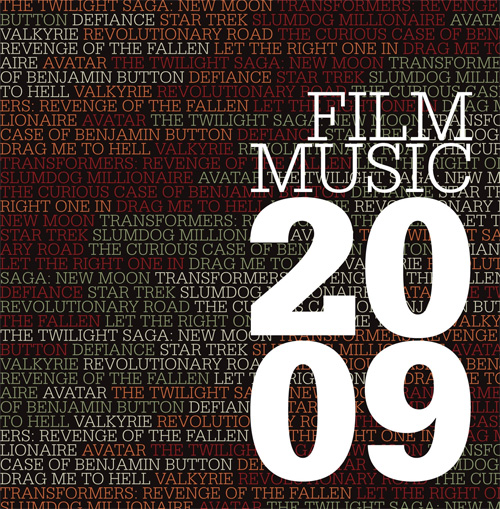 Soundtrack: Film Music 2009
Composer: Various
Label: Silva Screen Records
Release Date: March 30, 2010
I will start off by saying I have actually seen two of these movies, Star Trek and Slumdog Millionaire! Go me! …so, with that said, I enjoyed this album much more than I thought I would. The movie variety is decent and seems to represent 2009 pretty well, although I did notice the absence of Harry Potter and the Half-Blood Prince, scored by Nicholas Hooper, and the new Terminator movie, which Danny Elfman scored (I love Danny Elfman). I believe Slumdog Millionaire actually came out in 2008, but won the Academy Award for Best Picture for 2009. There were some composers on here I had not previously heard and I enjoyed learning a little about them and listening to the music.
The album kicks off with "War," from what was arguably the biggest movie of 2009, Avatar. I am assuming this is the main theme (recap: I haven't seen Avatar). James Horner scored Avatar, and from what I can tell listening to this, did a fantastic job of it. It's dramatic, dynamic, and everything you would expect for an epic adventure movie of this sort, and has some gorgeous solo violin work towards the end of the piece. James Horner never disappoints, and he does epic movie music quite well.
The next selection, "Prime/I Rise, You Fall" is from Transformers: Revenge Of The Fallen, scored by Steve Jablonsky. Jablonsky also scored the first Transformers movie and has done the music for a handful of video games, including both Transformers games, Metal Gear Solid 2, and Gears of War 2 and 3. I have not seen Revenge Of The Fallen, but I did see the first Transformers movie and we own the score. This selection weaves the familiar melody introduced in the first score into a really solid piece that starts out slow, and builds up to be stronger, not necessarily faster, with a full orchestra and some vocals for effect. I'm a big fan of the score to the first movie, and this didn't disappoint.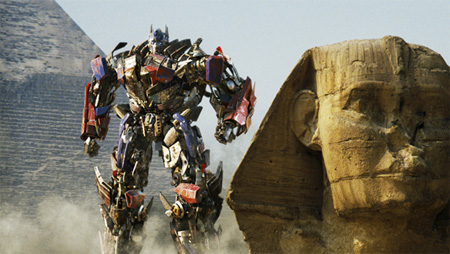 The next piece is from a movie I had never heard of, Let The Right One In, a Swedish vampire film based on a novel. This is "Eli's Theme," Eli being the main character's love interest who ends up being a vampire. Written for a full orchestra with violins and piano featured, this piece is slow, dramatic without being too big, and just gorgeous. It made me want to hear more of the score music and maybe even see the movie, after reading about it.
After this comes a selection from Drag Me To Hell, titled "End Credits." The only thing I knew about this movie was that it looked entirely campy, and that my dad got a huge kick out of the title (example: "oh, the party is at his house!? Just drag me to hell!! Get it?!"). I have to say, this was THE BIGGEST SURPRISE of the entire album for me! It starts out as your average creepy, cheesy horror movie music, and I wasn't expecting to be impressed. Then the violin comes in, and, wow — it is some of the coolest violin work I have heard in a while! The piece continues with the violin playing some really awesome sequences on top of the creepy background music, and about halfway through, it transitions briefly into a gorgeous, dramatic melody in a nice, creeptastic minor. It's one of those pieces that just sounds like it would be fun to play. I love it. The composer, Christopher Young, has scored many horror movies including The Grudge (both the first and second), Hellraiser, A Nightmare On Elm Street 2: Freddy's Revenge, and also Spiderman 3. I don't necessarily want to see the movie, but I absolutely want to hear the rest of the score now. I HIGHLY recommend giving it a listen!
The next four pieces are from Valkyrie, Revolutionary Road, The Curious Case of Benjamin Button, and Defiance. The piece from Valkyrie, "They'll Remember You" by John Ottman, is the end credits piece. According to Wikipedia, it's an original composition, but Ottman based the lyrics (which are in German) on a poem by Johann Wolfgang von Goethe called "Wanderer's Nightsong." I love choral music, so I enjoyed this one. The vocals are performed well and do not drown out the orchestra. Next is the "End Credits" from Revolutionary Road, composed by the prolific Thomas Newton, whose other movie work includes The Shawshank Redemption, The Green Mile, and Cinderella Man, among many. This starts out as a nice, mellow piano melody with orchestra, and it evolves into a lovely violin melody with the piano still present throughout.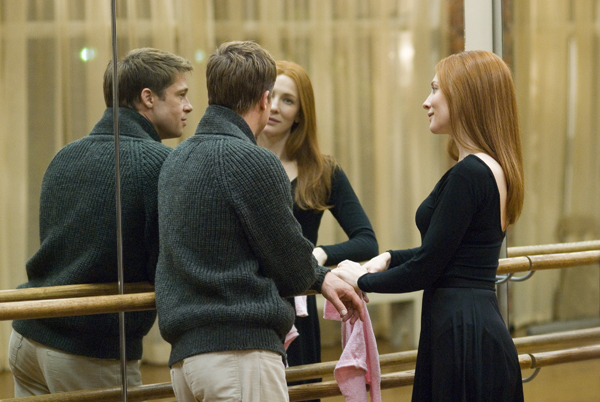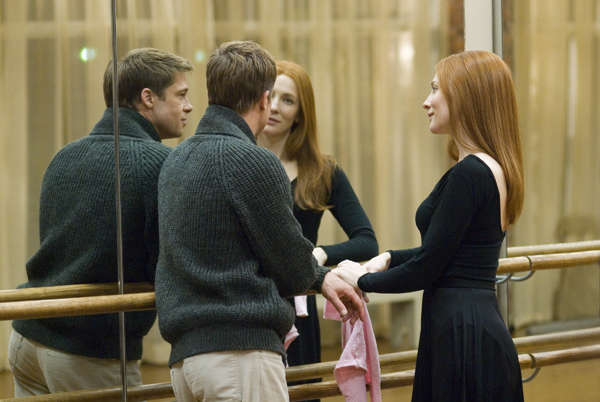 "Postcards/Daisy's Ballet Career," from The Curious Case of Benjamin Button, sounds like two pieces rolled into one track. This movie was scored by Alexandre Desplat, who also did Twilight: New Moon, represented later on the album. The first half is quite melancholy, with a slow, beautiful melody played by strings and piano. At almost three minutes into the track, it switches into what sounds to me like a waltz — appropriate, considering the second half of the title includes "ballet."
"The Exodus" from the movie Defiance is next, a beautiful orchestral piece with a nice violin melody. The piece is sad, slow, and beautiful, appropriately so since the movie is about Jews in Russia during WWII. Defiance was scored by James Newton Howard, who has scored many movies including The Fugitive, I Am Legend, The Sixth Sense, and collaborated with Hans Zimmer on Batman Begins and The Dark Knight.
This brings us to the last three tracks of the album. The piece from Best Picture-winning Slumdog Millionaire, "Latika's Theme" by A. R. Rahman, is a nice piece, but not the first thing I'd think of to represent this movie. When I saw this track I'd hoped it would be a nice upbeat Bollywood number, but it's a slower selection with a very pretty vocal melody. There are some very cool faster tracks on the Slumdog album (with kind of a hip-hop feel to some), but I suppose Latika's theme is the most recognizable melody from the movie, and it is pretty. Next comes my second biggest surprise of this album: "The Meadow" from The Twilight Saga: New Moon, composed by Alexandre Desplat. I haven't seen any of the Twilight movies or read any of the books, though I'll probably eventually suck it up and read them just so I know what it's all about. (I know, I know: sparkly vampires, stupid girls, badly written angst. Yeah.) I guess I really don't know what I expected with this music, but I love it. It's a gorgeous piano piece, melodic and just dripping with angst. It got stuck in my head after hearing it, and I keep putting it back on. It is really nice and I was surprised that it was so good. (Mind you, I understand that a laughable movie doesn't necessarily preclude a quality soundtrack!)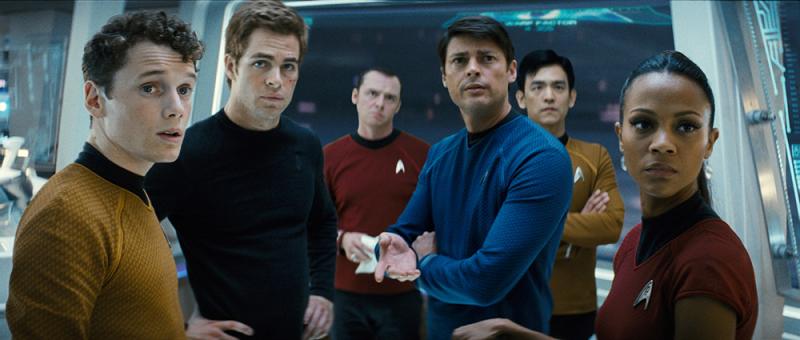 The final selection of the album is my favorite, hands down, and comes from my favorite new movie in a while. Star Trek was scored by Michael Giacchino, who has written lots of music for film, television and video games. This track is two separate pieces rolled into one; the first is titled "Hella Bar Talk" and the second is "Enterprising Young Men." One thing I really didn't get with this album (which I own and love) is the track titles. Among some other titles are "Nailin' The Kelvin," "Does It Still McFly," and "That New Car Smell." I have no idea why they are named so bizarrely, but, I really don't care since the music is AWESOME. "Hella Bar Talk" is a shorter, slower cut of the main theme of the movie, a little more string-heavy than the next piece. I can't remember which exact part of the movie this piece is played in, but the next one, "Enterprising Young Men," is played as the survivors from the Kelvin are escaping the Narada and the opening credits bit begins (I think). It's epic, triumphant, with lots of flourishes and brass and drums and snare, everything you'd expect out of Star Trek music. I actually left my first viewing of the movie and went straight out and bought the score. Stands up very nicely next to Jerry Goldsmith's previous Trek music (Goldsmith scored five Trek movies). Giacchino's whole album is great and I highly recommend it. I would have been super upset if there was nothing from Star Trek on this album.
As the piece from Avatar was appropriate to begin this album, so was the Star Trek piece a very good ending for it. To reiterate, I think this album represents the movies of 2009 pretty well. Good composers, good performances, and the selections from Drag Me To Hell, Slumdog Millionaire, and Twilight gave a little variety to your traditional orchestral score music. Another solid release from Silva Screen Records.
Track Listing:
James Horner – Avatar – "War" (7:42)
Steve Jablonsky – Transformers: Revenge Of The Fallen – "Prime/I Rise, You Fall" (4:58)
Johan Soderqvist – Let The Right One In – "Eli's Theme" (2:44)
Christopher Young – Drag Me To Hell – "End Credits Original version (7:15)
John Ottman – Valkyrie – "They'll Remember You" (4:07)
Thomas Newman – Revolutionary Road – "End Credits" (4:48)
Alexandre Desplat – The Curious Case Of Benjamin Button – "Postcards/Daisy's Ballet Career" (4:48)
James Newton Howard – Defiance – "The Exodus" (4:50)
A. R. Rahman – Slumdog Millionaire – "Latika's Theme" (3:02)
Alexandre Desplat – The Twilight Saga: New Moon – "The Meadow" (4:09)
Michael Giacchino – Star Trek – "Hella Bar Talk/Enterprising Young Men" (4:23)