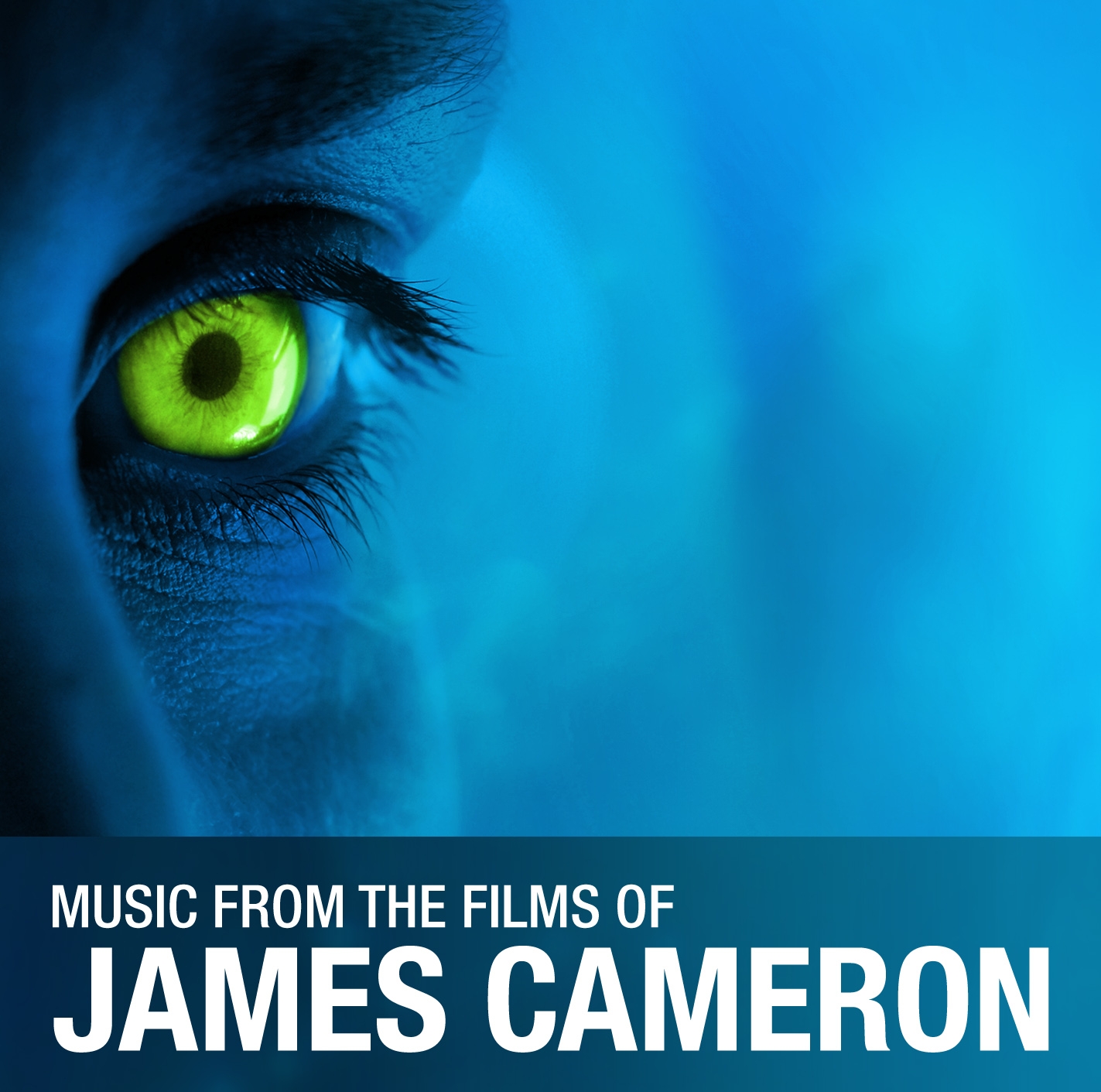 Soundtrack: Music from the Films of James Cameron
Composer: James Horner, Brad Fiedel, et al.
Label: Silva Screen Records
Release Date: May 4, 2010
After agreeing to review this album and taking a look at the track listing, I was a bit unsure of my ability to properly evaluate it since I have not seen most of these movies. In fact, the only movie I have seen that is represented on this album is Titanic, which I do own the score to and love. However, I took a few thorough listens to the entire album, did a little research, and present for your approval my thoughts on this music.
The album appropriately begins with a selection from Avatar, "War," which was scored by James Horner. Horner is a frequent flier on this album, having scored Avatar, Titanic, and Aliens for Cameron; other movies he has scored include Braveheart, Apollo 13, and Star Trek II and III. The Avatar music is epic and triumphant, all that you'd expect from such a movie (I have not seen Avatar — I am one of the probably five people in the world who hasn't seen it!).
The next few selections are from Titanic — one is the instrumental version of "My Heart Will Go On" and the other is "Take Her To Sea, Mr. Murdoch." I own the score to Titanic and, even though it came out when I was 14, it is still a favorite movie score of mine. The instrumental "My Heart Will Go On" is a very nice arrangement for full orchestra, and I liked it better and better after a few listens, despite the inherent schmaltz factor of the Celine Dion version. "Take Her To Sea, Mr. Murdoch" is a more upbeat piece featuring one of the memorable melodies from the movie and is a great selection to represent the movie as a whole.
The next four selections on the album are from True Lies and Terminator 2: Judgment Day, by composer Brad Fiedel. Fiedel is described on his Wikipedia page as being a "progressive" composer who "pioneered the use of electronic instruments and synthesizers." I am not really a fan of this kind of sound. Funny thing is, I like electronic music such as trance and techno, but I don't like synth-y eighties-sounding movie music. The piece from True Lies, "Main Title," is interesting and can easily be seen as background music to an action sequence, although again, I wasn't a huge fan. The first selection from Terminator 2, "Desert," was my favorite of the Fiedel pieces on this album. It is slow and thoughtful, and the acoustic guitar adds a really nice element to it. "Trust Me" and "It's Over," the next two Terminator 2 pieces, are harsh and chaotic and lend themselves well to visions of robots; although relatively musically solid, they are not favorites of mine on this album.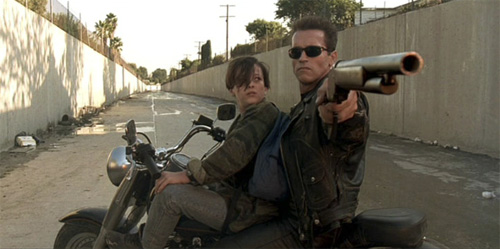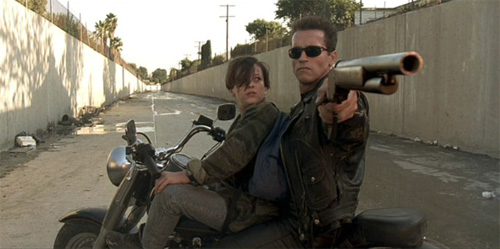 Next on the album is "End Credits" from The Abyss, scored by Alan Silvestri, who I was not familiar with, but found out also did the music for Back To The Future. This piece had a nice full orchestra with vocals and was nicely done, but did not necessarily stand out to me. The "Prelude" from Aliens is next, another James Horner, the beginning of which really reminded me of Mark Snow on the X-Files: Fight the Future score. Continuing on, the piece works up to a nice fast pace for what I would imagine to be a sweet SF action scene (y'know.. being Aliens and all). The next piece is from The Terminator (the main theme I believe; it isn't specified), and is more of the same of Brad Fiedel's synthesizer-heavy composition.
After this comes the "Main Theme" from Rambo: First Blood Part 2, composed by Jerry Goldsmith, a well-known and prolific composer who, among other things, composed a lot of music for Star Trek, both the movies and TV shows. The piece is a solid orchestral composition, but ends rather abruptly and is only about two minutes long. The last track is called "Don't Blow It," from the movie Solaris, composed by Cliff Martinez. This has to be the most interesting piece on this album. It's almost all chimes with no real melody developed, but is really pretty and conveys a sense of wonder and mystery, so I can see it making great ambient music in a SF movie.
Since the movies represented here are basically all of James Cameron's big hits, I'm assuming these selections are the best from each movie's score as picked by an editor of some sort. Please remember in reading this that I have not seen any of these movies except Titanic, so I am strictly basing these on my musical tastes and observations. The hardest thing about this was that since I haven't seen the movies, I wasn't able to place the music with a scene or theme. To me, a good score is one that can play the movie in your head for you as you listen to it, and I was not able to do that with any of these movies except Titanic, which is a great score and fits the movie perfectly. There are many good composers represented here, and this seems to be a solid collection of good film music, regardless of whether I personally liked some of the selections or not.
Track Listing:
James Horner – Avatar – "War" (7:42)
James Horner – Titanic – "My Heart Will Go On – Instrumental" (5:03)
James Horner – Titanic – "Take Her To Sea, Mr. Murdoch" (4:27)
Brad Fiedel – True Lies – "Main Title / Harry Makes His Entrance / Escape From the Chateau" (5:22)
Brad Fiedel – Terminator 2: Judgment Day – "Desert" (3:24)
Brad Fiedel – Terminator 2: Judgment Day – "Trust Me" (1:37)
Brad Fiedel – Terminator 2: Judgment Day – "It's Over" (2:33)
Alan Silvestri – The Abyss – "End Credits" (5:11)
James Horner – Aliens – "Prelude / Ripley's Rescue" (5:54)
Brad Fiedel – The Terminator (4:37)
Jerry Goldsmith – Rambo: First Blood Part 2 – "Main Theme" (2:08)
Cliff Martinez – Solaris – "Don't Blow It" (3:28)