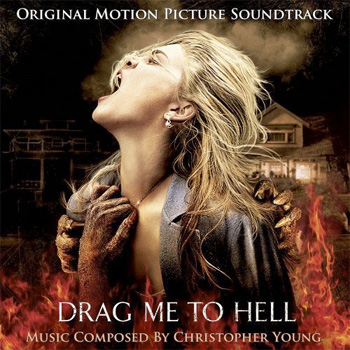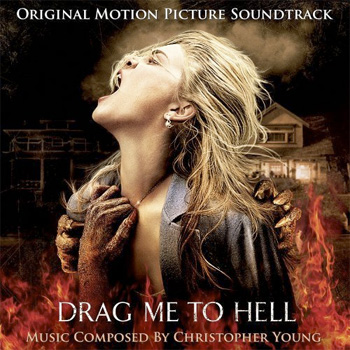 Soundtrack: Drag Me to Hell
Composer: Christopher Young
Label: Lakeshore Records
Release Date: August 18, 2009
Inevitably, all films are either enhanced or hindered by their soundtracks, and in the case of director Sam Raimi's latest horror flick, Drag Me To Hell, the effect is that of the former rather than the latter. Truly, composer Christopher Young has outdone himself with the Drag Me To Hell soundtrack, which stands tall above the vast body of horror film soundtracks that Young has composed (including The Grudge and The Grudge 2, The Exorcism of Emily Rose, The Uninvited, etc.) over the past several years.
The opening track, aptly titled "Drag Me To Hell," establishes the tone of the entire score: an almost overwhelming orchestra expertly punctuated with the clear, graceful strings of a single violin. Tracks like "Mexican Devil Disaster" and "Concerto to Hell" are characteristic examples of the soundtrack's overall tempo, which repeatedly raises intensity by increasing the sonority and amplitude of its compositions both between songs and within individual tracks.
The Drag Me To Hell soundtrack also features some exceptional choral work. In "Ordeal By Corpse" and "Loose Teeth," the choir whispers seductively, lending an ethereal and chilling emptiness to the tracks, reminiscent of several of Young's compositions on The Uninvited soundtrack. In "Lamia," the choir's ear-splitting cacophony of unintelligible chatter inevitably jangles the nerves and complements the song's repeated and sudden transitions in style and dynamics.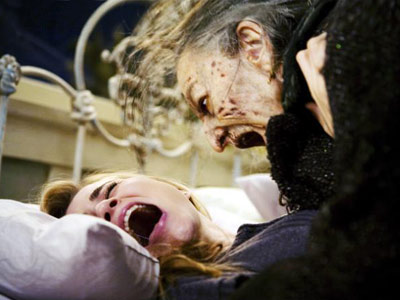 The orchestral textures and instrumental combinations employed by Young are beautiful. The string and piano combinations of "Tales of a Haunted Banker" and "Brick Dogs à la Carte" are deceivingly soothing and seem uncharacteristic of the film's score — justification for their respective 1:52 and 1:46 run-times, no doubt. Similarly, "Familiar Familiars" is another unsettlingly relaxing track, but one that uses the soothing chords of a piano to create a palpable sense of loss and sadness. Another interesting addition to the Drag Me To Hell soundtrack is "Ode to Ganush," which employs a plucked stand-up bass and pizzicato strings to once again rattle the nerves. A personal favorite is "Auto-Da-Fe," which features a pipe organ and will give horror fans the enjoyable sense of overwhelming magnitude so frequently missing from horror/thriller soundtracks.
The entire Drag Me To Hell score is replete with a sense of foreboding that is frequently rewarded by an emotional rollercoaster of heart-pounding highs and calming lows punctuated by the delicate, beautiful additions of both violins and pianos. Despite the fact that Young's compositions for Drag Me To Hell can certainly stand on their own — it would be an amazing experience to hear them performed live by an orchestra, to be sure — the score has the added benefit of accompanying Sam Raimi's return to his roots. Drag Me To Hell is a clever, gory, and occasionally funny horror story in the tradition of the director's cult classic Evil Dead/Army of Darkness movie series that should help the proliferation and distribution of some of Christopher Young's best work.
The Drag Me To Hell soundtrack is composed of 14 tracks and runs a total of 52+ minutes. It is available wherever CDs are sold or can be purchased as an mp3 download at Amazon.com or on iTunes. For more information on Christopher Young, including a complete discography, visit his official web site at officialchristopheryoung.com.
Track Listing:
1. "Drag Me To Hell" (2:33)
2. "Mexican Devil Disaster" (4:33)
3. "Tale Of A Haunted Banker" (1:52)
4. "Lamia" (4:06)
5. "Black Rainbows" (3:24)
6. "Ode To Ganush" (2:23)
7. "Familiar Familiars" (2:11)
8. "Loose Teeth" (6:31)
9. "Ordeal By Corpse" (4:35)
10. "Bealing Bells With Trumpet" (5:12)
11. "Brick Dogs Ala Carte" (1:46)
12. "Buddled Brain Strain" (2:51)
13. "Auto-Da-Fe" (4:31)
14. "Concerto To Hell" (5:59)