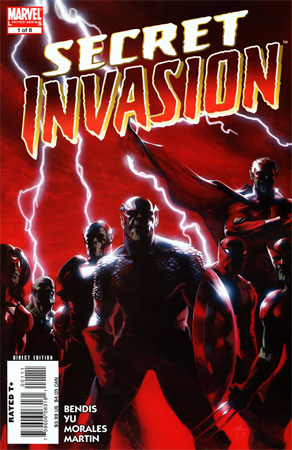 Issue #1 of Secret Invasion hit the stands today, and once again, the Marvel Universe is shaken to its core. So much happens in this issue, and so much of it is as yet unexplainable, so I'm not even going to attempt an analysis just yet. What follows after the jump is a spoiler-laden synopsis of the issue with some significant panels and a final collage of four significant lines that are spoken.
Synopsis: Secret Invasion #1 opens with a scene on a rugged, desolate planet years ago. A group of Skrulls come to their queen and tell her that their Throneworld has been destroyed. She seems to have expected the news, attributing it to a "scripture" before beginning to tell her followers what shall be done next.
We then jump to the present, where Tony Stark is informing Reed Richards and Henry Pym of the impending Skrull invasion. He fills them in on the Avengers' encounter with Elektra and her subsequent Skrullifying. Tony tasks them with figuring out exactly how the Skrulls have managed to stay undetected by all means of detection. Richards and Pym spend the remainder of the issue autopsying and examining Elektra-Skrull's corpse.
Stark is pulled away from the meeting by an urgent message from Agent Brand on board the SWORD orbital headquarters. In the midst of a visit by Dum Dum Dugan, SWORD has picked up a Skrull transport ship dropping to Earth and heading straight for the Savage Land. Tony contacts Spider-Woman who is at the Avengers' HQ in Stark Tower with Jarvis. She prepares to head off for the Savage Land with Iron Man but first tips off Luke Cage and his Avengers.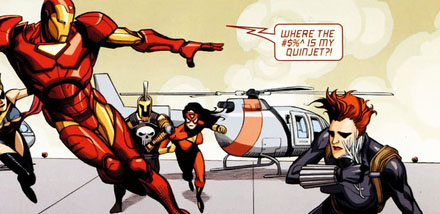 Cage calls on Cloak to sneak-teleport the New Avengers into the Quinjet base at Stark Tower. Iron Fist knocks out Black Widow, and the team makes off with one of Tony Stark's jets. The New Avengers then set out for the Savage Land to investigate the Skrull ship with Iron Man and his Mighty Avengers close behind. They all arrive at the crash site within minutes of each other. Iron Man orders the New Avengers to stand down and attempts to place them under arrest. Cage refuses and instead begins to pry the door of the Skrull ship open.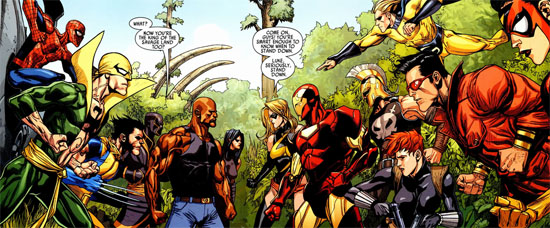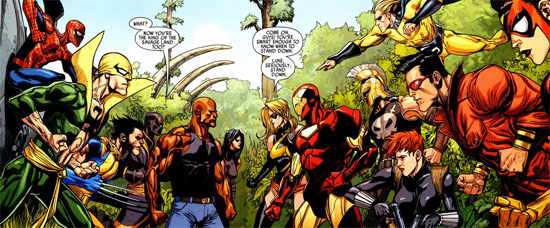 At that moment, we get our first Skrull reveal of the series, and it is… Dum Dum Dugan! Still aboard the SWORD orbital station and watching the Avengers showdown, he utters, "He loves you," before igniting explosives that obliterate the headquarters. Agent Brand and the other SWORD agents are thrown into space with temporary life-sustaining oxygen bubbles around them. A page later we get the next Skrull activation… Jarvis! The longtime Avengers butler also says, "He loves you," just before he uploads a virus into a computer at the Avengers HQ.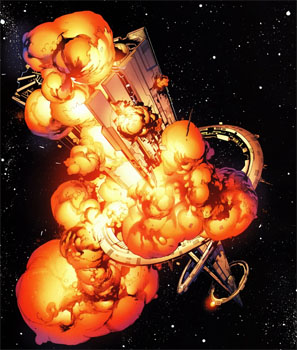 Immediately Iron Man's armor rebels against Tony, sending him into seizures. The virus also infects the SHIELD Helicarrier, which begins to crash into New York with Maria Hill and the top level SHIELD agents on board. We also see security failing at all the Stark Enterprises facilities, The Raft, and The Cube.
In a seemingly coordinated attack, the wall blows out of Norman Osborn's office on Thunderbolts Mountain, and we see Captain Marvel descending into the wreckage. Meanwhile in Manhattan, a man enters the Baxter Building and morphs into… Sue Storm Richards! She gains access to Reed's labs and activates a computer that breaches an opening into the Negative Zone. Just before the portal consumes Skrull-Sue, Johnny Storm, and the two Richards children, the impostor says, "He loves you." The Baxter Building then implodes in an extradimensional vortex of destruction.
Back in the Savage Land, we see the heroes trying to help Tony, who is still in seizures from his rebellious and infected armor. While they were working with him, the Skrull ship has opened, and its inhabitants have come forth. The heroes turn, stunned, to find the ship full of familiar faces: Emma Frost, Spider-Man, Beast, Luke Cage, Thor, Invisible Woman, Wonder Man, Jean Grey, Hawkeye, Iron Man, Vision, Scarlet Witch, Diamondback, Mockingbird, Captain America, Ms. Marvel, and Wolverine, all in their old, classic costumes. The Ms. Marvel from the ship asks, "Is this it? Did we make it back to Earth?" Wolverine from the ship responds, "Yeah, I was just about to say that… cuz… I know who I am… But who are you guys supposed to be exactly?" The New and Mighty Avengers stare wordlessly.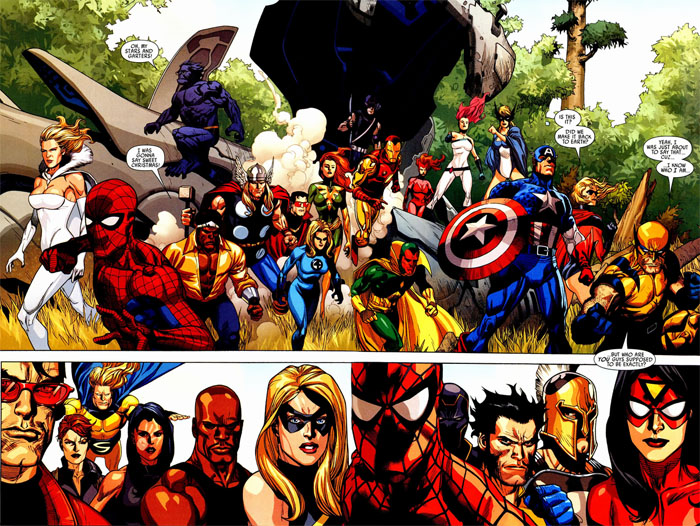 In space, Agent Brand is radioing for help as a massive Skrull fleet passes on approach to Earth.
The final scene takes us back to the lab where Reed Richards and Henry Pym have been working with the Skrull-Elektra's body, oblivious to everything else that has been happening outside. Reed completes his calculations and tells Henry he knows how the Skrulls made themselves undetectable. Before he can finish, Henry draws a raygun and blasts him into a melted puddle. We then see Henry morph into his true Skrull form and say, "He loves you."