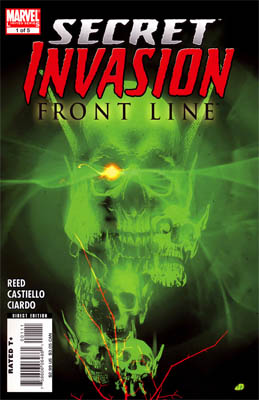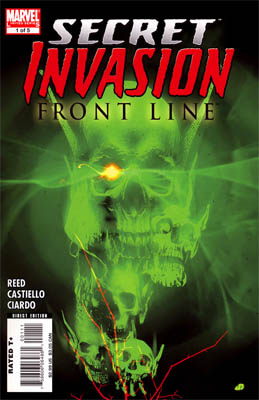 It was a slow week for Marvel's Secret Invasion, with the only new release being Secret Invasion: Front Line #1. Here's a look at what happened there, as well as a look at the week ahead.
Whenever Marvel does a big event storyline, you can bet there'll be a Front Line series accompanying it that has a story about reporter Ben Urich, as well as a lot of local flavor that shows how the common people of the Marvel universe are reacting to whatever's going on with the heroes and villains. That's exactly what we get here, as Front Line #1 takes us through the lives of a New York City cabbie, a trauma doctor at the hospital, and an executive and his daughter inside Stark Tower.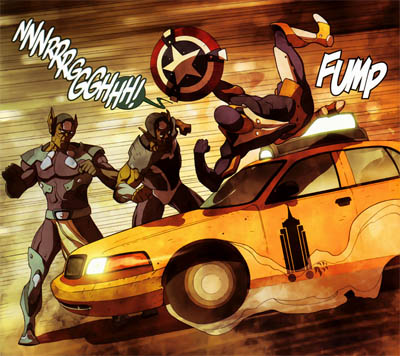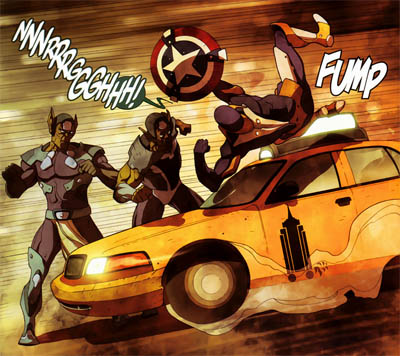 There's no real plot advancement, and we don't get any Skrull reveals this week beyond one random patient in the hospital where Urich is hiding out from the invasion. This week promises meatier developments, as Secret Invasion continues with Captain Britain and MI 13 #3 and Secret Invasion #4.