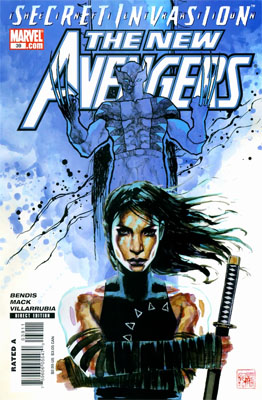 Marvel's next big event, Secret Invasion, launches with issue #1 on Wednesday, and I'll be following the twists and turns of the plot here. There's already been a lot of lead-up, with back-story going back into the annals of Marvel Comics. The deep and extensive history of the alien race known as the Skrulls and their interactions with Earth and the Marvel Universe is so involved that Marvel published a free comic called Secret Invasion Saga to bring readers up to speed. You can take advantage of the primer for free right now on Marvel's website. Assuming you're up to date on your Skrull lore, I'm launching straight into my first Skrullwatch update with a rundown of what happened this week in New Avengers #39.
Writer: Brian Michael Bendis
We are undeniably in the Bendis Age of Marvel Comics. This man controls every big happening in the Marvel Universe, for better or worse. He claims to have started laying the foundations for the Skrull Invasion way back in the early issues of New Avengers, and he's still helming the book now.
Artist: David Mack
There's been a lot of controversy on the web about David Mack and, specifically, this issue of New Avengers. I won't go into all of that here, but you can see the whole thing as it unfolded over at Newsarama.
Synopsis: The issue begins with Echo and Wolverine discussing the possibilities and suspicions surrounding the whole Skrull thing. Echo seems skeptical that an invasion is actually in the offing and believes the Avengers are just misplacing their distress, given how bad their lives have gotten. Wolverine assures her that the Skrulls are the real deal and something to worry about.
With this food for thought, Echo encounters Daredevil on a rooftop. Previously he was the one who hooked her up with the Avengers, back when she was sporting the Ronin disguise. While talking with Daredevil, Echo realizes he seems "off" and challenges him. And lo and behold, he morphs into a copy of Echo and makes it clear that the "Daredevil" she's talking with is really a Skrull agent. A Skrull agent sent to eliminate and replace Echo, no less.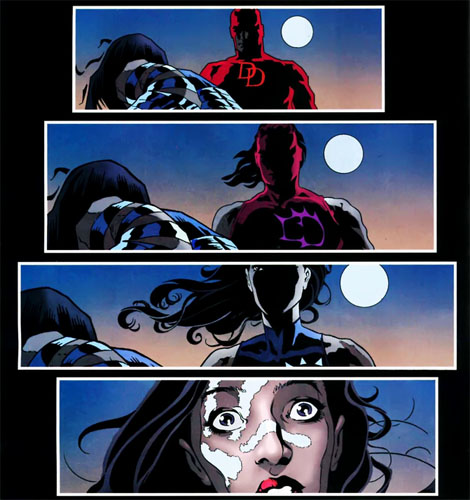 Echo fights back, and the Skrull-Echo attacks her first with Cyclops's eye-blast power and then with the Human Torch's flame abilities. It is then that Wolverine launches into the fight, having followed Echo after their conversation. Wolverine tips the balance against the Skrull, who then uses Nightcrawler's teleportation to evade the heroes before flaming-on, ala Human Torch, and escaping into the night.
Echo admits to Wolverine that she was wrong about the Skrull threat, and she returns to the New Avengers' headquarters. The next morning she talks with Hawkeye about not feeling that she fits in with the Avengers, and he sympathizes, having gone through his own period of being the black sheep many years ago. Their conversation progresses to a kiss, and the issue ends with Echo and Hawkeye in bed together.

Analysis: This issue is very Echo-centric, which doesn't come as a surprise, given the creative team. David Mack and Joe Quesada created Echo in Daredevil, and he likes to include her wherever he can. Lately Bendis has been on the Echo bandwagon as well. Personally, I think of her as the poor man's Elektra.
This was the first time we've actually seen a Skrull attempt a hero replacement. Elektra and Black Bolt were swapped off-panel at some point, so we haven't known anything about their fates. Given that this Skrull seemed to be trying to kill Echo, that doesn't bode well for the already-replaced. While they could be off-world somewhere in a Skrull prison, it's equally likely that they were killed anywhere from a year to ten or twenty years ago.
Daredevil shape-shifting into a Skrull gave me a groan and a double-take, because I initially thought Bendis was going to try to make us believe Matt Murdock had been swapped. With the direction the Daredevil title has taken the past few years and the intensity of Daredevil's inner monologues, it would be nigh-impossible for him to be a Skrull. Thankfully, I'm pretty sure this was just a temporary shape-shift on the part of this Skrull, and Daredevil's continuity is unaffected.
I'm halfway convinced Hawkeye is a Skrull. His death in Avengers Disassembled and subsequent rebirth due to House of M gave him the probably-Skrull taint right away, but this current and sudden romance with Echo pushes me even more into the Skrull camp for him. Can't the guy catch a break from Bendis?
Conclusion: Overall, I'm very wary and conflicted about Secret Invasion. If handled properly, it could be a very engaging bodysnatchers / sci-fi type of story. At the same time, though, it has the potential to completely wreck a lot of Marvel continuity and alienate a lot of longtime fans and readers by nullifying their favorite characters' back-stories. I'm hoping the answers to when and how the replacements happened for each character come quickly and satisfactorily. Otherwise we could be looking at a Spider-Man Clone Saga fiasco.