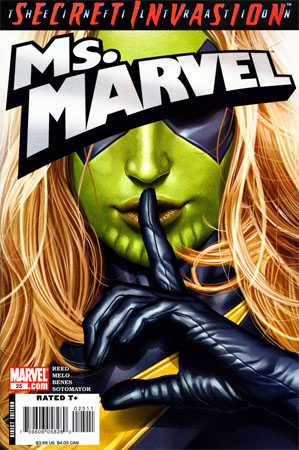 The infiltration continues with the final Ms. Marvel before the invasion fully kicks in with this weeks release of Secret Invasion #1. Ms. Marvel #25 answered a few questions about the Skrull epidemic and also raised a few more questions. Here's my look at the issue.
Writer: Brian Reed
Artist: Adriana Melo and Ron Frenz
Adriana Melo's pencils are tight and compelling throughout the modern portion of this issue, but the real joy for me was in Ron Frenz's retro art in the flashback segments.
Lead-Up: Previously in Ms. Marvel, we've seen Carol Danvers tasked with leading a SHIELD squadron in the wake of the Marvel Civil War. Tony Stark is overseeing her work, and she seemed to have his complete confidence until the end of the previous issue, when Stark confided to Agent Sum that he believes Carol has been replaced by a Skrull.
Synopsis: Much of this issue takes place in the past, when Carol Danvers worked with NASA security prior to getting her Kree-induced superpowers. The story opens with her investigating a downed Skrull probe with Dr. Walter Lawson, aka Captain Marvel. At this point in history, Carol is oblivious to Lawson's alter ego. She doesn't know what the probe might be and surmises that it's just space junk fallen to Earth, but Captain Marvel immediately recognizes it for the Skrull apparatus that it is.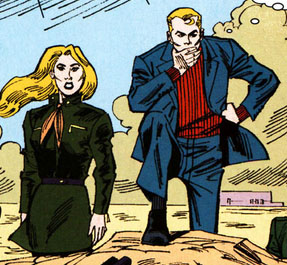 Once the artifact is removed to a NASA research facility, Carol visits it, still intrigued and not entirely convinced by her previous assumption of space junk. While examining the probe, she touches her finger to a lens on the probe. We then cut to a team of Skrull researchers on a vessel somewhere in space. By touching the artifact, Carol has transmitted a sample of her DNA to the Skrull ship. We see the Skrulls looking at her data on huge screens, and then one of them says, "If our plan is to work, we will need as many human DNA samples as we can get."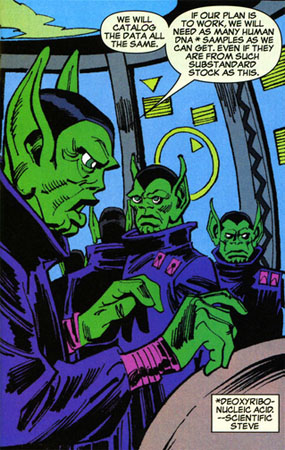 We then jump to the present, where we pick up with the cliffhanger from the previous issue. Tony Stark is explaining to Agent Sum that he has video of Carol Danvers inside Stark Tower at the same time Ms. Marvel was on Monster Island (in a previous arc). Given Tony's obsession with the Skrull situation, he tells Sum that Carol is a Skrull and sends him to bring her down. Meanwhile, Ms. Marvel is doing her superhero thing by busting up an AIM facility. She finds a number of suspicious trucks in the underground base and is able to demolish the operation, but one of the trucks gets away.
Back in the past, we have a brief interlude during which a Skrull masquerading as Carol tricks Dr. Lawson into bringing it on board the space shuttle Invincible just prior to its launch. The Skrull commandeers the ship after shooting Lawson and begins to lift off. Carol sees what's happening, managed to jump aboard the shuttle, and kills the Skrull, rescuing Captain Marvel in the process.
Back in the present, Carol meets with her publicist, Sarah Day, who has obtained some sort of incriminating information about Carol's would-be boyfriend William Wagner. Without Carol's knowledge, Sarah has blackmailed William into staying away from Carol. On the way home from her meeting, Carol spots the AIM truck that got away. She jumps on top of it and rides it to another hidden AIM base where it is unloaded to reveal… a Skrull!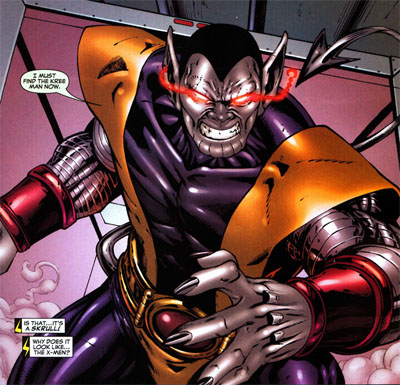 Carol fights the Skrull, but it escapes via a Nightcrawler-esque teleportation. Prior to its escape, the Skrull says, "You smell of Kree! Enough of you! Now that I have his scent, I can continue my true mission." Realizing that the Skrull probably was referring to William, Carol is dumbfounded. Is William a Kree? She phones him to find out what's going on but quickly realizes that another Carol is already with him. The true Ms. Marvel speeds to William's home but is moments too late and finds him dead and the Skrull imposter gone. Before she can leave, Agent Sum arrives with a SHIELD squadron to arrest her, assuming that she is actually the killer Skrull.
Analysis: I think it's a fair assumption at this point that Ms. Marvel is not a Skrull. There's been way too much inner monologuing for her to be in disguise, unless she's some sort of sleeper agent, which I think it unlikely.
It seems that the Skrulls need DNA in order to fully replicate and replace their victims. We didn't know this previously, but that would explain their newfound facility for completely mimicking their prey, down to their scents and powers.
Before this issue, we also didn't have a timeframe for when the Skrull infiltration began. Now we see that the pieces were being put into place as far back as Carol Danvers' days at NASA, prior to the Kree / Skrull War. That's a whole lot of Marvel history that could end up rewritten by the end of Secret Invasion.
And finally, it's interesting that the powers the Skrulls have exhibited so far are largely mutant abilities. We saw a Skrull appear as Thor in the final issue of New Avengers: Illuminati
, and another Skrull used the Human Torch's flame abilities in New Avengers, but aside from those it's been pretty much all mutants. Ms. Marvel even wonders why the Skrull she encounters in this issue looks like the X-Men. The last big event that tied all the mutants together was House of M
, and I wonder if that's going to have anything to do with these Skrull powers.
Conclusion: The real meat of the Skrull story begins with tomorrow's release of Secret Invasion #1. This issue of Ms. Marvel was a good lead-up that showed us a little more of how far back and how deep the infiltration goes.