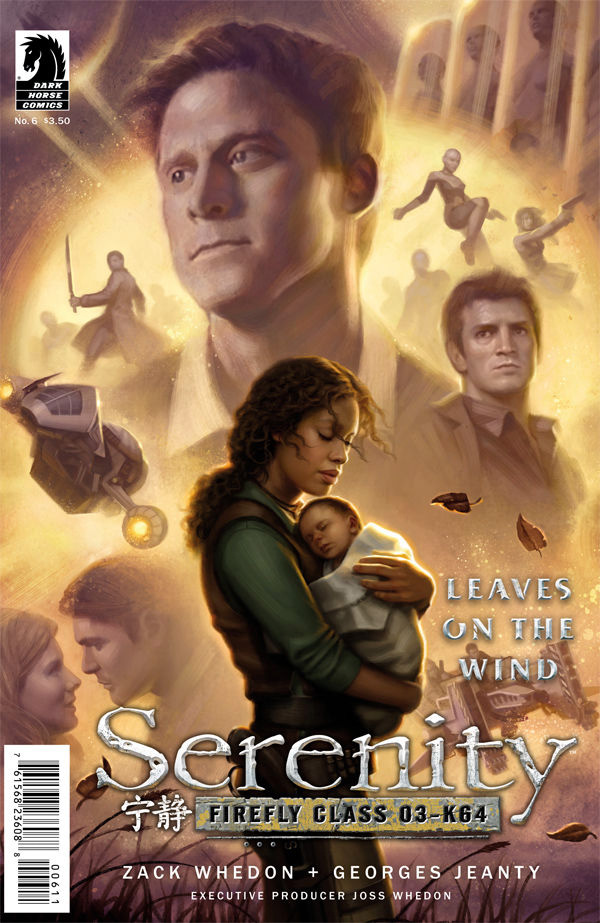 Serenity: Leaves on the Wind not only does a great job of following up the movie, but also has the episodic feel of the television show. A lot of things come together, but also leave just enough mystery for other issues.
Note: This recap may contain spoilers!
It starts with Zoe making a name for herself on her prison planet by beating the crap out of other inmates. She knows Mal and the others will come for her, so she's just biding her time. Meanwhile, River is interrogating their prisoner and finds out where Zoe is being held. Then she convinces Simon that he can help the other girl they brought with them, that he can fix her, even though she is worse off than River ever was.
As the ship starts moving towards Zoe, Mal makes it clear that just he and the Operative would be going in, but later Bea makes her case about going. She tells Mal that her father fought in the Unification War alongside Mal. Bea says she knows the risks and she's willing to fight for them to stop the Alliance, even just this little bit. Mal relents and she comes along.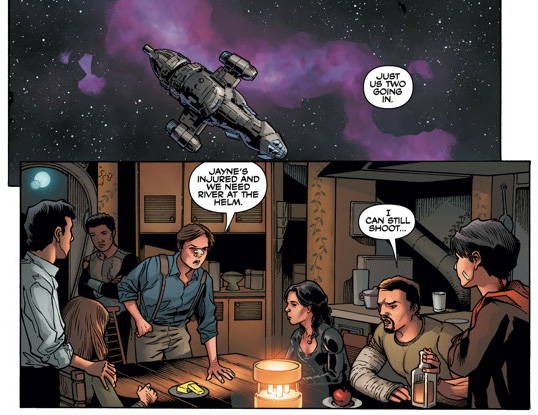 Zoe waits for them and finally makes a break for it, the guards letting her go until they see Mal coming. Jayne is even there, using a sniper rifle, as back up. The guards try to overwhelm them, but Serenity swoops in and they make it onboard, where Zoe is reunited with her daughter. The ship ends up on a lush planet, where the Operative takes his leave.
The girl River saved finally wakes and says her name is Iris. She decides to go with Bea and see the galaxy. Meanwhile, Zoe leaves the ship and follows the Operative saying that Wash died because of him. She tosses him a gun and they have a showdown. It's not shown who won, but I'm betting Zoe did. Once Bea and Iris leave, Serenity flies away and out for more adventures.
I thought that the issue wrapped up the main storylines of the first arc neatly, but also left it open ended for even more stories to be told, which I am looking forward to. Jubal Early was once again seen and saved, so more will come from him. It also seems the Alliance won't give up on getting River back so easily. It'll be interesting to see how that pans out and if any unused Firefly stories make their way to the comics.