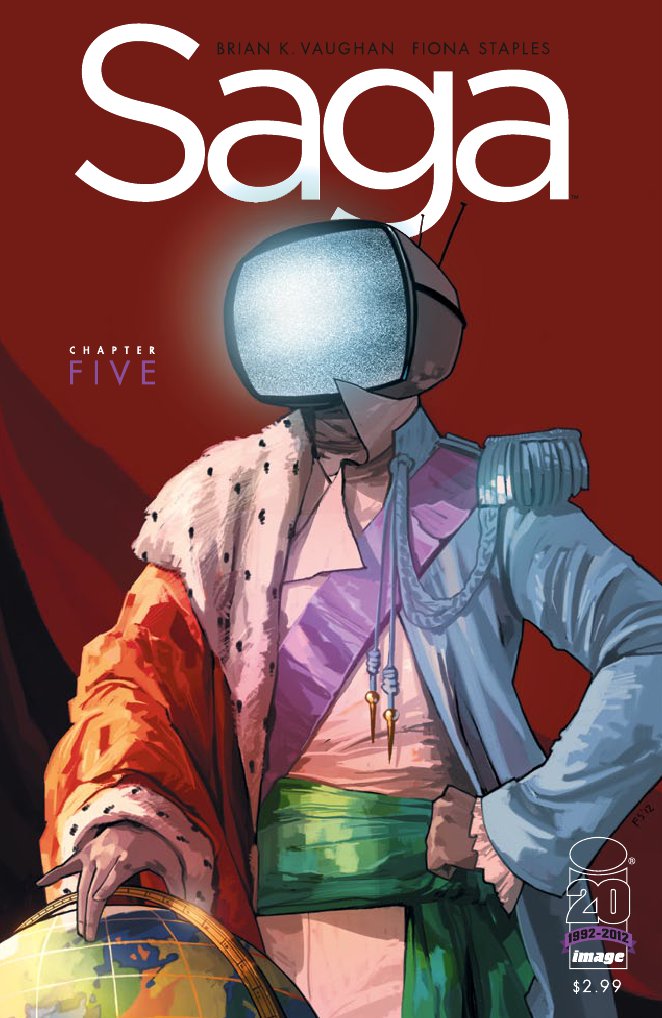 Issue: Saga #5
Release Date: July 2012
Writer: Brian K. Vaughan
Art: Fiona Staples
Letters and Design: Fonografiks
Coordinator: Eric Stephenson
Publisher: Image Comics
The search for Alana and Marko continues in this month's issue of Saga. Storylines are merging, plot twists are mounting, and the family continues to run up against multiple problems on their journey to safety. Nothing is going to play out like we think, and that makes it all the more exciting.
We open the story with Prince Robot IV. He's taking a break from his ongoing pursuit of the fugitives, but the news from home might make him commit to his task even more. Princess contacts him to inform IV that he is going to become a father. What should be wonderful news is tarnished by the fact that he cannot return home until his mission is complete. The birth of his child may well be missed if he does not catch Alana and Marko in time. Good thing the group has been spotted by a scout ship, giving IV a lead.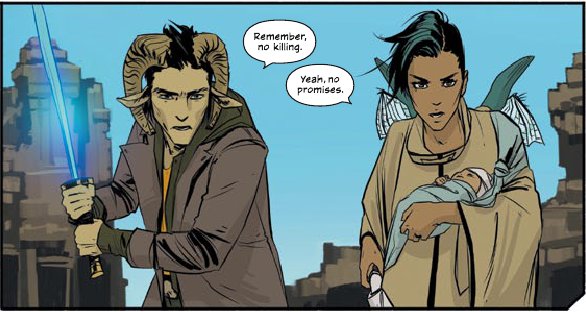 Switching to the showdown that we saw coming last time, Alana and Marko are up against the scout ship's soldiers. The crew has orders to kill the entire family, despite their personal feelings on the matter. It seems like Alana and Marko are doomed, but just when hope seems to be lost, the tables turn. Alana takes a shot to the shoulder, causing her to fall lifeless to the ground, and that sends Marko into a crazed mindset. Threats to his family mean he will take on the entire group himself, and he doesn't care the costs. Alana has to shoot Marko in order to break him out of his anger-filled haze, but the repercussions of his actions stay with him. Despite making their escape with the stolen scouting vessel, Marko remains focused on what he did and the loss of control he experienced. Alana's protests that he did what had to be done just fall on deaf ears. It takes their daughter's innocent laugh to remind them both what they're fighting for. They will each go to great lengths to protect each other.
We also catch up with The Will and the child-hooker that he attempted to rescue. Their escape was cut short by Mama Sun, the child's owner, as she holds Lying Cat hostage at the end of a gun. The Will cannot save the girl, that much is clear. Lying Cat will die and the child will, too, as she's been injected with a security elixir that will harden in her arteries if she escapes. His only option is to let Mama Sun take her and find a way to buy off her contract for the hefty sum of 650,000. Where can he gain such cash? One option is to team up with Stalk, but she's having none of that. She's got a lead of her own and she doesn't need a partner, especially one that has belittled her and lied about the love he has for her. In the end, however, perhaps she would have had better luck with The Will because IV kills her. He has no time to deal with freelancers or excuses. IV will find Alana and Marko, one way or another. Until next issue, we're left wondering how our favored family will stay one step ahead of him and all threats to their safety.
Rating: 4 / 5 Stars