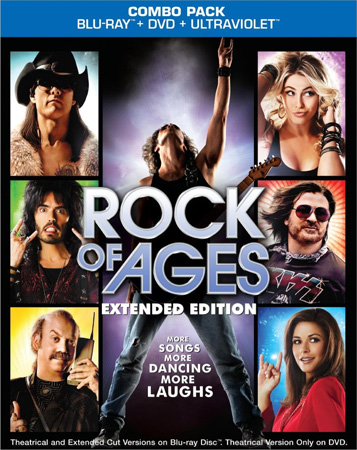 Rock of Ages debuted as a bombastic '80s rock musical in Los Angeles in 2005 before it eventually made its way to Broadway in 2009. Warner Bros grabbed up the movie rights to the stage show and placed prolific producer, choreographer, and TV personality Adam Shankman at the helm to direct the production. The resulting 2012 film takes some markedly different plot turns from the Broadway show, but it maintains its aspirations and places a surprisingly A-list cast behind the mics for new renditions of a truckload of classic '80s hard rock anthems and power ballads. Rock of Ages released on Blu-ray this month and presents an extended cut of the movie alongside some of the most enjoyable bonus features of the year.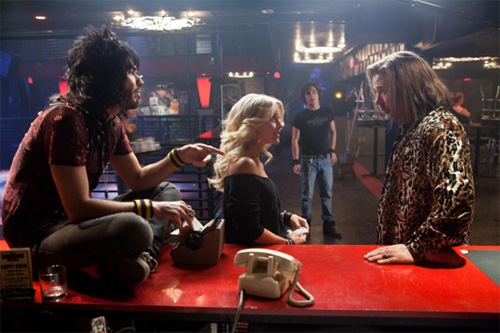 The central couple of the story are Drew Boley (Diego Boneta), a busboy with the heart of a rock star, and Sherrie Christian (Julianne Hough, and yes, she sings "Sister Christian" in her first scene), a wannabe singer who moves to Los Angeles with stars in her eyes. Literally moments after Sherrie steps off her bus a mugger steals her prized record collection, leading to her requisite meet-cute with Drew. Drew works in the Bourbon Room, a struggling but popular L.A. club, and he convinces the club's owner, devoted rock enthusiast Dennis Dupree (Alec Baldwin), to hire Sherrie on as a waitress. Dennis's best friend and helper is Lonny Barnett (Russell Brand), a wacky compatriot in the world of rock fandom, and the two of them are wrestling with the club's unpaid bills even as Dennis hires on a new waitress.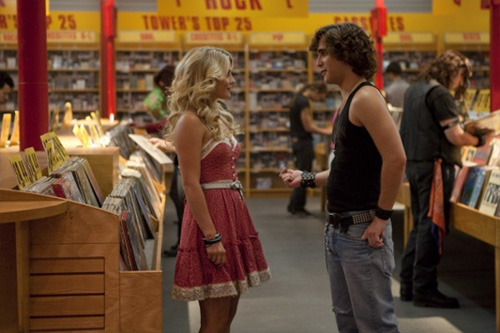 Elsewhere in Los Angeles, Mike Whitmore (Bryan Cranston) is running for reelection as mayor while his wife Patricia (Catherine Zeta-Jones) is busy whipping the religious right into a frenzy of protest in an effort to drive rock and roll out of their city. Patricia has targeted the Bourbon Room in particular, along with Stacee Jaxx (Tom Cruise), a boozed up bad boy rocker who got his start there years ago. These days Stacee spends his days passed out in a whiskey soaked pile of groupies with his monkey pal Hey Man always nearby. Jaxx's manager is Paul Gill (Paul Giamatti), a slimy money grubber who agrees to help out Dennis and the Bourbon Room by bringing Jaxx there for his final concert with his band Arsenal before he embarks of a likely ill advised solo career. Malin Akerman plays a Rolling Stone reporter on the hunt for an interview with Stacee Jaxx, and Mary J. Blige appears as the owner of a Hollywood strip club. With all the musical and political pieces in place, the tale unfolds as a comedy of errors and misunderstandings backed by grudges, repression, and romance to the tune of more than twenty genre defining songs.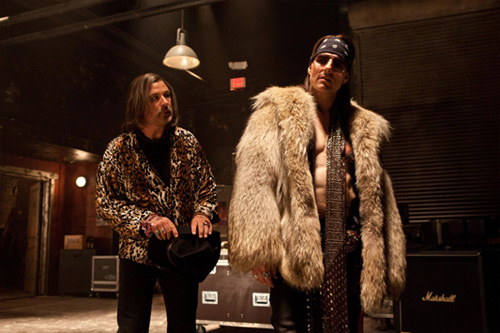 In the original stage musical, Stacee Jaxx is an unrepentant villain. The movie transforms the character into more of a complicated antagonist who quickly becomes sympathetic. Although the Drew and Sherrie relationship is the central romance for the movie, Tom Cruise's performance becomes an easy scene stealer, and Jaxx becomes the most interesting character in the production. Alec Baldwin's Dennis and his friendship with Russell Brand's Lonny provide the second most engaging moments, pushing the key couple into a firm third place. Julianne Hough and Diego Boneta are likeable, but their characters' earnest rock dreams seem flat a little too often, causing the overall story to seem unbalanced. By the end, Stacee Jaxx's B-story is the one you're likely to care about more than the obvious beats Sherrie and Drew follow in their "will they or won't they end up together" plot.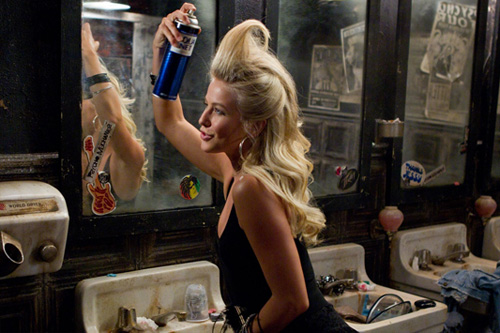 Even with the leads not sufficiently leading the film, there's more than enough '80s power to prop the whole thing up. The soundtrack sports a who's who in hard rock from that decade, and hearing current stars belting out twenty-five year old classics never gets old. While real bands of the 1980s do populate the world of Rock of Ages (as evidenced by Sherrie's record collection which features the likes of Def Leppard), all the songs performed in the movie are presented in a context of the characters having created them. Drew's writing "Don't Stop Believing" is a key plot element that persists throughout the film, and "Pour Some Sugar on Me" is a rock hit that belongs to Anthem, not to Def Leppard. All the song swappery makes sense within the movie, and the songs generally work well as vehicles for the scenes.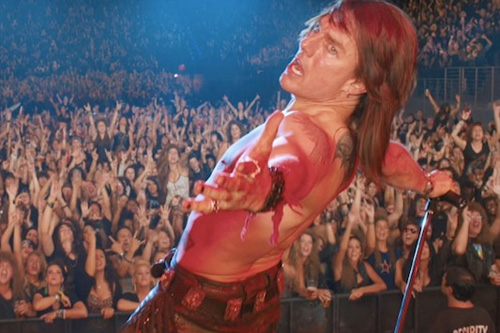 Knowing that one of the movie's biggest strengths is its evocation of '80s nostalgia, Warner Bros loaded even more of the era into the Blu-ray's special features. Here's what you'll find on the Blu-ray alongside both the extended and theatrical cuts (which adds thirteen additional minutes) of the movie:
Legends of the Sunset Strip – Bret Michaels hosts an array of music legends as they wax nostalgic about the rock heyday of the '80s.
The Stories We Sing – The original band members talk about the origins of some of the songs featured in Rock of Ages.
Defining a Decade – A behind the scenes feature hosted by Julianne Hough and Diego Boneta.
Any Way You Want It – A bookmark feature that cleverly allows you to jump directly to any of the movie's many musical performances.
Visit Florida – A tourism promo for the state of Florida. Rock of Ages was shot in and around Miami, so there likely was some deal requiring this promotional bit to be included, but it's extremely random alongside all the '80s rock content.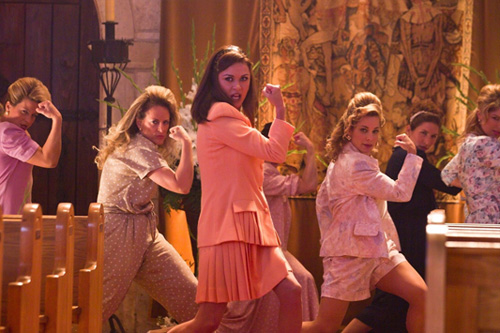 Rock of Ages carries some impressive cast power, even if the story and some of the performances are a bit uneven. Who am I kidding, though? The real draw to the movie is the soundtrack, and these songs excel in every way. If you have an appreciation of any kind for '80s rock, this is one movie that needs to be in your collection. Rock of Ages released on Blu-ray on October 9, 2012, and is in stores now.