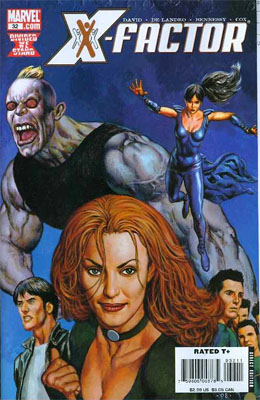 Modern comic book legend Peter David's fantastic run on X-Factor continues this week with issue #32. The comic hits stores on Wednesday, but here's an advance review. Beware of spoilers!
X-Factor #32
Writer: Peter David
Artist: Valentine De Landro
What's Going On:
Arcade's blown up Mutant Town, and X-Factor is left to pick up the pieces. Val Cooper of O*N*E shows up and gives the team an ultimatum. Their existence in the Middle East Side is too public, and they've become a visible target, causing danger for civilians. They now either can agree to join either the Initiative or O*N*E, or they will be split up and put into witness protection.
While all this is happening, Madrox has begun seeing Layla Miller. She's appearing to him as something of a conscience, and she's advising him about things he needs to know and understand.
How It Ends:
Madrox's Jiminy-Cricket-Layla forces him to recognize that Siryn is pregnant with his baby. He takes it as good news and reconciles with her. The team ends up in an overall good place with each other. They decide not to accept either of Val Cooper's options, and instead they leave a message for her that self destructs, taking down their old headquarters with it.
There's a five month jump, and the team has relocated to Detroit, where they're handling mutant cases underground. While sitting in a diner, Madrox is cornered by Cooper, who has tracked the team down and now is going to force them to work with her.
Lessons Learned Here:
Don't give rebellious mutants 24 hours to consider your fascist proposals. They'll just blow you up.
Val Cooper has android hair.
You generally can't expect to walk away clean when you try to blow up a highly paid government agent.
Line of the Book:
Siryn: "You know I'm pregnant?"
Rictor: "With a baby?"
Monique: "No, genius, with a sperm whale."
Thoughts:
The rest of the X-Men universe is pretty much a mess right now, between the oddly blah X-Men Legacy series and the rest of the titles being in a weird limbo that feels like it's just waiting for a new status quo. X-Factor rises above all that and consistently defines itself as a unique and engaging book that doesn't rely on the serpentine plots of the rest of the X books. This is entirely due to Peter David's master craftsmanship. He's one of the best writers working in comics today, and it really shows in his work here.
Having Layla appear as Madrox's conscience is a good move, because he's sure to be feeling guilt for leaving her in the dystopian future concentration camp during Messiah Complex. I'm sure Layla will be coming back at some point, and I hope it will be during David's tenure on the book. He clearly has long term plans for the character, and I want the payoff to be at his hand.