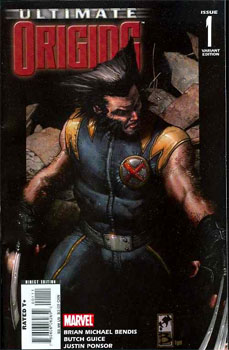 The big event that will shake the Ultimate Marvel universe begins this week, and I have your review right here. Read on for thoughts and spoilers for Ultimate Origins #1.
Ultimate Origins #1
Writer: Brian Michael Bendis
Artist: Butch Guice
What's Going On:
The story begins with a look back at the scene from 2001's Ultimate Team-Up in which Bruce Banner tells Spider-Man, "All of it-all of this-it's all connected. You-me-They don't want you to figure it out. They don't want you to know."
We then leave a perplexed Spidey and jump back to World War II, where a pre-Captain America wannabe is killed in action. FDR obviously is displeased by the morale implications of the world seeing the sentinel of American might lying dead, and he gives the order to create a real super soldier to act as a symbol for the United States in the war. This shifts the focus to James Howlett, Nick Fury, and "Mr. Fisk", who are caught stealing valuables from a war-torn house in Sicily. Fisk escapes, but Fury and Howlett are nabbed and taken in for experimenting.
Lessons Learned Here:
Wearing a gaudy costume and waving an American flag do not make you a super soldier. Or bulletproof.
How It Ends:
In the end, Nick Fury gets an experimental super soldier treatment and manages to escape from the lab where he's been worked on. Elsewhere, James Howlett has been taken to Canada and is being modified by Dr. Cornelius. He escapes from the lab but soon is brought down by the doctor's men and dragged back to the Weapon X facility. As Howlett heals from his wounds, Cornelius explains that he has modified Howlett's DNA. He has created a new gene and, in doing so, built a new species. "We've created a mutant. And James Howlett… is mutant zero."
Thoughts:
That bit of dialogue between Spider-Man and Bruce Banner happened seven years ago, and it's taken this long for Bendis to get around to explaining it. But if the rest of the explanation is as good as this issue, it'll have been worth the wait. The art is top notch, and the story is perhaps not a status quo changer but definitely an adjustment to the way we see the Ultimate Marvel universe.
Ultimate mutants are not the next step in the natural evolution of humans, as they are in the classic Marvel universe. Rather, here they are descendants of a gene created in a lab as an offshoot of the Captain America super soldier project in World War II. And in the Ultimate universe, Wolverine is the first mutant, not Namor as is the case in the classic universe. The fact that humans willfully created mutants is a pretty earth shaking development and casts the Xavier versus Magneto conflict into a new light.