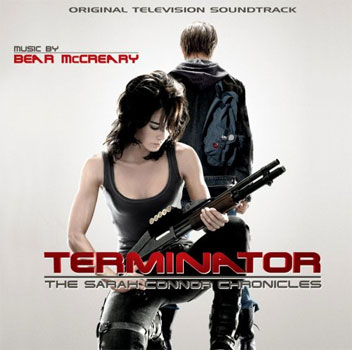 Given the gun-toting, truck-exploding, life-or-death nature of the Fox television series Terminator: The Sarah Connor Chronicles, you might expect a mostly instrumental soundtrack to contain a large amount of fast-tempo, adrenaline-inducing tracks that would be right at home accompanying scenes of such terror and devastation as would accompany the human race's last-ditch effort to prevent machines from taking over the world. In that respect, the Terminator: The Sarah Connor Chronicles soundtrack does indeed deliver, but it does so with a few added surprises that you might not expect from the score of this type of series.
The 24-track disc opens with "Samson and Delilah", aptly performed by Garbage lead singer and actress Shirley Manson, who appears in season two of The Sarah Connor Chronicles as Catherine Weaver, a new T-1001 liquid-metal terminator posing as the co-founder and current CEO of a company called ZeiraCorp. The track is one of the disc's little surprises, immediately evoking the image of the terminator sent to protect John Connor, Cameron, emerging from the wreck of a burning truck in the season two opener with its chorus, "If I had my way/If I had my way/If I had my way/I'd burn this whole/Building down". Shirley Manson's strong, clear vocals pay a poignant tribute to the show's two main female characters—Sarah Connor, played by Lena Headey, and Cameron, played by Summer Glau.
In addition to "Samson and Delilah", the soundtrack contains 22 instrumental tracks, including the show's opening and closing themes, all of which were composed by Bear McCreary, the composer behind much of the music for Sci-Fi's Battlestar Galactica and Eureka. The instrumental tracks range from the type of crash-and-burn scores fitting to the story of John Connor and his struggle to prevent machines from enslaving the human race ("Andy Goode's Turk", "Highway Battle"), to a much more calm, serene kind of background music that you might not expect to accompany a show like The Sarah Connor Chronicles. These tracks' inclusion in the show generally goes unnoticed given the fact that they accompany the series' most emotionally intense scenes, during which the audience is wrapped up not in the music they hear, but the painful struggle of the characters displayed on the screen before them. For this very reason these tracks, including "Sarah Connor's Theme", "John and Riley", and "There's a Storm Coming" definitely deserve a second, or even a third listen.
The last track from The Sarah Connor Chronicles soundtrack that is worth mentioning specifically is "Ain't We Famous", an extremely catchy song performed by composer Bear McCreary's brother, Brendan McCreary, and his band, BrEndAn's Band. This track is definitely one of the disc's hidden gems, and was only recorded (it previously was only performed live in bars around Los Angeles) because of its inclusion in season 2's episode "Automatic for the People".
All in all, we highly recommend that you check out the Terminator: The Sarah Connor Chronicles soundtrack, and maybe even catch the show, which is now on Fox on Fridays at 8 p.m. EST. If you want to know more about BrEndAn's Band, head on over to their myspace page. For more information on Bear McCreary's creative processes, head on over to his blog, where you can read posts straight from the horse's mouth about Battlestar Galactica, Eureka, and The Sarah Connor Chronicles; just watch out for spoiler alerts in his posts!