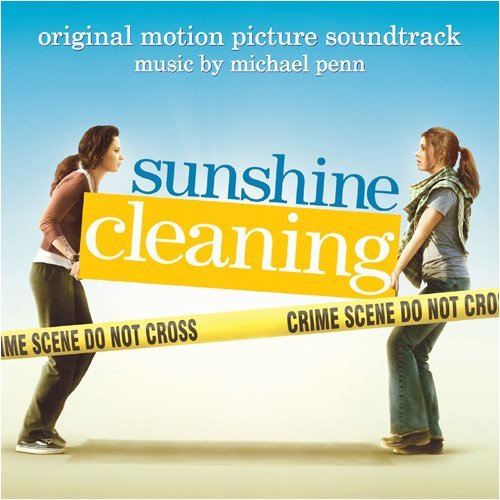 Sunshine Cleaning Original Motion Picture Soundtrack
Composer: Michael Penn
Label: Lakeshore Records
Easy peasy, lemon squeezey is the best way I can sum this original soundtrack up.  The album is a mix of original score by Michael Penn (American Teen, Boogie Nights) and tracks from alt/indie pop bands like Electrelane, Golden Smog, and Bodega.  Put together, they create the musical equivalent of a lazy Sunday afternoon, one where you've just woken up at about 2pm, there's a breeze coming through your open window, and the weather's in that mid-range of not too hot and not too cold.
Basically, it's got the personality of a wet napkin for a someone like me.  I like to be inspired by music, and listening to this soundtrack from start to finish didn't do it for me.  It faded into the background quickly and didn't really grab my attention again until track 22 ("Spirit in the Sky" by Norman Greenbaum).
Michael Penn's pieces here are simple, atmospheric, and mostly without vocals.  They're a bit melancholic, mellow, and easy to listen to.  "Rose and Mac" has a really nice flow to it, with a repeating strand of notes on a cello to start, and a dreamy violin sliding in towards the middle with the guitar.  "Fire" has an almost musette feel to it, similar to something from Cirque du Soliel, while "Trailer Park" has an old Western train station feel to it.  Penn's tracks are the best part of the album, with the exception of "Spirit in the Sky."
Overall, the soundtrack has a hipster, quirky feel fitting for the indie dramedy it was put together for, but it never breaks away from the genre of the movie.  It's consistent in the mood it sets from start to finish, as each song pretty much has the same medium paced rhythm and folksy acoustic guitar in it.  Because of this, you don't feel like you're listening to someone's mixtape with the name of the movie slapped on it (something that happens more and more with OST nowadays).
Sunshine Cleaning Soundtrack Track List:
Cure For This – Golden Smog
The Chalk Thing – Michael Penn
Shrimp Truck – Michael Penn
Bloody Bathroom – Michael Penn
Joe and Oscar – Michael Penn
Trestling – Michael Penn
Perfect Days – Ken Andrews
To the East – Electrelane
Rose and Mac – Michael Penn
Barcelona – Bodega
Some Ice Cream – Michael Penn
Nora Follows Lynn Shower – Michael Penn
Mrs. Davis – Michael Penn
Fanny Pack – Michael Penn
Intro (Stay Here) – Emile Millar
Fire – Michael Penn
Winston's Store – Michael Penn
Open for Business – David Maizlin
Trailer Park – Michael Penn
Arriving at Fire – Michael Penn
CB Radio and Resolve – Michael Penn
Spirit in the Sky – Norman Greenbaum
Introduction – Michael Penn