Marvel Zombies 3 #1
Writer: Fred Van Lente
Artist: Kev Walker
The original Marvel Zombies miniseries by Robert Kirkman blew through comic fandom like a tornado, not only creating a new and bizarre alternate universe where all the familiar heroes and villains were zombified, but also coining a very unfortunate nickname for Marvel fans. Since then, there have been a few more forays into the Zombieverse (including one notably bizarre Army of Darkness crossover), but nothing has been quite as awesome as that first series. The first issue of Marvel Zombies 3 is in stores next week, and here's my advance look at whether it lives up to the original series.
The Non-Spoilery Synopsis
Marvel Zombies 3 #1 opens in Citrusville, Florida, in our universe (aka, the Marvel 616 universe). Florida's Initiative team, The Command, is trekking into the swamps to investigate reports of hostiles. They encounter something they didn't quite expect (well, okay, so it's zombies), and it falls to Machine Man to set things right.
Spoilers Ahoy!
Did I say The Command encounters zombies? What I meant to say was that they are set upon by a gang of recently zombified civilians and then finished off by a zombie version of Deadpool, who somehow has stumbled into our world via the Nexus of All Realities (ie: Swamp Thing's stomping grounds). With the team dead and / or incapacitated, the secret A.R.M.O.R. agency (what is it with Marvel and these acronyms?) calls upon Machine Man and Jocasta to venture into the Zombieverse to recover a blood sample that can be used on our world to create an antidote to fight the zombie plague. What no one knows is that Morbius, the head of the antidote project, actually has been replaced by his zombie counterpart, who is working with zombie Deadpool to infect and consume our world.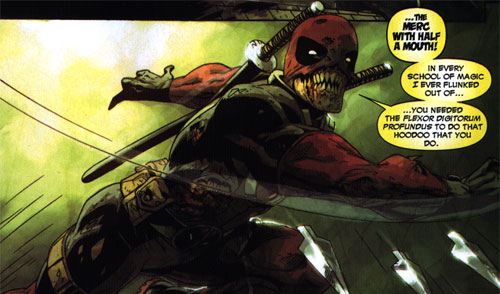 Thoughts
The Marvel Zombie world originated in the pages of Ultimate Fantastic Four, when the Ultimate universe's Reed Richards, with his propensity for accidentally creating massive disasters on a monthly basis, opened a portal between the Ultimate world and the Zombieverse. Since then there have been crossoverse between the Ultimate universe and the Zombieverse, but this is the first time we've had Marvel Zombies spilling over into the Marvel 616. The stakes always have seemed relatively low since the "real" Marvel Universe never was in real danger, but this series knocks that wall down and brings things into current Marvel continuity.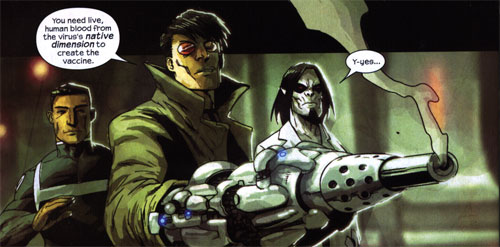 The continuity established in this first issue is surprising in its recentness, as Machine Man is being called in after his tenure with Ms. Marvel's SHIELD strikeforce has ended. This happened due to the events of Secret Invasion, so it's safe to say that this third Zombies series takes place sometime after the Skrull invasion. One bit of continuity that confuses me a little is Jocasta's role. I haven't been following her character since way back when she was the Avengers' computer many years ago. She showed up in Avengers Initiative last month, making me think she's been active recently in the comics, but when she appears at the end of Marvel Zombies 3 #1, Machine Man's surprised reaction makes me think she maybe hasn't been so active. Perhaps I've just missed some essential stories, or maybe it's just a goof up.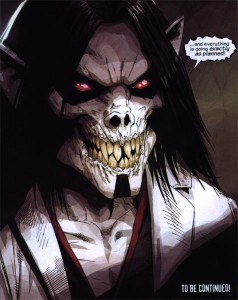 Overall I enjoyed this initial issue. It's better than the Wakandan nonsense from Marvel Zombies 2, but it still doesn't quite reach the pinnacle of that first Zombies series. It has a lot of promise, though, even if the zombies-replacing-heroes plot feels a little tired on the heels of the Skrulls-replacing-heroes plot of Secret Invasion. I'm intrigued to see where the story goes, and I am taking a weird satisfaction from being reminded that the Nexus of All Realities is just down the road from Fandomania Central.