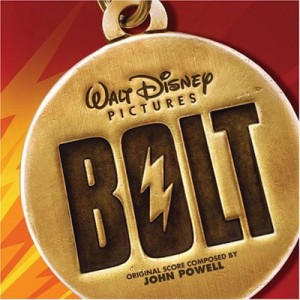 Walt Disney's Bolt released to theaters in November, telling the story of a canine action TV star who takes his role a bit too seriously. The soundtrack is out now from Walt Disney Records and features 19 tracks, including new songs from Miley Cyrus, John Travolta, and Jenny Lewis.
The Bolt soundtrack CD features sixteen instrumental tracks from the film's score, written by John Powell. Powell is a veteran score composer, having written for a number of huge-name action and comedy films, ranging from Shrek and Ice Age to the Bourne movies and Hancock. Previously a member of the group Remote Control, where he's known for combining traditional orchestral arrangements with modern synthesized sounds. You can hear some of that in the score for Bolt as well. The Bolt soundtrack definitely reflects Powell's background in action scoring, as most of the tracks are straight up action music with a fun flair. There's a little bit of the traditional tinkly sound of Disney bells and chimes here and there, but for the most part this score would be equally at home in a non-animated action film.
In addition to the sixteen instrumental tracks, the Bolt soundtrack also carries "I Thought I Lost You," performed by Miley Cyrus and John Travolta, as well as "Barking at the Moon," performed by Jenny Lewis. The CD closes with the closing score and a brief reprise of "Barking at the Moon." I'm a really big Rilo Kiley fan, and Jenny Lewis' track on this soundtrack is what I was most excited about when we received the CD for review. "Barking at the Moon" is less poppy than most of Jenny's work with Rilo Kiley and has a more folksy sound reminiscent of her solo work or her music with the Watson Twins. "I Thought I Lost You" is very much a countryish pop song. I'm not a fan of Miley Cyrus, but she's not bad here at all. The real treat for this track, though, is hearing John Travolta sing in this genre. I don't think I've heard him do this style before, so it was fun to hear a new side of him.
The Bolt soundtrack is available now from Walt Disney Records.
Note: Thanks to Anny for correcting my facts here!