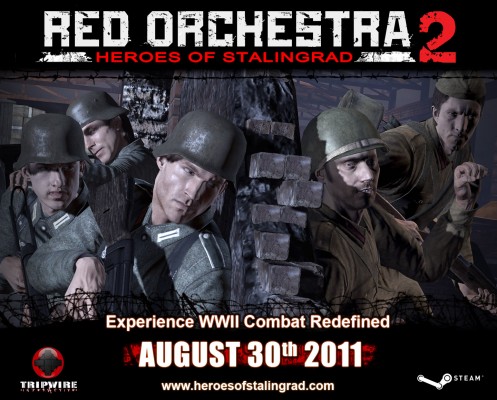 Last week, Tripwire Interactive announced that on August 30th, 2011 players will have the opportunity to experience war in a whole new way with the release of Red Orchestra 2: Heroes of Stalingrad. PC Gamer has called Red Orchestra 2 "a generational leap for WWII shooters. It simply has the most impressive systems I've seen in an FPS." The game will be available simultaneously worldwide through Steam and other digital outlets, as well as in retail stores across the world. MSRP will be $39.99 for the USA, with appropriate local pricing for other territories.
Tripwire Interactive are also very excited to announce the selection of PunkBuster™ Anti-Cheat software and PBBans streaming ban support for the game. "With the selection of PunkBuster and PBBans in addition to VAC we're taking a three pronged approach to cheat protection for Red Orchestra 2," said John Gibson, Tripwire Interactive President. "We hope this sends a strong message to gamers that we take cheating very seriously and are tackling it head on BEFORE the game ships."
Red Orchestra 2 redefines the WWII shooter genre with unique and innovative gameplay including first person cover, immersive first person tank warfare, all new multiplayer gametypes including the multiplayer campaign mode, and unrivaled weaponry with systems such as full ballistics and suppression of enemies. Red Orchestra 2 also gives you the opportunity to fight through both the German attacks into the city and the Red Army's crushing reply in single player.
To keep yourself up to date with the latest development news for Heroes of Stalingrad, follow the official Steam game group.