In a couple of weeks, I'll be posting my list of the Best of 2013. In anticipation of that, here is Part Two of the recent releases list, with albums that will probably end up on that list.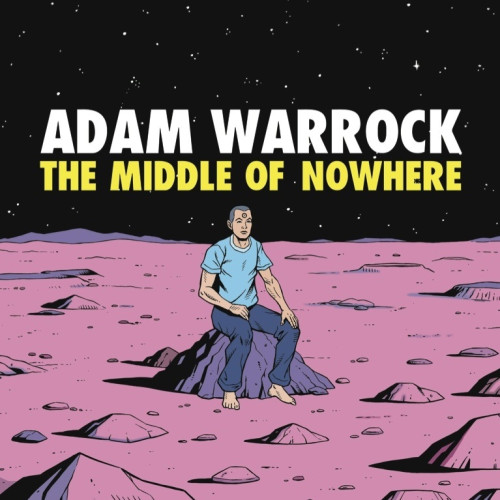 Adam WarRock delivers his version of personal, geeky hip-hop with his third full-length album, The Middle of Nowhere. So what can I say about Adam WarRock that I haven't already said? Probably not much, so let's just get to the music on this album!
The first single from the album, "B.S.F.X.", captures the spirit of WarRock's music rather nicely: "Boom! Pow! Smash! My music makes the Batman sound effects!" On the one hand, you have the geeky references, while on the other you have some truly great, killer hip-hop (I'm tempted to call it "bangin'," but it just doesn't quite sound right coming from me). Also geeky yet personal is "Sinestrocore," a play on WarRock's "Nerd Corps," this one about how other MCs need to fear WarRock and Tribe One (who also appears on the track). This is why I love WarRock's music so much; he takes a geeky topic like the fear of the yellow rings of the Sinestro Corps and turns it into something about himself and his music.
In addition to Tribe One, the album also features some other guests. The opening track, "Nowhere," was written and performed by James Urbaniak. It's basically a story about a temp worker who's stuck around longer than he expected and feels like he's become indispensable. There's also the final track, "Salieri," with MC Frontalot and Louis Logic. You don't hear many rap songs about classical music, let alone Mozart's (supposed) rival, but that's exactly what this is. And since I'm also reviewing his album, I'd be remiss if I didn't mention Schäffer the Darklord's track (which also features int80), "How You Die (On the Internet)," a song about the crappy attitudes of certain types of "fans" as well as the general state of people who comment on stuff online.
You've probably already downloaded this album, but if somehow you've managed to put it off, go do it now!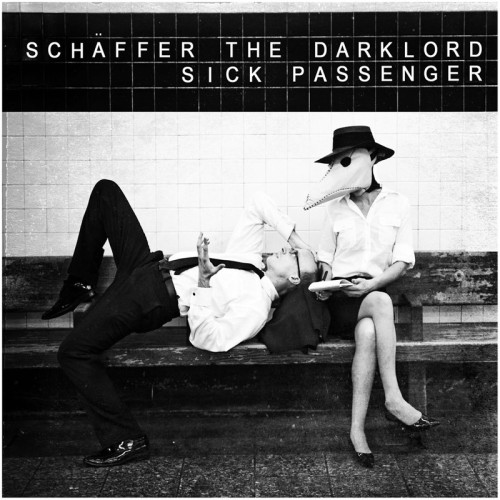 It's been a few years since Schäffer's last album release, Manslaughterer, a fact which Schäffer even references on this new album. The album itself is a concept album in which Schäffer talks to a therapist in the form of both actual talking sessions as well as songs, mostly about his problems with drugs and sex. There's an entire story with plenty of twists and turns, and the ending is just absolutely brilliant, changing the listener's perspective on events completely.
If you've been following Schäffer since the last album's release, you'll likely recognize a few of the tracks from this album: "Tomgirl," "Do Sex," and "Boo! (I'm a Ghost!)," all of which he performed at Nerdapalooza 2012. Something I really like about all the songs on the album is that they function both on their own as well as parts of the overall narrative. "Afraid of Everything" and "Giant Iron Snake," for example, both serve to illustrate the fears that Schäffer is explaining to the therapist, but also actually foreshadow the ending.
There's also Schäffer's "Intervention," in which all of his nerdcore friends take turns trying to get Schäffer to acknowledge his drug and sex problems. I especially love Jesse Dangerously's highly personal verse, in which he realizes he's "in the wrong house." When his session with the therapist ends, Schäffer then repents his ways in "The Amender," a clear reference to his rejection of "The Bender." I'm honestly not sure how much of the album is true and how much is exaggeration, but it has the ring of verisimilitude to it.
I have to say this is pretty definitely Schäffer's best album to date. It's an incredible journey with some really great songs. This album is highly likely to end up close to the top of the Best of 2013 list. Go grab it on Bandcamp.
Swamp Thing – Firedogs (NSFW)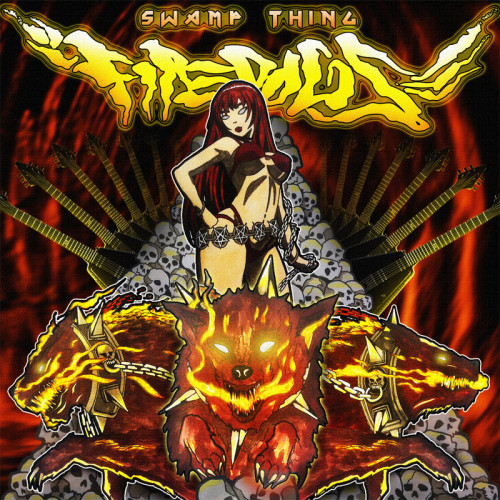 It's tough to follow up an album that I chose as my favorite of the year, but Swamp Thing's sophomore effort is a worthy successor. I admit it took me a few listens to really get into it, but then I've done the same with several albums that I love. The album maintains the dichotomous, laidback yet also heavy, vibe of their previous release. They've also expanded their subject matter to include life on the road as well as music in general, though there are plenty of pop culture-based tracks to satisfy.
In the former category is the opener, "The Altar (feat. D-Sisive)." I really like this one about heavy metal music. For some reason it makes me think of the band Anthrax, although musically it doesn't sound anything like them. It's probably the upside down pentagram on their latest album cover. Also in this category is "Damages," a song about a drunken night of debauchery in a hotel. A band destroys a hotel room to the tune of $100,000. Let's hope this one isn't actually autobiographical….
On the pop culture side is another favorite, "Ed Wood," a song about one of the best (or worst, depending on your point of view) B-movie directors, a topic Swamp Thing excels at writing songs about. There's also "Rise Up," a track about the band rising up, but also including various pop culture references like the Beatles, True Blood, and King Kong. Branching out from the B-movies are the tracks "Easy Riders" and "Elephant Man." The first captures the psychedelic nature of the Peter Fonda and Dennis Hopper movie while the second uses the Elephant Man as a metaphor for someone who hides his face to disguise his true nature (at least I think that's what it's about).
If you enjoyed last year's Creature Feature, I am quite confident you'll enjoy Firedogs as well. Go grab it now!