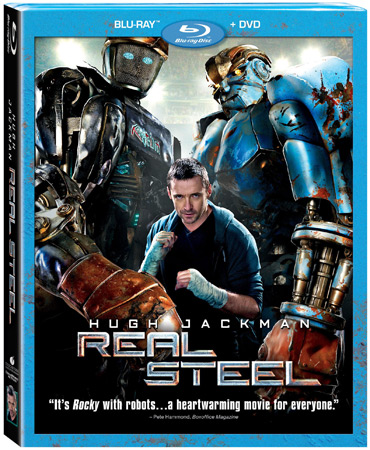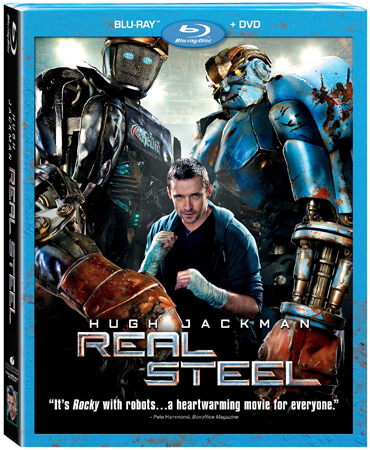 In the near future we'll all have transparent iPads, and robots will replace humans in the sport of boxing. One thing that won't change is that deadbeat dads still will be jerks, and that's where we find Hugh Jackman's character in Real Steel, releasing on Blu-ray this month.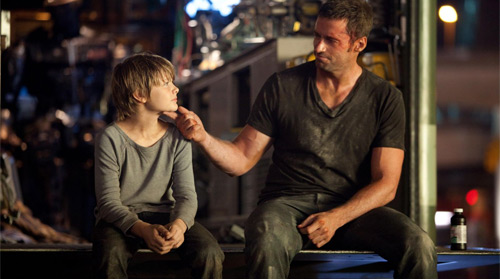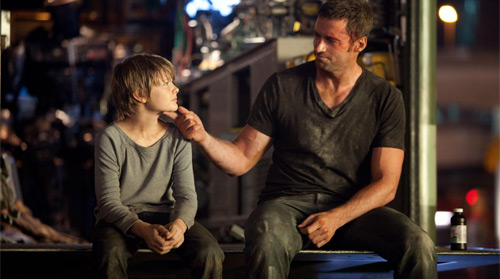 Jackman plays Charlie Kenton, a washed up former boxer who leaves a trail of bad decisions in his wake. No longer actually boxing himself, Kenton is caught up in the next great sports craze, robot boxing. Mechanized fighting has evolved over the years, but the gist of it is that humans build and program big, metallic monsters, who stomp into the ring and pummel each other. The humans run the rigs through remote controls, voice commands, AI, and various combinations therein. As with any violent sports, there are legitimate big-promo associations that run the fights, and then there are back alley and underground leagues. When we meet Kenton he's near the bottom of the underground barrel after a series of impulsive and poor decisions that have landed him deeply in gambling debt.
Just when he's mired himself even deeper into the debt of villainous promoter cowboy Ricky (Kevin Durand, possibly best known as slimy mercenary Keamy on Lost), Kenton finds yet another wrench thrown into the already malfunctioning machinery of his life. It turns out that his ex-girlfriend from a decade ago recently has died, leaving behind the son he abandoned when he took to the road with his robot fighting. Summoned to court to settle the matter of custody, Kenton meets 11-year-old Max (Dakota Goyo, who played young Thor in the 2011 film) for the first time in years. The kid is understandably less than pleased with his deadbeat dad, who still is as big a jerk as he likely was the day he left.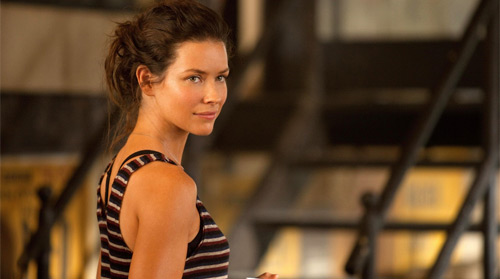 Kenton is still trying to scramble his way out of debt, and the last thing he wants is to be saddled with a kid, so he makes a shady deal with his ex-girlfriend's sister's rich husband. Kenton agrees to turn custody over to the couple for a cool $100,000. The only catch is that the sister and her husband are about to head out of the country, so Kenton agrees to keep Max while they're gone and turn him over to his new guardians at the end of the summer. The relationship between the newly reunited father and son is strained at best and confrontational at worst, and Kenton's kinda-sorta-current girlfriend, gym owner Bailey (Lost's Evangeline Lilly) is drafted into babysitting duty while deadbeat dad plans to head out for more robot punching adventures. Of course, as these things go, the kid is a huge robot boxing fan and forces his way into his dad's irresponsible schemes.
Once Kenton accepts that Max is along for the ride, the movie kicks up a notch and transitions from a purely emotional family film into a more effects heavy action flick. The real fun starts when the duo begin scrounging for robot parts, assembling potential fighters, and working to train the bots to go into the ring. It is at this point when Real Steel treads a thin path between overly heartfelt father-son drama and exciting, metal-crunching battles. Some of the family drama is pretty obvious and saccharine, but in the end the movie succeeds in delivering enough of both sides to keep everyone happy.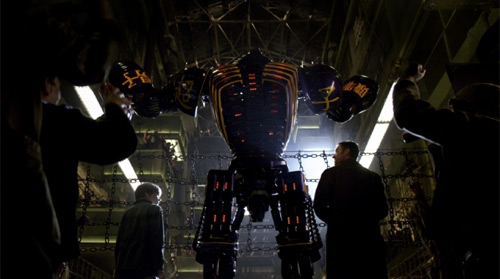 The story does occasionally dip into character changes and events that seem improbable even for a movie about robot boxing, but the cheap and easy plot turns are no worse here than in any other popcorn film from 2011. The movie also frequently reminds us that robot boxing alone does not pay the bills, as a veritable flood of product placements becomes as entertaining as the movie itself. In one key scene, we see Max knocking back what must have been a twelve pack of Dr. Peppers. Later, in a sports arena, Real Steel assaults us with blatant sponsorships on the arena screens from Virgin, Nokia, Xbox, Mercedes Benz, Cadillac, Budweiser, Capital One, Coca-Cola, and countless other companies that somehow have survived our current economic downturn to promote robot boxing in the future. The most egregiously ridiculous placement is a huge multi-screen ad for Sprint, whose slogan still is "The Now Network" in 2020. Despite the silliness (or perhaps partly because of it), Real Steel is a fun movie full of all the robotic carnage you're hoping to see. When it hammers you over the head with the tearjerker moments, it's always just a few beats away from another android throwdown.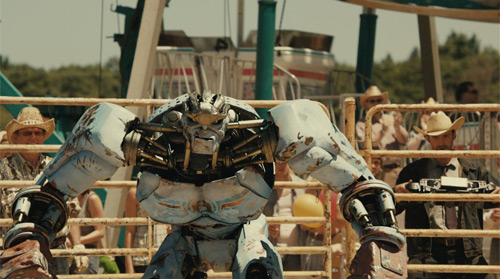 Real Steel is a perfect film for Blu-ray, and it looks and sounds beautiful in this HD presentation. The Blu-ray release includes the movie on DVD as well. The DVD usually is an unnecessary pack-in with these sets, but this time it includes an audio commentary from the director that for some reason is not included on the Blu-ray disc. The rest of the bonus features are on the Blu-ray, though, including:
Real Steel Second Screen – A companion app that runs on the iPad or computer and syncs with the movie playback to show behind the scenes tech, 360 turnarounds of the robots, and more.
Countdown to the Fight: The Charlie Kenton Story – An in character documentary that talks to the movie's characters prior to the movie's climactic encounter.
Sugar Ray Leonard: Cornerman's Champ – Real life boxing champ Leonard consulted on the boxing for the movie and trained Hugh Jackman, and this brief featurette examines his contributions.
Making of Metal Valley – A fifteen minute behind the scenes feature about the making of the robot junkyard sequence.
Building the Bots – A look at how the movie's robots were designed and created. This feature is only about five minutes long but easily could have been four times as long.
Deleted and Extended Scenes – Two altered sequences from the original cut of the film.
Bloopers – A brief blooper reel that runs about two and a half minutes.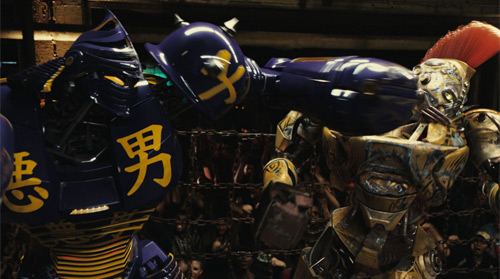 Overall Real Steel is a solid semi-sci fi action film that is likely to win you over with its heart. Even the biggest cynics toward heartwarming dramas (and I count myself among them) will find something to love here, whether it's the developing story of a father and his son or just big metal behemoths punching the shrapnel snot out of each other. Real Steel released on Blu-ray on January 24, 2012, and is available in stores now.