Veterans of the Fantasy genre know that there is more out there than what we can see or know.  There are elves, gnomes, dragons and orcs.  At least in our imaginations.  While we're delving through Fantasy, Kelly wants to know what your favorite fantastic creature is.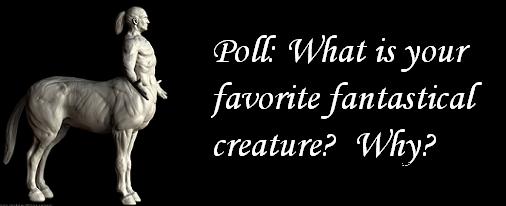 Throughout history man has invented stories.  They served different purposes over time but one thing seems consistent: man created lore, mythology, and the fantastical.  In our early ancestors' desire to put order to his universe he created Gods, dieties, and other spirits. Gods in various shapes and sizes, some in our image and some just as strange as what many science fiction authors are coming up for aliens. These Gods could personify good or evil, an action like the sun rising or a child being born, emotions such as love and lust or even objects like the ocean and sky. Stories were told to explain strange phenomenon or to teach lessons to the next generation.
Like all things, stories evolved over time. Stories could be used to instruct, entertain, keep a communal history alive, or explain the world surrounding the story tellers. Different cultures created different creatures to explain things that happened in their neck of the woods. People created fairies, dragons, demons, spirits and gnomes to frighten, amaze and astound. Fantasy and story telling have a rich history, one that continues on today.

Anyone who has heard a fairy tale or read Lord of the Rings, or anything in between, has come across a fantastic creature or two. Dryads, sirens, unicorns, dragons, elves, gnomes, dwarves, trolls, orcs, and so many more. If you were anything like me you found one that resonated with you, for any reason, and developed a preference. Some people go for fairies and elves who are esthetically pleasing, mischievous or smart, while others go for trolls and the undead because of their strength and horror.
My favorite has always been the dragon. I remember being younger and being convinced that there were dragons. Every culture on earth seemed (to me at least) to have a tale of dragons. How could they be fictional? Dragons have always been there, from knights in shining armor to vanquishing the fire breathing menace and rescuing a damsel in distress to the Chinese who had gorgeous serpentine dragons. My preference was only solidified when in middle school I read book upon book with dragons such as Patricia Wrede's Enchanted Forest Chronicles and Anne McCaffrey's Dragonriders of Pern.
Now I ask you, what is your favorite fantastical creature and why? What interests you the most about this creature, and why is it better than the others? I am really interested to hear other people's stories and their experiences with the fantasy genre.