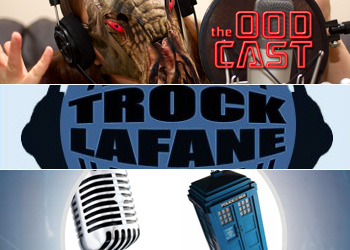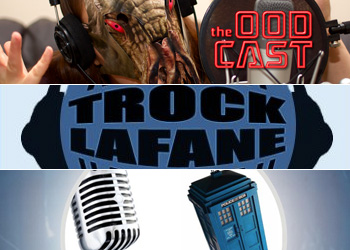 I discovered podcasts about two years ago, and now I never listen to the radio in my car anymore. They are a great way to get in-depth information and commentary on a wide variety of subjects, but unlike radio shows, they are available for downloading and listening whenever you want, not when a program director decides to put it on the air. Even better, they don't cost anything to download or subscribe!
Since you're reading this article on Fandomania.com, I assume you are already a listener to the awesome weekly Fandomania Podcast (you are, aren't you? You're not? Go here to find out how to subscribe!). Once you're finished with that one, though, you've got plenty of time before the next one comes out to try a wide variety of other podcasts. To help you choose, this is the first article in a series in which I will tell you about some of the best Science Fiction and Fantasy podcasts on the Internet. Each article will describe some of the great podcasts that I have found related to a particular category or fandom, so stay tuned for the whole series. First up: Doctor Who Podcasts.

Website Features: Podcast descriptions, other Doctor Who-related articles, downloadable trock albums, and links to RSS feeds for both the podcast and blog. The podcast is also available through the iTunes store.
Average Length: 30-45 minutes
Frequency: New episodes come out during the week after each new Doctor Who episode has aired. When the show is not on, they will occasionally record a podcast if there is a special event to discuss (for example, when two of the Oods attended the Gallifrey 1 Convention in Los Angeles).
About: Of all the various Doctor Who podcasts that I have listened to, The Ood Cast is hands-down my favorite. In each episode, the four podcasters – Andy, Chris Alpha, Chris Sigma, and Laura – give a thorough discussion of the most recent episode with a healthy dose of humor, mainly in the form of dramatic sketches and Laura's awesome parody songs. The fact that they only make a podcast when there has been a new episode of the show gives them an advantage over many of the other DW podcasts that I listen to: since they don't have to dig for something to discuss week after week when new episodes of the show are not actually airing, I don't find myself bored with discussions of Classic Who that I know nothing about or Big Finish audio productions that don't interest me, either. I highly recommend checking out this fab quartet of Brits — they are well worth your time.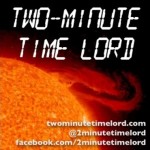 Website Features: Descriptions/show notes for each episode with links as appropriate, plus RSS feeds and iTunes store subscription info.
Average Length: Usually less than 5 minutes, although occasionally, special interviews/discussions/features call for longer "Time Dilation" episodes.
Frequency: Approximately weekly
About: The show's tag line accurately describes it in a nutshell: "Concentrated commentary on the worlds of Doctor Who." The host, Chip, wanted to do a Doctor Who podcast because he was a fan of the show, but he also wanted it to stand out from the tons of other DW podcasts out there. Since many of them tend to be on the long side, his gimmick is keeping it short, which is nice. He condenses his opinions on the latest episodes (DW or Torchwood) or show news into concise, two- or three-minute chunks that are both informative and entertaining. He covers a variety of topics and his commentary is well-thought-out and interesting to listen to. This is another of my "must listen" shows that often goes straight to the front of my playlist as soon as it's downloaded.
Where: Descriptions of each episodes with links to individual mp3 files. The site hosts a number of fandom-related podcasts plus articles and reviews, but it can be difficult to navigate. No RSS feed information is given on the website, but you can subscribe through iTunes (and if, like me, you're not an iTunes user, email them via the website's contact link and they'll send you the feed URL).
Average Length: 1 hour or longer
Frequency: Every 2 weeks
About: Hosts Michael David Simms and Dan Toland started the podcast in 2008 with the aim of watching and then discussing every episode of Doctor Who ever — it's the podcast equivalent of Rob Shearman's and Toby Hadoke's Running Through Corridors books. They are currently in the Colin Baker era and won't get to current episodes for another two years, although they will often begin a podcast by briefly discussing any episodes that have aired since the last podcast. One of the hosts is a long-time classic Who fan, but the other is watching most of the classic episodes for the first time, and it is very interesting to hear both perspectives when they discuss Doctors, companions, and stories. As a New Who fan myself, I have enjoyed the introduction to the earlier doctors, as well as learning which stories I should check out sometime (and which I should avoid).
Note: This podcast carries an "explicit" tag in iTunes for occasional f-bombs and other language.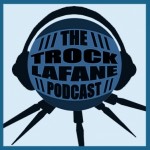 Where: Blog entries for each episode include show notes and links to trock artists and videos of songs played in the podcast, plus monthly news articles with links to new trock songs and artists the podcaster has discovered. As far as I can tell, there is an RSS feed for the blog, but not a separate one for the podcast. Blog entries for new episodes include links to download the mp3s of the shows, however, and it is available on iTunes.
Average Length: 1 hour
Frequency: Irregular
About: This podcast, seven episodes so far, is produced by a teenaged girl with a passion for trock (Timelord Rock, or songs about Doctor Who). There are a lot of people out there who write and sing a lot of trock songs, and a lot of them are not so great (as I've discovered from watching some of the videos she links to in her monthly update blog posts) but fortunately she only puts the best ones in the podcast. Sometimes the teenage girl ramblings between songs get a bit annoying (to me — if you happen to be a teenage girl you might enjoy them more) but the music is fun to listen to. Since we're at the mercy of a busy high school student's schedule, there hasn't been a podcast since May or a blog post since June, but don't let that stop you from listening to past episodes for your trock fix.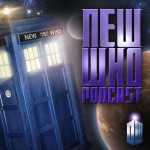 Website Features: General information about the podcast with a link to subscribe in iTunes as well as a link directly to the podcast feed. No blog or show descriptions, but there are links to the show's email, Twitter, and Facebook pages.
Average Length: 15 minutes
Frequency: Regularly when new episodes of Doctor Who are on (usually within about a week after an episode has aired).
About: This podcast features a father/daughter team who chat briefly about the most recent episode of Doctor Who and run down the current Who news. The two of them give a fresh perspective to the commentary, and they keep it short and sweet, which is a plus. This is a great podcast for families who watch Who together, or for anyone at all who enjoys the show.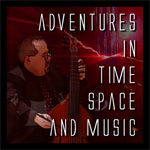 Website Features: Links to a multitude of subscription options (RSS feeds, iTunes, and several other podcast aggregators) as well as information about the hosts, an online store, and various other information, both DW– and music-related.
Average Length: Varies widely — episodes range from 15-20 minutes to over an hour.
Frequency: Irregular
About: Dr. Phillip Serna, a music professor at Northwestern University, and sometimes Dr. Louis Niebur, a music professor in Reno, Nevada, talk about the composers and music of Classic Who in this unique podcast. Each episode highlights a particular composer or story, giving biographical information and discussing the musical influences that can be heard in the score. The most interesting episodes have been the ones where they've interviewed composers about their work on Doctor Who. Be warned: this is serious music nerd stuff, not for the faint of heart.
Website Features: Detailed show notes include links to things discussed and timings for each podcast segment, plus links to subscribe to the podcast via RSS and iTunes.
Average Length: Over 1 hour
Frequency: Irregular
About: Bridging the Rift is about making connections between various aspects of Doctor Who and Torchwood fandoms, from fanfic and fan art to trock, cosplay, and conventions. Episodes do contain discussions of news and recent episodes, but the main focus is the fan response to the show. Many of the shows are primarily focused on one particular aspect of fandom — the shows on conventions, costuming/cosplay, and trock were particularly memorable and intersting to me — and the hosts will often be joined by a guest host who has expertise in the topic being covered. Last spring, the show changed to a magazine format, with separate segments all relating to a particular theme. No new episodes have come out since the first new-format show, but I plan to leave Bridging the Rift in my subscription list indefinitely in the hopes that new stuff will come along eventually. Still, the past episodes are definitely worth a listen in the meantime.
---
One type of podcast that this list has been short on so far has been the straight commentary show. That's mainly because there are so many out there, too many to listen to for the purposes of this review. There are two that I listen to, both of which are described below, but there are so many good ones — Radio Free Skaro, Radio Rassilon, The DWO Whocast, and the Tin Dog Podcast are a few of the more prominent podcasts. For this type of podcast, it's all a matter of personal taste and how well you like the hosts — you'll just have to pick one and start listening, and if that doesn't suit, move on to another (you probably don't want to try to listen to all of them, though, because you'll find quite often that they cover much of the same ground). One thing I've noticed about many of these is that they stick to a set schedule at all costs, even if there are no new episodes to talk about, so much of the content will go to other topics like Big Finish audio plays, books, Classic
Who
retrospectives, and sometimes interviews. If you are like me and aren't particularly interested in a whole lot of what I just listed, then look for a podcast with good show summaries or show notes so you can figure out which episodes you can skip! With that said, my top pics for commentary shows (read: the two shows I listen to regularly) are:


Website Features: Short show descriptions, links to subscribe with RSS or iTunes, forums for all manner of Doctor Who discussions, and loads of other information.
Average Length: About 45 minutes
Frequency: Weekly
About: James, Tom, and Trevor (and sometimes special guest hosts) get together weekly to discuss the most recent episode of Doctor Who, if there is one. Otherwise, they discuss the news and other topics like classic Who or Big Finish audio dramas. Occasionally, they will have fascinating interviews with various people involved in the world of DW. These three are die-hard fans of both Classic and New Who, and their discussions are always very thoughtful and well-informed.

Website Features: Links to blog and podcast feeds, plus lots of extras, including fan fiction, reviews, and interviews. Episode posts in the blog feed include show notes/links and detailed timings of podcast segments and discussion topics. It is also available through the iTunes store.
Average Length: Over 1 hour
Frequency: About twice monthly
About: Adam, Andy, Jean, Fake Keith, and Real Keith sit down with the Head of Pertwee and Cardboard Amy (don't ask, just tune in) to discuss the latest episodes of Doctor Who and Torchwood, along with whatever other genre shows they happen to be interested in at the moment. In addition to episode commentary and show news, listener feedback, and the discussion thereof, always features prominently in the show. I don't remember why I chose this particular show to sample for possible inclusion in this article, but I'm so glad I did because I really enjoy it, despite its length. The hosts get along well with each other and I enjoy their banter as much as anything else in the podcast — I frequently laugh out loud while listening. In addition to regular shows, they also occasionally post shorter episode commentaries (40-45 minutes) where they talk about a recent episode of a genre TV show as they watch it (mainly DW lately, but I also noticed the odd Primeval or Babylon 5 episode in the download list as well).
---
If you're a Whovian looking for a good podcast to listen to, I hope this has given you some ideas. If not, then my final suggestion is to check out the
Doctor Who Podcast Alliance
, of which most (if not all) of the podcasts mentioned here are members. The most interesting feature of the DWPA website is the list of links to members' podcasts. I'm sure there are some
DW
podcasts that are not listed there, but there can't be very many.
After all that, did I still manage to leave your favorite DW podcast off of the list? Tell us what it is and why we should listen in the comments. Happy listening, and stay tuned for the next podcast roundup, where we'll shift into the fantasy genre as I introduce you to my favorite podcasts about worlds created and inspired by J.R.R. Tolkien.