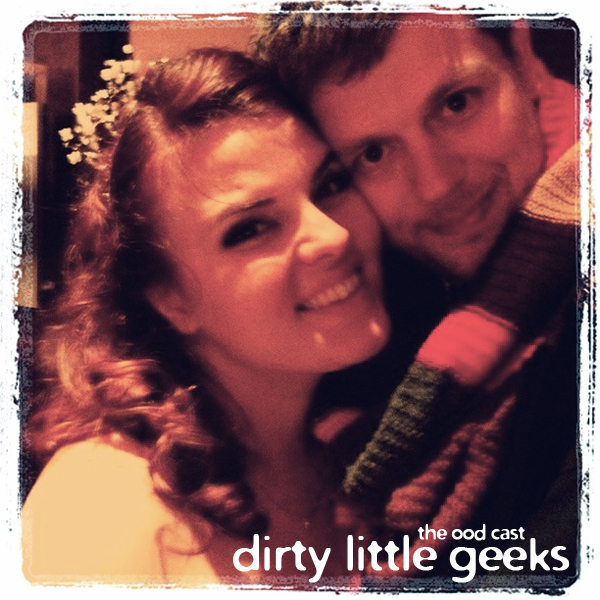 Album: Dirty Little Geeks
Artist: The Ood Cast
Release Date: July 29, 2011
The Ood Cast is one of the best Doctor Who podcasts out there, and the things that make it so great are all of the original skits and music that the four Oods (Andy, Chris Alpha, Chris Sigma, and Laura) write and perform to go with their commentary on each new Doctor Who episode. Last summer, at the conclusion of Series 2 of the podcast (covering Series 5 of Doctor Who), they took all of the parody songs so excellently performed each week by Laura and created an album that was free for the downloading for their fans (read about and download it here). This summer, Laura and the other Oods have really outdone themselves — in addition to planning a wedding (Laura and Chris Sigma just got hitched), they have put out another album of parody songs with twice as many tracks as the first album.
For Dirty Little Geeks, the Ood Cast took all of the parody songs featured in each episode of the podcast's third series, covering not only the first half of Series 6 of Doctor Who but also Laura and Sigma's trip to the Gallifrey One Convention in Los Angeles last winter, reviews of a few random Doctor Who episodes from before the Ood Cast started, and the Series 5 episode "The Lodger," which for some reason didn't get its own song when the Oods reviewed it in Series 2 of the podcast. No matter what style of music you like, there is something here for you. The Oods themselves describe their eclectic mix of songs as "From Björk to Radiohead via Show Tunes, Tracy Chapman, The Beatles, Michael Jackson and Monty Python. But about time travel, headless monks, killer shop dummies and pirates," which sums it all up very nicely.
I have enjoyed listening to the first album over the past year, so as soon as the post about the new one hit my RSS feed reader last week, I downloaded it and gave it a listen, and what a great listen it was! In fact, several of the songs (my favorite ones, fortunately) have been on rotating earwig duty for the last several days. I especially enjoy hearing what Laura has done with songs that I already know – "Who Don't Impress Me Much" (to the tune of the similarly-titled Shania Twain hit) is a great example, and I know the people in the other cars wondered what the heck I thought was so funny as I cracked up at the verse about the Tenth Doctor ("Ok, so you're so, so, sorry…"). I'm also enjoying the Ood versions of songs that I didn't already know, and in a few cases I've discovered that the parody is much better than the original, "Woman In the Box" being a prime example (I had so much fun singing along that I looked up "Woman in the Wall," which turned out to be awful). Other favorites include "Rory's Summer of '69" (about episode 2, "Day of the Moon"), "I Know It So Well" (where Laura appropriately sings a duet with herself to go with the second doppelganger-themed episode "The Rebel Flesh") and the title track, "Dirty Little Geeks," which is a rousing anthem celebrating sci fi conventions as places where geeks can wave their flags proudly.
From show tunes to rap, current pop hits to classic rock standards, Laura manages to pull off the vocal parts effortlessly, including most of the harmony and back-up singing. I never cease to be amazed by her extraordinary talent in such a wide variety of styles as that covered by the two Ood Cast albums, although I think she is at her best when performing slow, sultry tunes like "Blue Glory Box." Sometimes she is joined by others, most frequently Chris Sigma, but also her father, Adrian Simpson, who sings the "Shaft" parody about long-time Doctor Who Magazine editor Clayton Hickman on this album (a repeat performance after bringing voice to a "Vincent"-themed parody of Don McLean's "Starry Starry Night" on the first album), and fellow podcaster Tom Attah of The Doctor Who Podcast (a professional musician making his second appearance in an Ood song) who joins Laura for "Don't Go Breakin' My Mic."
As the title song says, "So raise your glass if you are wrong in all the right ways," and go to The Ood Cast's website and download Dirty Little Geeks — you won't be sorry, and you can laugh and keep singing along despite the funny looks from everyone else. If you like it, download the first album as well and be sure to subscribe to their podcast. If you really like it, you can even show your appreciation with a donation towards keeping the Ood Cast on the air (look for the "donate" button on the right side of the blog page) — I know the Oods would really appreciate it. As for me, I will keep listening to my Oods and their great music and hopefully it will make the wait until their next new episode a little more bearable.
Track Listing:
"A Show of Distinction" (to the tune of "Big Spender" by Shirley Bassey)
"Dr. Who Writer" (to the tune of "Paperback Writer" by The Beatles)
"Our Lodger" (to the tune of "Our House" by Madness)
"Clay! (Intro)" (featuring Adrian Simpson) (to the tune of "Shaft!" by Isaac Hayes)
"Your Song (Fanboy Diss)" (to the tune of "Your Song" by Elton John)
"Do You Remember" (to the tune of "Remember the Time?" by Michael Jackson)
"Fake Plastic Men" (to the tune of "Fake Plastic Trees" by Radiohead)
"Talking 'bout Regeneration (Live)" (to the tune of "Talking 'bout a Revolution" by Tracy Chapman)
"Underneath Your Skin" (to the tune of "Underneath Your Clothes" by Shakira)
"Silence Is All You'll Hear" (to the tune of "Silence" by Murray Gold)
"Frozen" (to the tune of "Frozen" by Madonna)
"Don't Go Breakin' My Mic" (featuring Tom Attah) (to the tune of "Don't Go Breakin' My Heart" by Elton John & Kiki Dee)
"Wuthering Dead" (to the tune of "Wuthering Heights" by Kate Bush)
"Jet Plane To Gallifrey" (to the tune of "Leaving on a Jet Plane" by John Denver)
"Ribbons" (featuring Chris Sigma) (to the tune of "Buttons" by The Pussycat Dolls)
"Who Don't Impress Me Much" (to the tune of "That Don't Impress Me Much" by Shania Twain)
"Dirty Little Geeks" (to the tune of "Raise Your Glass" by Pink)
"The Tenth Doctor's Hair (Oodmix)" (cover of an original song by Radio Rassilon)
"Four Chords of Time" (featuring Chris Sigma) (to the tune of "Four Chords" by The Axis of Awesome)
"Oh So Silent" (to the tune of "Oh So Quiet" by Björk)
"Rory's Summer of '69" (to the tune of "Summer of '69" by Bryan Adams)
"I'm On A Pirate Boat" (featuring Chris Sigma) (to the tune of "I'm on a Boat" by The Lonely Island)
"Woman In The Box" (to the tune of "Woman in the Wall" by The Beautiful South)
"Blue Glory Box" (to the tune of "Glory Box" by Portishead)
"I Know It So Well" (to the tune of "I Know Him So Well" from the musical Chess)
"Flesh Monster" (to the tune of "Monster" by The Automatic)
"Always Look On The Bright Side Of Going To War" (featuring various members of The Doctor Who Podcast Alliance) (to the tune of "Always Look on the Bright Side of Life" by Monty Python)
Rating: 5 / 5 TARDISes