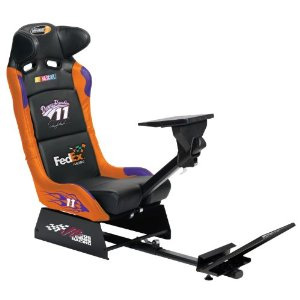 I know nothing about NASCAR and even less about personal seating designed to enhance the video game-playing experience, but I'm still really excited about the upcoming release of a NASCAR licensed #11 Denny Hamlin "FedEx" Racing Seat (say that five times fast) by Playseat, an international gaming furniture manufacturer, on October 1st. The seat features NASCAR, Joe Gibbs, and FedEx branding, as well as a really cool black and orange color scheme perfect for an October release. The seat is adaptable to PlayStation 2, PlayStation 3, Xbox, Xbox 360, Wii wheel and pedal sets, Logitech G27, and the Xbox 360 Wireless Wheel.
I can only imagine what it would be like to sit in one of these babies: the extra strong, lightweight steel frame features high profile side bolsters with Ultra high-density foam upholstered in synthetic leather with patches in high-wear areas. The seat back and base cushions are removable, and the seat features an integrated side head protection system and patented foldable system in the back of the seat for easy and fast storage. The steering wheel support uses fully adjustable steering wheel support with a quick release handle that allows for easy adjustments to the height and length, as well as a universal steering wheel plate that accommodates almost any gaming wheel on the market.
Regardless of whether you own any of the wheel or pedal attachments that Playseat's latest gaming seat can accommodate, the NASCAR #11 Denny Hamlin "FedEx" Racing seat looks extremely comfortable, especially for those of you who play video games for extended periods of time. Playseat's other gaming seats run upwards of $300, and if you buy a new seat directly from the manufacturer you could be looking at $800-$1000, so chances are the new NASCAR seat will fall somewhere in the higher price range, but if you have the means and are a serious gamer this definitely looks like it is worth checking out.
For more information on Playseat or any of the company's gaming furniture and accessories, visit their website. You can also purchase Playseat products, including the company's other official NASCAR branded items, online direct from Playseat.