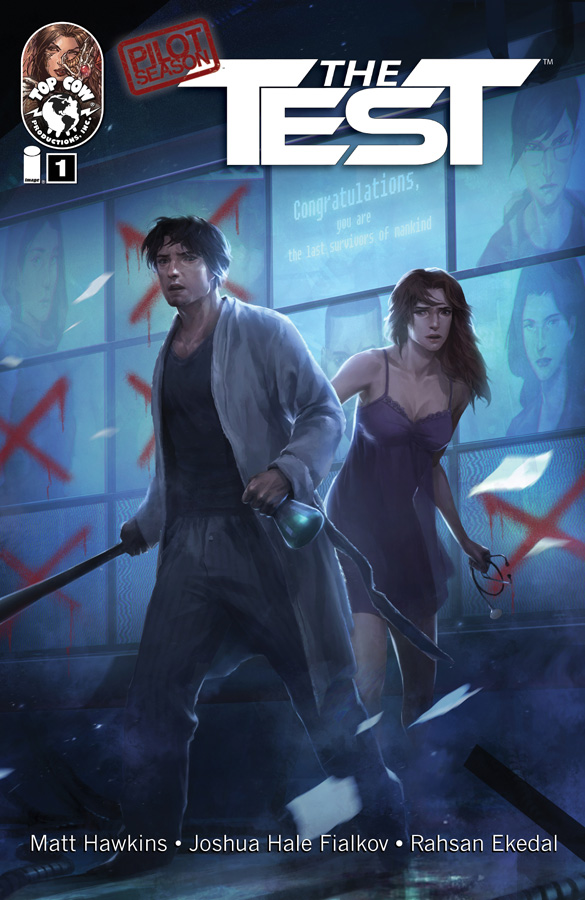 Issue: Pilot Season: The Test #1
Release Date: October 05, 2011
Writer: Joshua Hale Fialkov
Artist: Rahsan Ekedal
Cover: Bagus Hutomo of IFS
Letterer: Troy Peteri
Publisher: Image Comics
Pilot Season is back and offers up The Test as one of the candidates for this round of comics fighting for a continued release. For those not familiar, Pilot Season began back in 2007 as a sort of battle royale fight to win printing for new comics. Six comics are released and readers' votes decide which comic will get a continued storyline.
The Test is about a group of humans waking up in a post-apocalyptic world, where they will be expected to repopulate the world in an enclosed neighborhood that looks a bit like something out of the Big Brother game show's wet dream. (It's creepy in its normalcy. A picture perfect neighborhood enclosed in a bio dome that serves as a view screen.) A frighteningly cheerful female talking head greets them, as a projection on a domed screen sky, giving them cryptic clues as to how they got there and why they are there in the first place.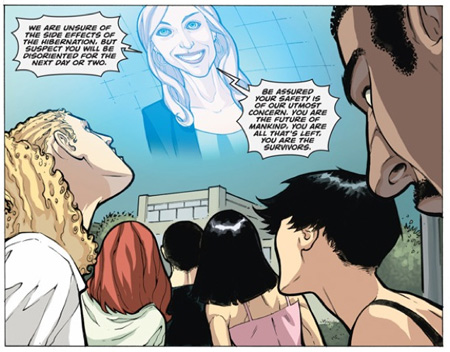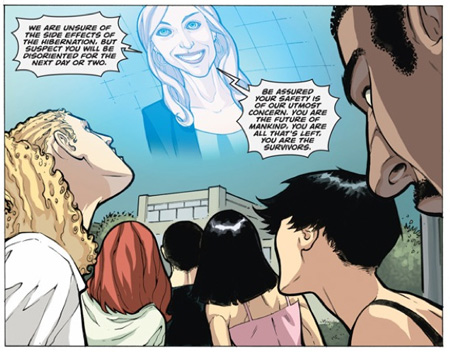 I am sold. This thirty-two page comic managed to create a killer opening that will bring the reader in and force them to stay focused, eyes wide open on each panel of every page. I haven't been this engrossed in an opening since the series premiere of Lost. Everything is new, yet familiar. Each survivor suffers from amnesia, yet is able to pick out which house they belong to in the neighborhood. Not much is revealed, but roles start to define as the survivors realize members of their group are missing and spread out to search for them.
The issue ends with a grizzly reveal as the effects of the amnesia begin to wear off.
I'm a little angry right now. I don't feel The Test should have to fight for a right to be printed. This is a strong opening. If the rest of the story is anything like it, this is a solid tale the deserves to be printed. Plus, a quick look over at Pilot Season's Wikipedia page shows me that The Test is not the only solid story fighting for a spot on the printing press.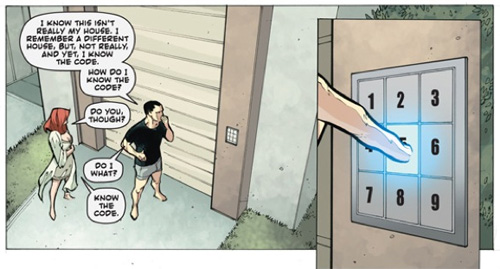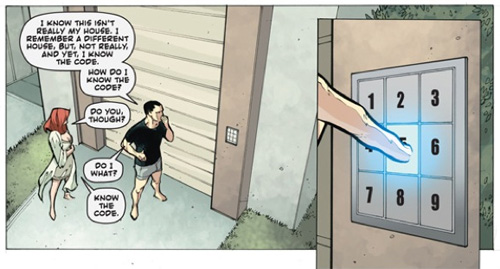 Dear reader, I don't know what to tell you. Part of me wants to tell you to run to your friendly neighborhood comic book store and pick up the first issue of The Test. It is a good read. If you enjoyed Lost, or at least enjoyed the first episode or the first season of Lost, you will enjoy The Test. If you enjoy survival / apocalyptic mysteries, you will enjoy The Test.
But this is just one of many one shots Pilot Season will release. Do I really want to advise you to get attached to a comic that might not see another issue? Or do I look at this as using my powers for good, rallying the masses to buy the comic and vote for it to make certain it does get a full printing?
Yes. Yes I do. Go. Buy this comic. Read it. Demand it gets a full printing.
Rating: 5 / 5 Stars