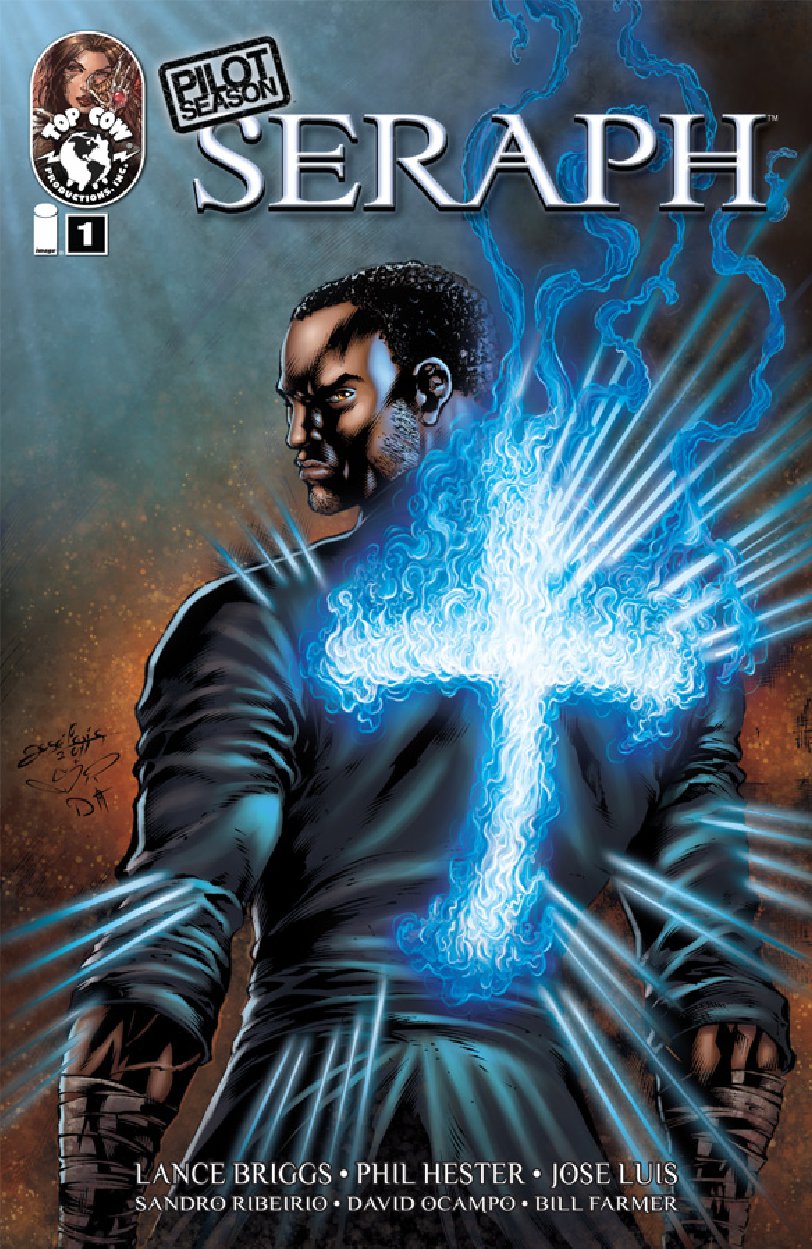 Issue: Pilot Season: Seraph #1
Release Date: November 2011
Author: Phil Hester with Lance Briggs
Pencils: Jose Luis
Inks: Sandro Ribeirio
Colors: David Ocampo and Bill Farmer
Letters: Troy Peteri
Cover: Jose Luis, Sandro Ribeirio, David Ocampo
Editor: Flip Sablik
Publisher: Image Comics
Can a sinner whose life was riddled with tragedy become heaven's greatest warrior? That's the question for the new comic Pilot Season: Seraph #1. The story follows DeSean, a man who has seemingly lost everything. And in the end he couldn't take the pain anymore, so he committed suicide. But Heaven saw potential in him, so instead of being damned to Hell, he was chosen to become an angelic soldier.
I liked the fact that DeSean was a believer at some point in his life. He had merely lost his way and, in essence, this is his penance to get back in the good graces of the God he felt abandoned him. However, it's not his choice to serve this purpose, it has just been demanded that he do so. The fact that he wears the mark of religion on his back, and that the tattoo glows bright with power when he's exacting heavenly justice, just makes him much more interesting.
The storytelling of this comic gives enough layers and twists to keep me intrigued throughout. We have an unwilling hero who is being forced into his mission, along with an angel named Nijo who helps him out but doesn't give him any more information as to what his destiny might be. Added to that, there's Grace, the angel who set him down this path in the first place, saving him from descending into Hell upon his death. I like that we see her possibly working both sides, since we're left to wonder if she saved DeSean or condemned him.

With all that there was to love about the comic, I did have one dislike. I was not a fan of the second person point of view storytelling in the comic. The action was much more interesting to me when DeSean actually interacted with the other characters rather than being privy to a constant stream of internal thoughts. It made me feel like this was too much of a mixture of novel and comic rather than a pure comic book rendering. However, I managed to overlook the way it slowed down the storyline to instead focus on the back-story it gave. DeSean is a complex character and it would be hard to capture all of his characterization through current timeline storytelling, so the use of the second person point of view thoughts achieved what it set out to do.
I found myself drawn into this world and left with questions that I want to see answered. Will DeSean be a great warrior for Heaven? Did Grace's actions to make him a Seraph originate from a higher purpose or is she working on her own agenda? Will Nijo ally himself with DeSean more than he has now, to serve beside him rather than blindly following Heaven's orders? The comic has created a wonderful universe in which to explore. I would love to see it through
Rating: 4 / 5 Stars