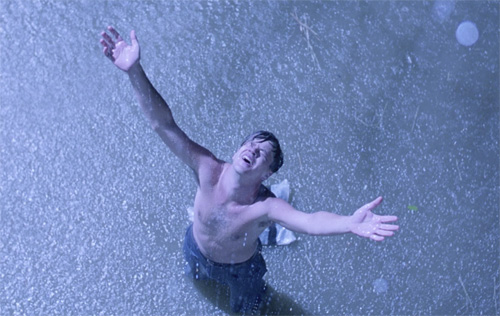 It doesn't bother me anymore that The Shawshank Redemption didn't win a Best Picture Oscar, losing to Forrest Gump because, eventually — in its own glorious, Shawshanky way — it has won more than an Academy Award. It has won the #1 spot on many Top Movies of All Times lists. Now that's what I call staying power. Maybe it took time to get up there, but so what? It's there now. Tim Robbins said, "I would venture to say that all of the best movies were virtually ignored when they first came out. Citizen Kane and It's a Wonderful Life both tanked at the box office."
Director Frank Darabont said, "Shawshank was definitely a slow build. It landed with a hollow thud at the box office. It was very telling to me that, at the following year, we were the top rental of 1995 on video. And somehow it seeped into the culture, it seeped into people's hearts. Word of mouth has now brought it to a place of great esteem." The Shawshank Redemption is now one of the highest-grossing video/DVD rentals of all time.
Today, The Shawshank Redemption is ranked #1 on IMDb's Top 250 movies, beating out The Godfather, Star Wars, Goodfellas, Casablanca, and every other great movie. Oh, and, by the way, Forrest Gump came in at #38. Pardon me while I laugh.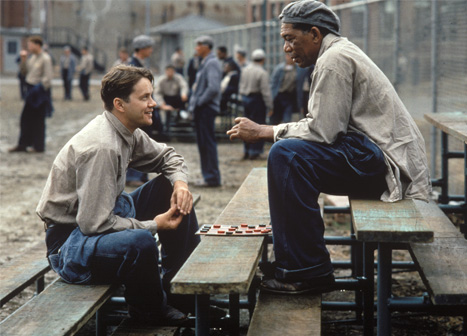 Although Shawshank didn't even make it to AFI's 100 Best Movies when that list was first comprised in 1998, it finally came on in 2007 at #72, beating out Forrest Gump's #76 spot (where it had dropped five places since 1998). Ha! Take that, Academy! In the end, the fans spoke, loudly and clearly. 1994's Best Picture winner, Forrest Gump, is remembered for that line about life being like a box of chocolates, while Shawshank is remembered for the whole movie.
One of the many things to love about Shawshank, besides the fine acting, script, and direction, is how it came to be: Stephen King, author of the original novella on which the movie was based (Rita Hayworth and Shawshank Redemption) coined the term Dollar Baby, aka Dollar Deal, which refers to student filmmakers to whom he grants permission to adapt one of his short stories/novellas for a fee of One Dollar. That's right, $1.00. Frank Darabont, director of The Shawshank Redemption, was a Dollar Baby. In his intro to the published shooting script for Shawshank, Stephen King writes, "Around 1977 or so, when I started having some popular success, I saw a way to give back a little of the joy the movies had given me…I will grant any student filmmaker the right to make a movie out of any short story I have written…" King has made these Dollar Baby Deals 17 times.
After Darabont optioned Shawshank, Rob Reiner offered him $2.5 million for the rights. He wanted to write and direct it with Tom Cruise as Andy Dufresne and Harrison Ford as Red. Though tempted, Darabont decided it was his "chance to do something really great" by directing it himself. The proof of his rightness is in the film.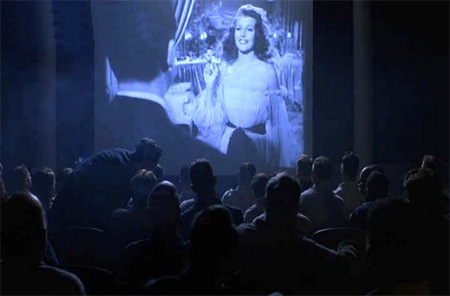 Shawshank Trivia
The American Humane Association was on set monitoring Brooks's crow, Jake. What the producers hadn't reckoned on was that AHA insisted on also protecting the maggot that's fed to the bird. "Stop cruelty to the maggot!" was their battle cry. Silly as it seems, the producers had to find a maggot that had died of natural causes before shooting could commence. How'd you like to be the coroner on that gig?
The mugshot of young Red, which appears on papers whenever Red's up for parole, is actually a studio-posed photo of Morgan Freeman's son, Alfonso, who plays Fresh Fish Con in the movie.
In Stephen King's novella, the prisoners watch a screening of The Lost Weekend (1945). Because the rights to this were owned by a different studio, Frank Darabont looked for old films he could show without paying. He was delighted when the producer found Gilda (1946) — one of Rita Hayworth's biggest hits.
Darabont selected the duet between Susanna and the Contessa from The Marriage of Figaro for the scene where Andy plays music over the loudspeaker, and it was Tim Robbins's idea to have his character turn the volume up in a final defiant gesture.
Warden Dennis Baker, the actual real-life warden at the new Ohio State Reformatory which replaced the old one (where the film was shot), makes an appearance as an extra, sitting behind Tommy Williams (Gill Bellows) on the bus. The Warden asked to play a convict.
Brad Pitt was originally intended for the role of Tommy.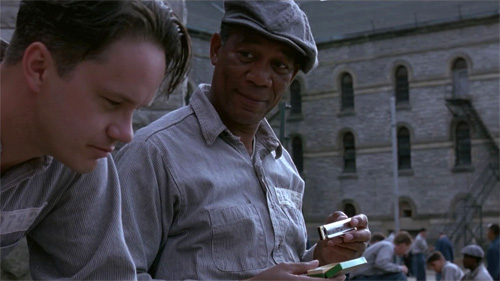 And talk about irony: The role of Andy Dufresne was originally offered to Tom Hanks, who couldn't accept due to scheduling conflicts on Forrest Gump. Also considered for the role of Andy were Kevin Costner (who was shooting Waterworld and had to pass), Nic Cage, and Charlie Sheen. For the part of Red, Clint Eastwood, Paul Newman and Robert Redford were considered. In the novella, Red is a middle-aged Irishman with graying red hair. However, Darabont always wanted Morgan Freeman.
Darabont watched Goodfellas (1990) every Sunday while shooting Shawshank and was inspired by it for voice-over narration and indicating passage of time.
It took nine hours to shoot Andy and Red in the prison yard with Red pitching a baseball. Morgan Freeman pitched that sucker for the whole nine hours without complaint.
Stephen King said Rita Hayworth and Shawshank Redemption was based on his memories of prison movies he saw as a kid.
Totalfilms.com calls Shawshank "the most popular movie without a lightsaber."
Shawshank was nominated for seven Oscars: Best Picture, Best Actor (Morgan Freeman), Best Adapted Screenplay, Best Photography, Best Editing, Best Original Score and Best Sound Mixing. It did not win a single one.