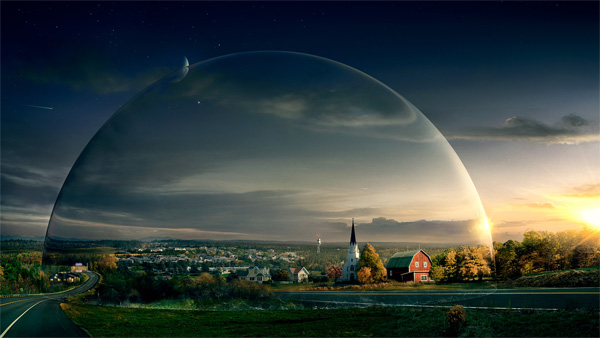 Remember a couple of months ago when everybody was all excited about CBS bringing back and re-popularizing the miniseries format with their ten episode adaptation of Stephen King's Under the Dome? Today the network batted their eyelashes and said, "Just kidding!" while stuffing handfuls of money into their pockets.
Under the Dome has proven to be a ratings darling, becoming the most watched scripted TV show of the summer. The story it's adapting has a definitive end, as presumably did the single season of the show. The rockstar success CBS is seeing from the series has changed their focus, and now they have renewed Under the Dome for a second season, which will air next summer. Stephen King will be writing the season two premiere, likely figuring out some way to stuff everybody back into the dome if they manage to get out of it in what originally was going to be the single season's series finale. There's no question that the decision to add another season was propelled by money, as opposed to artistry or quality. Under the Dome is entertaining TV but is far from the best thing running. Squeezing twenty (or more) episodes out of a concept that really could have been handled in six total feels like anything but natural storytelling.
Other networks have ordered their own miniseries after seeing the success Under the Dome was bringing to CBS. NBC even has a new limited series adaptation of Stephen King's The Tommyknockers in the works. It will be interesting to see whether the other upcoming miniseries Under the Dome inspired will backpedal to become full series after CBS blinked.