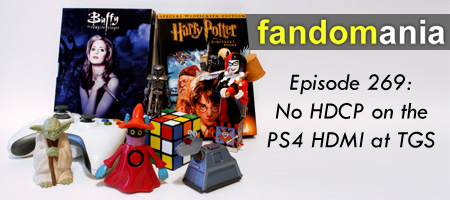 This week we talk about Grand Theft Auto V, the finales of Under the Dome and Burn notice, the premiere of Sleepy Hollow, and more!
[audio:http://traffic.libsyn.com/fandomania/Episode_0269_-_No_HDCP_on_the_PS4_HDMI_from_GDC.mp3]
00:00:29 – Episode Opening
00:00:42 – The PS4 will not have HDCP on its HDMI, announced at TGS. PDQ. ROFL.
00:06:55 – Mailbag: What do we think about Vita TV?
00:11:02 – Mailbag: What's up with Better Call Saul?
00:16:40 – J.J. Abrams has peaced-out on Star Trek.
00:19:58 – Jason is playing Grand Theft Auto V.
00:35:02 – Celeste talks about the pilot episode of Sleepy Hollow.
00:39:05 – We discuss the series finale of Burn Notice. (spoilers!)
00:54:45 – We talk about the season finale of Under the Dome. (spoilers!)
01:02:32 – Episode Closing