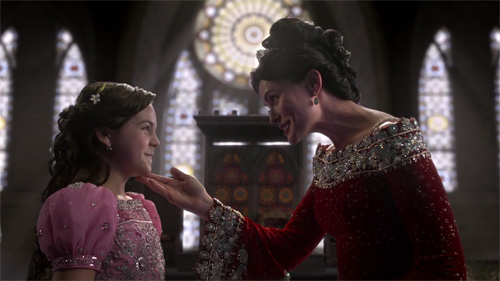 Episode: Once Upon A Time 2.15 – "The Queen Is Dead"
Original Air Date: March 3, 2013
Screencaps by screencapped.net.
This was an interesting installment for Once Upon a Time. "The Queen is Dead" is a fairly dark, heart-wrenching story, much more than any other episode. Mary Margaret uncovers Cora and Regina's plan to find Rumplestiltskin's dagger, and the search for the prize becomes a race between the forces of good and evil. Hook takes action to rid the world of his enemy. In the Fairy Tale World, Snow White may be able to help her dying mother by using a dark spell.
Note: This recap may contain spoilers!
At the castle, preparations are underway for a joyous celebration — Snow White's birthday ball where she'll be crowned princess. Snow shows off her pink, cake-topper princess dress to her mother. We finally meet Snow's real mother, Queen Eva, played by the wonderful Rena Sofer. Queen Eva has a special gift for Snow that has been handed down mother to daughter for generations, her own crown. Snow scolds her servant, Johanna, for daring to try on the crown. In turn, Snow is scolded by her mother for her disrespectful behavior. The princess must learn that although they are royals they aren't better than anyone else. Her mother desires for her to be a kind and benevolent leader that holds goodness in her heart and rules justly. Snow's mom collapses from a life-threatening illness.
In Storybrooke, Mary Margaret/Snow once again faces her birthday — never a happy day. But someone knows it's her birthday and left a gift for her. It's her old crown. The sender is her former servant, Johanna. She was sent to Storybrooke as part of the curse. Mary Margaret rushes off to find her. David goes to the Sheriff station and is attacked by Hook, who knocks David out so he can search and find his hook. Armed with it once again, he's ready to seek his enemy.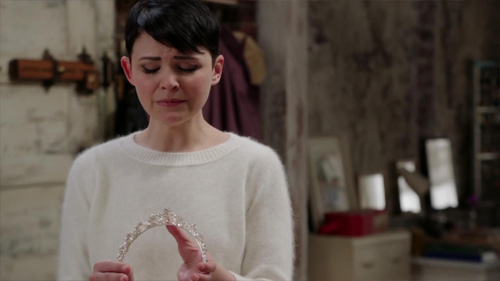 Mary Margaret locates Johanna (guest star Lesley Nicol of Downton Abbey) and they experience a happy reunion. Johanna found the crown in Mr. Gold's shop. As they reminisce, they hear a sound in the woods behind them. Mary Margaret goes to investigate and sees Cora and Regina digging in the forest. She hides and overhears their conversation. She now knows they're working together and searching the town for Rumplestiltskin's dagger. When they get it, Cora will use it to force the Dark One to kill anyone they wish. Mary Margaret finds David unconscious at the station. She tells what she's discovered about Cora and Regina. Both feel neither of those things bodes well. They need to buy time till they can warn Gold and Emma. Mary Margaret has a plan — create doubt in Regina about Cora's motives. Regina already doesn't trust her mother. Mary Margaret thinks she knows the way to reach Regina.
In New York, Neal and Henry chat and get better acquainted over pizza. To Henry's questioning, Neal admits he's from the Fairy Tale World. Emma and Gold trail after them. Gold wants Emma to convince Neal to come back with them to Storybrooke. Emma has fulfilled her deal with Gold. But she'll do it for Henry's sake. Otherwise, he'll be hopping a bus back to NY first chance he gets. She lied to Henry to protect him. Gold counters she sounds like Regina and really wanted to protect herself from getting hurt again. It's obvious she wants a second chance with Neal, even if he is Gold/Rumple's son. He and Henry return. They have plans to visit the museum but go back to Neal's apartment for Henry's camera.
Mary Margaret lures Regina to the diner with news of Henry. She confronts Regina about working with her mother to find the dagger. Regina has earned enough good will with Snow to get a last chance to choose the side of good. What did trying to be their definition of good get her? Hypocrites pretending to forgive her? Snow was the one who labeled her the "Evil" Queen. She has a warning of her own: Stay out of my way. Mary Margaret tries to convince Regina that Cora doesn't care about Henry or her. She just wants Rumplestiltskin's power. However, she may have struck a nerve. Regina retorts with a jab about Snow White's lack of a mother.
Things are not going well for Snow's mother. Snow wishes to cancel the ball. She doesn't care about her birthday; she cares about her mother. Snow grows close to the servant Johanna., who tells Snow that magic might cure her mother and instructs Snow how to contact the blue fairy — by wishing on a blue star.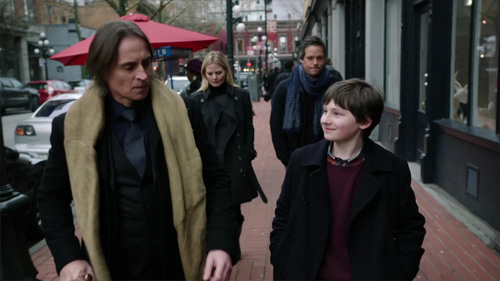 Henry asks Gold/Rumple if he can call him Grandpa now. Irritated, he replies Henry can call him whatever he wants. Emma tells Neal they have to return soon to Storybrooke. She invites him to come and get to know Henry better. Neal has news he wishes to tell Emma. It's complicated. Neal and Henry go up to retrieve the camera. Gold and Emma wait in the foyer.
Hook rushes in, pushes Emma aside and attacks Gold. "Tick tock". He's found and skewered the crocodile. Emma hits Hook over the head with a bench. Neal rushes down. He recognizes Hook. Apparently, they've met before. (Wink, wink, nudge, nudge. Just go ahead and let him admit he's Peter Pan now. The rest of us have it completely figured out.) Emma finds a map on Hook. He sailed his ship to NY, cloaked. They carry Gold to Neal's apartment. Henry tries to check on Gold, but he reacts with anger, blaming Henry for the attack. Hook's hook was poisoned. The only way to treat it is magic. The only place with magic is Storybrooke. The only way to get Gold back in time is take Hook's ship, but no one knows how to sail it. Well, someone does. Neal fesses up that he can sail Hook's pirate ship.
Mary Margaret and David seek the help of the nuns/fairies. Against Cora and Regina, the Mother Superior/Blue Fairy may be their only hope.
The Blue Fairy finds snow White. She hasn't made her wish yet, but the blue fairy knew she needed her. The only way to keep her mother from dying requires the use of dark magic. It must be a secret. Snow will do anything to help her mother. She's given a candle, but it comes with a price. In order for one to live; another must die. She must hold the candle over the heart of someone and whisper their name. Once the candle is lit, that life will be traded for her mother's. She can't do that — her mother wanted more than anything for Snow to be good.
How does Neal know Hook? Short version — this world wasn't his first stop when he left home. If it had been, he'd be a couple hundred years old by now. (The ultimate lost boy.) Henry finds the text from David about Cora and Regina and shows it to Emma. They need Gold to tell them the location of the dagger, so they can get it before the devilish duo. Even facing the risk of incurable poison, Gold is reluctant to give up his secrets. It hasn't left his possession for centuries. The time has come for Gold to start trusting someone, and Emma suggests he start with family.
The Blue Fairy, Mary Margaret, and David try to enter Gold's shop, but he has it protected by a spell. If dark magic is the only thing that can break it, they need to make an exception just like the Blue Fairy told her when she was a girl. The Blue Fairy is troubled; she never told that to Snow. The Blue Fairy has no memory of Snow coming to her for help when her mother was ill. David gets a call from Emma. Gold revealed the dagger's location.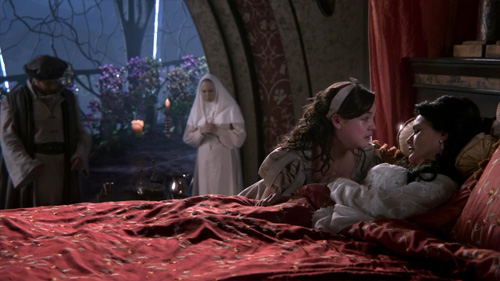 Snow rushes to her mother's bedside and confesses what happened with blue fairy. She apologizes to her mother for being too afraid to use the candle. But her mother says it is strength to resist darkness. Her mother tells her to hold the spirit of goodness in her heart. Snow's mother dies. Johanna is there to comfort and look after the young Snow.
The dagger is hidden in the clock tower, a clever hiding place for a clever man. Regina and Cora puff in. David says they're too late, but Cora claims they're just in time. Time for Snow to learn a long overdue lesson. She puffs in Johanna. In the end, it's not good or evil that wins, but power. At Cora's bidding, Regina takes Johanna's heart. Snow's choice — the dagger or Johanna's life.
Snow is crowned princess of the realm — not in celebration but in mourning. Instead of a birthday ball, it's her mother's funeral. Wonderful scene from 12-year-old Bailee Madison, the actress who plays young Snow. She looks enough like Ginnifer Goodwin's mini-me to be more than believable in the role. The mega-talented actress is already garnering much attention from big names in the film industry and has several acclaimed feature films to her credit. Her performance is heartbreaking and sorrowful, a level of emotion many grown actresses cannot manage. Look for her to be a big star in the future. The Blue Fairy comes in to see Snow's mother in state. There's a poof of purple smoke and she turns into Cora. She has contrived the death of the queen so she can make Regina queen. She promises to turn Snow's heart black as coal, to destroy the goodness in her.
David pulls his gun. (I must admit I hoped it would be his sword.) But Cora magics it out of his hand. She demands the surrender of the dagger. She knows Snow will follow her mother's example to be good, no matter the cost. Where did Cora hear those words? Snow realizes Cora impersonated the Blue Fairy and tricked her as a child. Then, Cora murdered her mother. She did it all to make her daughter the queen. Even Regina is surprised by the depths of Cora's scheme.
Snow gives up the dagger to save Johanna. Regina puts the heart back in Johanna. Before they go, Cora flings Johanna out the window, killing her anyway. Regina still has the parting shot: You see where good gets you? But she's shocked by her mother's action.
Back at the Mayors office, Regina confronts Cora about her scheme to make her queen. Cora arranged all the pieces, manipulated everyone, including Regina, to suit her ambitions. Her mother has won, so why does she need Rumple's dagger? Regina's only interest is getting Henry back. Cora has more schemes she hasn't revealed yet to rid herself of the entire Charming family and defeat Rumple.
Neal and Emma put their plan to return to Storybrooke in action, leaving Hook behind in NYC. Emma is surprised by the concern Neal is showing for his father. There's a difference between running away from your father and watching him die. He may be a monster, but he's still family. Life's full of surprises. Emma is concerned Neal is going to steal a car. It belongs to a friend. There's something he needs to tell Emma before they get on the ship. Before he can tell her the friend arrives — Her name is Tamara and she's Neal's fiancée.
Mary Margaret grieves by Johanna's new grave. Her entire life she's held on to goodness. How many more "right" decisions does she need to make that cost them dearly? All she wants is the happy ending. They've earned it. Snow doesn't care about justice anymore. Instead of waiting for others to change, maybe she needs to change. Snow vows to kill Cora, whatever it takes.
As the umbrella arc has developed over this season of Once Upon A Time, I've not been a big fan of Cora as the Big Bad. For a while, I wasn't sure why, but after this episode I realized what has bugged me. Simple Writing 101. A successful-as-a-character villain always has a redeeming factor that their motivation comes from. I don't see this in the character of Cora. She's just evil, and not evil for a reason. Rumplestiltskin was bullied for years — that's why he wanted the most power, and he would do anything to make a better world for his son because he loves him so much. Regina longs to be accepted by others, but feels forced to resort to dark magic to make it happen. She hates Snow White because she believes Snow betrayed her once upon a time. In Storybrooke, she's motivated by her love of Henry, and her desire to be his only mother. However, Cora doesn't love her daughter. Regina is just another means to reach her goals. She is driven by power and ambition alone, and that makes her only evil. Even in fairy tales, characters are never just evil. What little emotion for her actions the character exhibits comes from the fabulous Barbara Hershey, but even her top notch performance can't cure the character's intrinsic flaw. (This is the only reason I don't completely detest the character.) So, as the audience, we just hate her. We don't even love to hate her the way we do for the Evil Queen, Rumplestiltskin, or Hook. Who isn't looking forward to the death of Cora, especially after viewing "The Queen is Dead"?