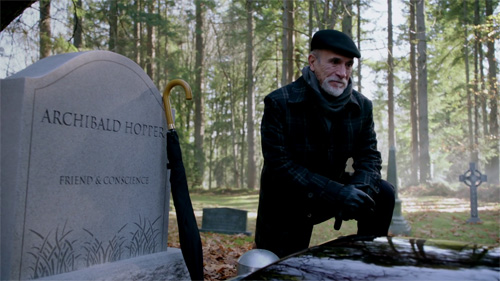 Episode: Once Upon A Time 2.11 – "The Outsider"
Original Air Date: January 13, 2013
Screencaps by Spinneresque.
What is most important to the Storybrooke Mr. Gold/Rumplestiltskin? Maintaining his power or showing Belle he has changed? Is there anything he wouldn't do to find his son? Why does Belle continue to believe there's good in him and love him, knowing all he has done, past and present? These are the themes for this episode of Once Upon A Time, "The Outsider". I'm inclined to enjoy any OUAT episode that focuses on Rumplestiltskin and Belle, and this installment delivered all the elements viewers love about the two. Stir a heaping helping of Hook into the mix, and it becomes a titillating feast for fans.
Note: This recap may contain spoilers!
As Mr. Gold plots a way to leave Storybrooke in search of his son, Hook seeks a way to fulfill his vengeance on his personal crocodile. Things get a bit crowded for the Charming family. In the Enchanted Forest, Belle learns about making judgments based on appearances.
Mr. Gold drives up to the town line. He opens the car trunk and drags out Mr. Smee. Gold pours a potion on Mr. Smee's cap, his most beloved personal item, and pushes him over the border. Mr. Smee doesn't lose his memory of his fairy tale self. Gold's experiment is a success.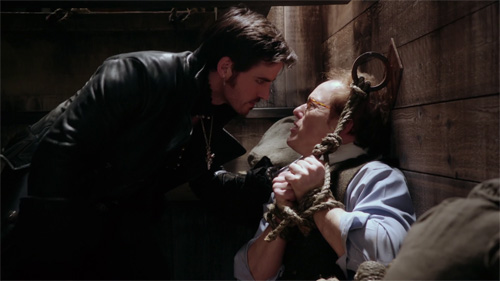 As the residents hold a memorial for Dr. Hopper and mourn his death, Hook questions the real Archie in the hold of his ship. Hook wants the location of the Dark One's dagger, but Archie doesn't know anything about it. Gold confides to Belle that he has a way to leave town and keep his memories. He's determined to search for his son, Baelfire. Belle wishes to come with him, but he only has enough potion to use on one person.
Switch to the Enchanted Forest. In a tavern, Belle overhears a discussion about a hunt for a deadly beast. Dreamy (Grumpy) encourages her to sign up. He gifts her with a bag of fairy dust to help on her quest. Back in Storybrooke, Belle arrives at the library. Hook is there. She recognizes him as the man who broke into her cell in the Queen's palace before the curse took effect. He tries to capture her. She overturns a shelf of books on him and takes refuge in the elevator. She calls Gold for help. The call breaks up, and Gold can't understand what she's telling him.
On the hunt, Belle researches in a book to learn all she can about the creature. After she tells the other hunters it could be found near a lake, they rob and abandon her. Belle lied about where the creature lived. She goes to its real home. The beast chases her. As she runs through the woods, someone shoots an arrow at the beast and scares it away. Belle meets her rescuer, Mulan. Belle thanks her, but Mulan is less than welcoming. She blames Belle for ruining her hunt for the creature and tells her to stay out of her way.
Someone forces open the elevator doors. Belle is frightened it will be Hook, but instead it's Mr. Gold. Hook is gone for the moment. Emma attempts to cheer up Henry, but nothing is working. The Dwarfs want to know when they can return to the Enchanted Forest. They are worried now the curse is broken that outsiders will come to Storybrooke and see the magic.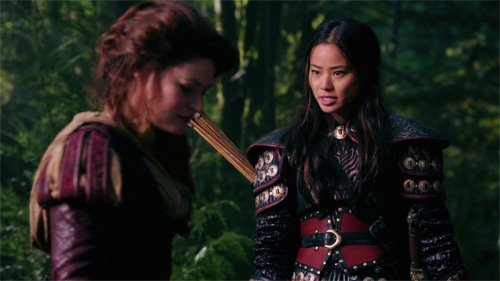 Gold wants to find the pirate, but Belle tries to dissuade him. He tells Belle his version of losing his wife, Milah, and taking Hook's hand. When they arrive back at Gold's shop, it has been ransacked. Gold believes Hook did it. Mr. Smee brings Bael's shawl to Hook, the item Gold planned to use his potion on to enable him to leave town. Without it, the spell won't work. Belle and Gold argue. She wants to help him find Hook. He's worried she'll be hurt. She thinks it's her fault the shawl was stolen. Gold sees it as his fight from long ago. Besides, has she dealt with a pirate before? He orders her to go back to the library. She asks if he'll cast a spell to make her if she refuses. He desires her to trust him to do what is best. He's afraid to lose her, too. Hook's actions may have cost him the chance to find his son. He gives Belle a gun to defend herself if Hook comes again. Belle wants a promise that Gold going after Hook is only about getting the shawl back and not old grudges.
The hunters catch up to Belle and threaten to throw her down a well unless she tells them where the creature lives. Once again, Mulan rescues her. They make a deal to combine their skills. Belle will track the beast and Mulan will kill it. Finally, viewers get to see the warrior Mulan in action.
Belle finds a knotted rope in the library. She looks it up and realizes Hook came to Storybrooke on his ship. Gold finds Smee and turns him into a rat. Belle goes to the dock to look for the ship. She sees gulls sitting in midair and knows the ship is hidden. She finds the gangplank and goes aboard. Belle explores the ship. In the hold, she finds the imprisoned Dr. Hopper and frees him. She tells him to go get Mr. Gold.
Emma brings Pongo home for Henry to take care of. With Mary Margaret, David, Emma, and Henry staying there, things are cramped in the loft. Mary Margaret suggests now there's another addition, it's time to look for a bigger place and make a fresh start as a family. She always envisioned them together as a family, but under a bigger roof, "with turrets".
One element that makes the premise of Once Upon a Time believable is the drop-in of remarks such as this, delivered as normal everyday conversation. This is one of the strengths of the writing team, placing these little reminders that our beloved characters are from a different world and reality.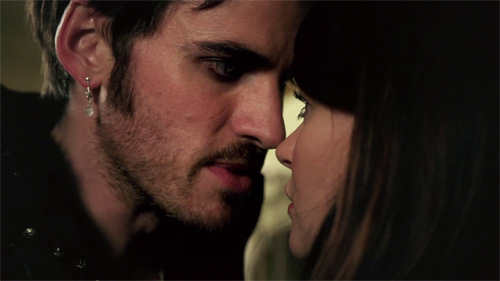 Mulan wants to protect her village from the creature. Her leg was cut badly in the fight with Belle's captors. Mulan tells Belle she must kill the beast. Belle doesn't think she can do it. There was a time when people didn't think Mulan had what it takes either. The fate of the village depends on Belle.
Belle searches the ship for the shawl, but gets caught by Hook. He takes away the gun and turns it on Belle. She tells him she's not afraid of him. Hook recounts the real version of what happened between him and Rumplestiltskin's wife. She loved him and left Rumple. Hook tells her Rumplestiltskin killed his own wife. He ripped out her heart and crushed it as Hook watched. Why is Belle willing to fight for him? This was one of my favorite scenes in the episode. It's an intimate setting, and we get to see a glimpse past Hook's façade into his real feelings — the pain and anguish of losing his true love and his hatred of Rumplestiltskin for causing her death and taking his hand. Plus, who doesn't want to be caught in close quarters with Colin O'Donoghue doing a turn as a classic pirate?
Belle answers that she can see the good in Rumplestiltskin. She believes he's changed and his heart is true. Hook is the one with the rotten heart. She hits him with a metal rod hanging from the ceiling, knocks him down and runs away. As she does so, Hook replies to her accusation, "You have no idea."
Hook catches up to Belle on the deck at the same time that Mr. Gold shows up. They exchange words, and Gold starts beating Hook with his cane. Belle tries to stop him. Hook calls him a coward, so Gold /Rumplestiltskin is determined to kill him. Those are his fighting words.
The fairy tale Belle faces the creature. She douses it with water and subdues the creature. With a claw, it scratches Save Me on the stone. Belle tosses the fairy dust on the creature. When it clears, he's turned into a handsome prince, Prince Philip. Maleficent had turned him into the beast.
Hook taunts Rumple/Gold to tear out his heart. Belle pleads with him to stop; she believes there's still good in Rumple/Gold. He stops for Belle. He tells Hook to leave, sail his little ship, and fall off the edge of the world. I love the finesse Robert Carlyle brings to each side of his character, the quiet menace of Mr. Gold partnered with the crazed, frenetic witchiness of Rumplestiltskin. It's interesting and delightful how easily he can switch the personalities, and have Mr. Gold go suddenly total Rumple-crazy in the middle of a refined speech. How many ways can one say "dearie" in forty minutes?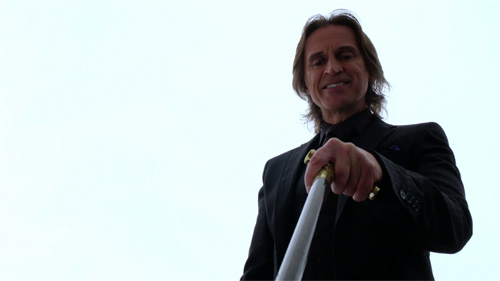 When Mary Margaret shows David some house choices, he confesses to Mary Margaret he would like to return to the Enchanted Forest, their home, too. She reminds him there's only a small portion of their world left, and it's ruled by Cora. He counters that's one of the reasons they need to go back: to fight for what is left and rebuild. Emma promises Henry she won't let Regina take him back. There's a knock on the door. To their surprise and shock, it's Doctor Hopper. He tells Emma that Cora kidnapped him and she's in Storybrooke.
Belle takes Prince Philip to meet Mulan. She leaves, intent on returning to Rumplestiltskin, but she runs into the Evil Queen. Regina commands she be captured and taken to the tower as a prisoner.
Gold and Belle drive to the town limit. He doesn't understand why Belle hasn't given up on him yet, knowing all the things he has done, both in the Enchanted Forest and Storybrooke. She learned a long time ago that if you find something worth fighting for, don't give up. Belle places the shawl around Gold's neck. He steps over the line. He turns and says her name. The spell has worked. He can leave Storybrooke and find his son. She promises to be waiting when he gets back.
In a crazy, twisted ending, Hook shoots Belle, and she falls over the line. She won't be able to remember who Rumple/Gold is. Now, he will find out how it feels to lose the one he loves. Even Rumplestiltskin can't undo the memory loss. Hook challenges him to do his worst. Rumple creates a fireball. Before he can throw it at Hook, an out of control car barrels across the limit. Rumple/Gold pulls Belle away to safety. The car hits Hook and crashes. The plates on the car say Pennsylvania. Has the world entered Storybrooke?
It was a fabulous OMG ending until the previews for the next episode. Once again, the previews pretty much give the plot away and destroy the impact of certain revelations. But, that's next week's story.