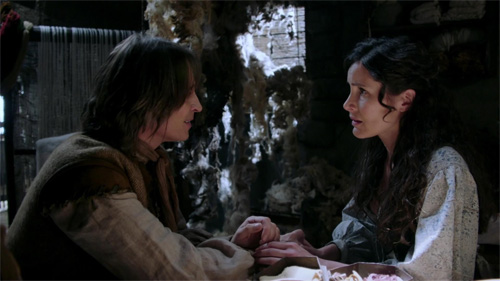 Episode: Once Upon A Time 2.14 – "Manhattan"
Original Air Date: February 17, 2013
Screencaps by screencapped.net.
Threads are knit together and answers given in both desired and unexpected ways in the roller coaster Once Upon A Time episode "Manhattan". It's as packed as the Manhattan streets in rush hour. The only way to express the feelings from the episode is to borrow the current popular saying: "Ermahgerd!" Emma and Henry assist Mr. Gold as he continues the search for his son in Manhattan while Regina searches Storybrooke for Rumplestiltskin's most cherished item.
Note: This recap may contain spoilers!
"Manhattan" is a Mr. Gold/Rumplestiltskin offering as all three storylines explored in the episode center around the one character. In short, Robert Carlyle slays the performance in every respect. His participation in Once Upon A Time was the main attraction for me when the show debuted, and his work never disappoints. The qualities Carlyle draws on for the dual role of Rumplestiltskin and Gold renders him a combination of twisted fairy godmother, wicked witch, showman worthy of Barnum, one's crazy aunt, and snake oil salesman. Then he weaves it all together and spins it into pure Gold.
A younger Rumplestiltskin receives a draft notice calling him to the front lines of the Ogre Wars. To him, it's the chance to rise above his father's reputation as a coward and his as the son of a coward. His wife, Milah, and he dream of starting a family when he returns home from the war an honorable man.
Gold leads Emma and Henry to the suspected location of his long lost son, Baelfire — an apartment building in Manhattan. The Once Upon a Time titles always show a different picture every week, and this week it was the silhouetted NYC skyline.
Regina and Cora share a mother/daughter bonding moment. Hook interrupts. To him, it's the perfect time to hunt down and seek revenge against Rumplestiltskin. While he's not in Storybrooke, he's powerless and helpless. Regina and Cora's counter argument is that magic is the key to beating Rumple. They have a better plan — to search for the Dark One's dagger that bears his true name.
Emma rings the bell for the apartment and pretends to have a package delivery. The man they think is Baelfire jumps out to the fire escape and runs. Emma gives chase, and gets one of the biggest shocks of her life when she catches the culprit. Emma and Neal come face-to-face once again. She realizes that if he is Gold's son, he's from the Enchanted World. He has no idea who this Gold is, but he knows who Rumplestiltskin is. He's spent a lifetime trying to run away from him.
Neal is angry that Emma led his father straight to him. She's the one who got abandoned, alone and in prison, so she's the one who is allowed to be angry. She wants the truth. Did he know who she was the whole time? He convinces her to accompany him to a bar, so they can have the discussion in private, not out in the open. She can keep yelling at him once they get there. Neal is Baelfire, the son of Rumplestiltskin/Mr. Gold. As they wait for Emma to return, Henry reassures Gold that Emma is good at catching people. At least he did find his son. Mr. Gold thanks Henry for bringing Emma to Storybrooke and making it possible for him to locate his son.
Neal had no idea who Emma really was until August showed up when he went to sell the stolen watches. In a flashback, August shows Neal what is in the mysterious box. It is the typewriter, but there's a sheet of paper in it with the typed line: I know you're Baelfire. August convinced him he'd be helping Emma. Letting her go to jail would help her get home. Why and how did they meet if it wasn't in Rumplestiltskin's or his own plan?
He believes it was simply fate. A lot of things about living with his father sucked, but Rumple always said there were no coincidences. Everything happened by design because there are forces greater than anyone at work. They met for a reason. Emma claims nothing good came from the relationship. Neal notices she's wearing the keychain he gave her as a pendant. She jerks it off and throws it at him. She made a deal with Rumplestiltskin to bring his son to him. Neal pleads with Emma to tell Gold she lost him. She'll never have to see him again.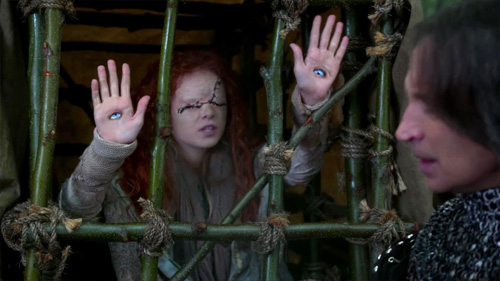 At a military camp, Rumple is assigned to guard a special prisoner, one that can help them win the war. A voice calls his name. He looks inside the crate at the prisoner. It's a young girl who is a seer. She asks for water. She can see the future, and tells Rumple Milah is with child, but because of Rumple's actions in battle the next day, he will leave the child fatherless.
Confused about what she should do, Emma phones her own mother, Mary Margaret, for advice. She confides that Gold's son is also Henry's father. In true motherly fashion, Mary Margaret leaves Emma with a question to ponder: Does Emma want to protect Henry or herself from the truth? Henry doesn't understand why Mr. Gold is so nervous about reuniting with his son. This touching, simple scene gives Carlyle a chance to shine brilliantly as the complicated Mr. Gold. Emma returns and tells Gold his son got away.
Regina knows Gold wouldn't risk crossing the town line without entrusting the dagger's location to someone, most likely Belle. She visits Belle, seeking information on the dagger's whereabouts. She uses magic to search Belle's purse, and finds an index card with a Dewey Decimal number on it. Instead of a book, Cora, Regina, and Hook find a diagram. To a pirate, it's a map. Hook is quite adept at finding buried treasure.
Faced with doom on the battlefield, Rumple interprets the seer's words to mean he'll die in battle. He doesn't want his son to grow up fatherless, so he takes drastic action to be sent home. He cripples himself using a sledgehammer. Rumple returns home to Milah and his newborn son, Baelfire. But Milah isn't glad to see him. Rumple has shamed the family with his actions, and he has become what everyone said he was — a coward. His actions were so he wouldn't leave his son without a father. Milah would have rather he fought and died. She gives the baby to Rumple and storms out. Tender scene where Rumplestiltskin promises never to leave his precious son.
Mr. Gold breaks into Neal's apartment. Emma protests as Henry volunteers to be lookout. In the apartment, Emma finds the dreamcatcher. Gold notices how weird Emma is acting. They argue. He threatens to harm Emma. Neal bursts through the door, returned to protect Emma from Rumple/Gold's wrath for breaking their deal. He has no interest in talking to his father, and orders him to get out of his apartment. Gold realizes Emma and his son know each other. Henry rushes in, and calls Emma "Mom". As Emma tries to drag him from the room, Neal keeps asking how old he is. Henry yells, "Eleven!" Neal can do the math. Emma must admit that Neal is Henry's father. Henry is angered that Emma lied to him about his father. He climbs out the window onto the fire escape. Emma follows. Gold/Rumple begs Neal/Baelfire to talk with him. The real deal with Emma was to get Bael to talk to Rumple. To fulfill Emma's deal, Neal gives him three minutes.
The stranger in Storybrooke videotaped Regina in Belle's room with his cell phone. He keeps talking to someone billed only as "Her" about the strange happenings in the town. Using the map, Hook calculates the location of the dagger. Cora and Regina take the map and knock out Hook. This is Cora's end game — not to steal the Dark One's powers for herself but gain control over him and use him to vanquish their enemies.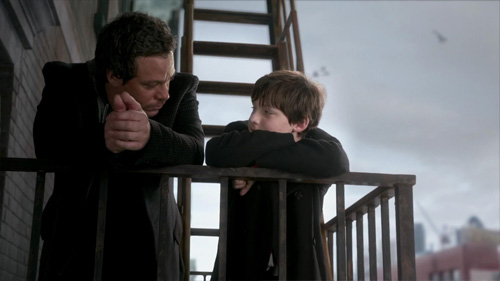 Emma and Henry have a heartfelt talk about his father. Emma apologizes for lying and hiding the truth. Henry accuses her of being no different than Regina. Gold wants to make up things with Baelfire. Neal grew up without his father in his life, and he turned out fine. Rumple offers to turn back the clock, make him 14 again. Neal/Baelfire wants no part of it. He once loved his father when his father was a good man. His last memory of his father was when Rumple let go of him and let Baelfire fall through the portal, choosing his power over his son.
Years after the war, Rumplestiltskin, aka the Dark One, seeks out the seer once again. The seer's predictions that his actions on the battlefield would leave his son fatherless proved true but she left out all the pesky details. She makes another prediction: Rumplestiltskin will find his son but it will not be an easy path, will take many years, and will include a curse. Someone else will cast the curse, and someone else will break the curse. It's not enough for Rumple. If he wishes to know more, he'll have to take the seer's power. She gives the burden of it to him willingly. Now he can see all the details himself.
Henry wants to meet his father. Neal is determined not to do to Henry what his father did to him. He climbs out on the fire escape to get to know his son. Henry forgives him for not being around since he didn't know he was Henry's father.
The seer has a last prediction. The reunion with Rumple and his son will come in a most unexpected way. A boy will lead him to his son, but there will be a price. The boy is more than he appears and will be Rumplestiltskin's undoing. The one detail left unseen: The boy is his own grandson, Henry.
The Charmings are developing one heck of a family tree. Can't find that on a genealogy search. Now that we've met Dad's side of the family, time to meet Mom's side of the family. Everyone really is turning into a bowl of soup.