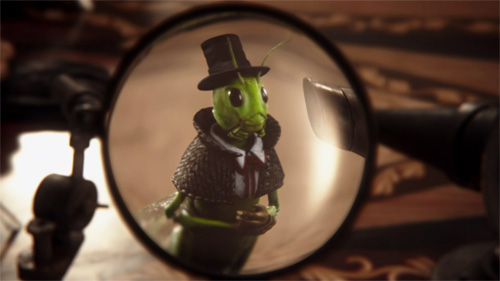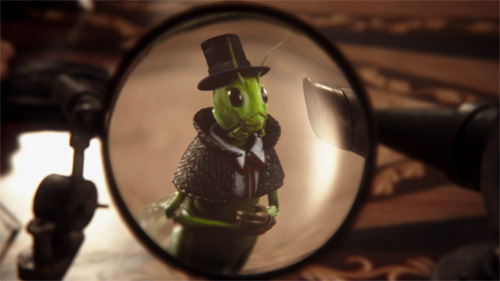 Episode: Once Upon A Time 2.10 – "The Cricket Game"
Original Air Date: January 6, 2013
Screencaps by Spinneresque.
As the second season of Once Upon A Time opened court, the curse that held our favorite fairy tale characters in Storybrooke, Maine was broken. Everyone remembered who they truly were, and Emma now believes in fairy tales and magic. However, no one returned to the Enchanted World they view as home. In one of the less than stellar plot points of the season, the dwarfs discovered if anyone crossed the border of Storybrooke, the person lost all their memory of their fairy tale self permanently. Emma and Mary Margaret were transported accidentally into what remained of the Fairy Tale World. A small remnant was protected from the destruction wrought by the Evil Queen's curse. The main storyline of the first half of Season 2 focused on their quest to return to Storybrooke.
Note: This recap may contain spoilers!
This season viewers met an array of new characters. Since ABC produces OUAT, and Disney owns ABC, they have the rights to use the Disney versions of many characters. The first two Emma and Mary Margaret aka Snow White meet are Aurora and Mulan. They were also two of the biggest disappointments for me. Mulan wasn't utilized enough. She stalked around looking tough and argued with all decisions. But she did know where the poppies grew. Aurora was the typical whiny, diva princess; the complete opposite of the lore Disney had already set for the character. The movie Aurora could have easily kicked OUAT's Aurora's butt in any fight. I thought they were great characters to add in the mix, but I was sorely disappointed at the way the characters developed.
One of the much bally-hooed character additions to this year's line-up was the infamous Captain Hook. This one was a home run. Colin O'Donoghue is perfect as the handsome rogue bent on revenge, Killian Jones aka Captain Hook. I understand why he is in league with Cora, but I don't like the direction the character went toward the mid-season. Some of his actions crossed the line from loveable naughty rogue to downright evil. Not even fun evil, just evil. Those actions did not fit the established character, even in his quest for vengeance against his personal crocodile, Rumplestiltskin.
The discovery at the beginning of the season that Cora, Regina's mother, is still alive was one twist that has set up much of the continuing umbrella arc. I adore Cora, a throwback to the classic soap villainess that one loves hating. The reveals about her during the season have been fun and fitting. However, I'm not convinced yet the character is strong enough to stand as the "Big Bad" of the season. Of course, there's Neal — our mystery man from the opening scenes of the first episode. We know from Episode 206, "Tallahassee", that he is Henry's father. There's much implication that he's originally from the Enchanted World and Rumplestiltskin's lost son. My personal prediction is that he's also Peter Pan.
As the second half of Season Two begins, Cora and Hook arrive in Storybrooke in true pirate fashion aboard his ship. Hook is ready to release his vengeance on Rumplestiltskin but Cora stops him. Cora uses magic to hide the ship. And no one in the town notices the handsome pirate loitering on the docks.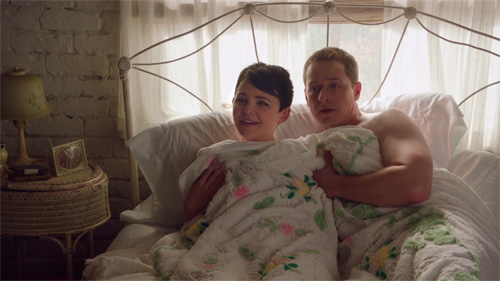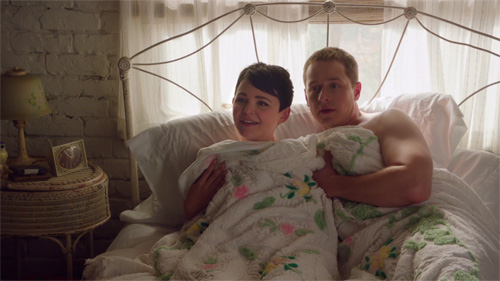 David and Mary Margaret spend an afternoon getting reacquainted after their long absence from each other. They're caught, um, napping in the middle of the afternoon by Henry and Emma. Emma is mortified to catch her parents engaged in such activities.
In the Fairy Tale World, Regina receives word that Snow and Charming's forces have defeated her ally and fake father of Charming, King George. Regina sends her men to delay Charming while she searches for Snow. Snow offers to surrender, but the only terms Regina is willing to accept are Snow's death. But catching Snow is a trap to catch Regina. With her capture, Charming and Snow have won the kingdom. Charming: "Her reign of evil is over."
Granny throws Emma and Mary Margaret a Welcome Home party. Regina crashes the party. Well, not quite — Emma invited her for Henry's sake. She believes Regina deserves the chance to prove she's truly changed. While the ladies are trying to get along for Henry's sake, he's also a conflict between them. Who should get to be his legal mother, and how much should Regina be involved in his life?
Hook and Cora spy on Regina. This scene provided a great opportunity for some Regina zingers as she encountered Dr. Hopper and Ruby. To Dr. Hopper: Someone who "got his PhD from a curse." To Ruby: "Why don't you go take yourself for a walk?" Dr. Hopper has a true desire to help Regina in her quest to reform. Regina's reply is Archie is lucky she's changed.
The Council discusses what should be the fate of the Evil Queen now she's in custody. Jiminy Cricket urges justice for the Queen. Charming argues that as long as the Queen lives, the kingdom is in danger. The Council sees no option but to execute her. If they don't stop her now, there's no telling what she'll live to do. Snow pleads for mercy.
Ruby spots Regina entering Dr. Hopper's office. As she comes in, Pongo barks non-stop. Using magic, she freezes the dog in place. She grabs Archie by the throat, and in a magical puff of smoke, chokes him to death. It's Cora, disguised as Regina. Later, Pongo fetches Ruby and Emma, back in her job as Sheriff. He leads the pair to Dr. Hopper's office, and they find his lifeless body on the floor. Is Jiminy Cricket dead? Everyone in Storybrooke believes so, and the trail of evidence leads only to Regina. Emma and David, the famed father-daughter law enforcement team, bring Regina in for questioning.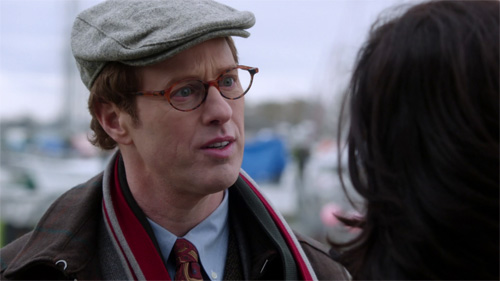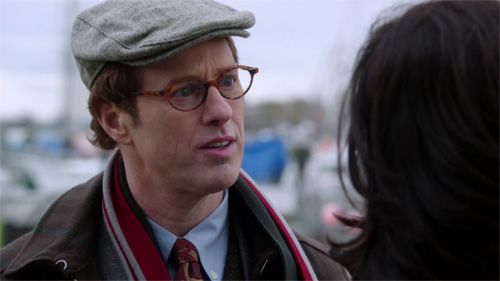 At her execution, the Evil Queen shows no remorse for actions, only regret that she wasn't able to do more damage, and, above all, kill Snow White. Charming gives the command and the archers fire their arrows. With help from the Blue Fairy, Snow White stops the execution.
David wants to lock up Regina. But Emma believes she didn't kill Archie (Dr. Hopper). The evidence is way too convenient for Emma's experience. Regina may have been the Evil Queen in the Enchanted World but in Storybrooke even she deserves a fair chance.
Snow White knows the Queen is evil, but she remembers the young, kind Regina who saved her as a girl. Snow receives an offer of help from Rumplestiltskin. He'll provide a test to prove if the Queen is capable of change. Snow is wary. Rumple never makes a deal without a price. Maybe all he wants is for the Queen to live.
Emma, David, and Mary Margaret search Dr. Hopper's office for evidence. Everything points to Regina. Emma suspects Regina is being framed. There's only one person in town she can think of who would resort to murder — Mr. Gold. At his shop, Belle has brought him a picnic lunch just as the trio bursts in. They break the news about Dr. Hopper. Gold has an alibi, and tells them to ask the witness, Pongo. Gold can extract the dog's memories through magic. Emma is distrustful of letting Gold use magic. He's not going to use it, she is. He claims magic is already inside her.
Gold/Rumple uses a dream catcher to capture Pongo's memories. Emma has the ability to look into it and see what happened. Regina enters the office and kills Dr. Hopper. Emma is ready to go after her. Mary Margaret and David convince her they need a plan. With her magic back, Regina is the most powerful woman in town. They devise a plan using fairy dust — the same method they used to capture her in the past.
In the Fairy Tale past, Snow visits Regina in prison. Snow unlocks the cell door and offers to set Regina free. She's setting free the woman that saved her life. Regina attacks Snow and stabs her with a dagger. But Snow is unharmed. Rumplestiltskin fashioned a protective spell for Snow White. Regina can no longer do anything, even magical, to hurt Snow and Charming or their descendants. She's powerless against them. Regina feels tricked, but Snow says it was a test, a chance to change. Regina once saved Snow's life; now, Snow is sparing Regina's life. They banish her from the kingdom to live a life alone with her misery. If she ever does harm to anyone in Snow White's kingdom again, Snow will kill her.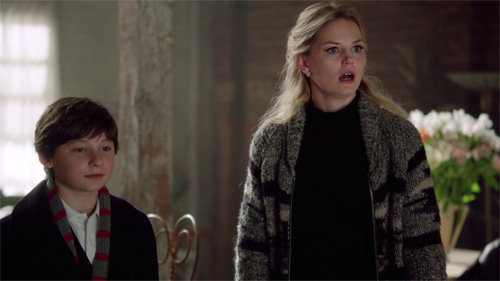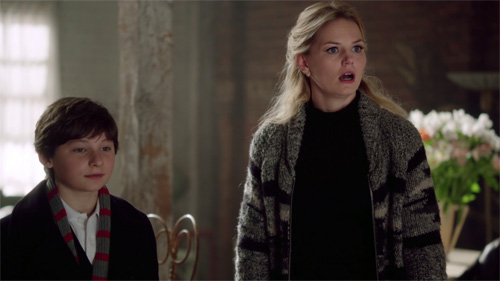 Emma confronts Regina. Regina is no longer the only woman in town who can use magic — so can her rival, Emma. Regina reminds her that the use of magic comes with a price. Emma counters that, in this situation, the price is Henry's heart breaking. That leads to an argument over whose son he is. The Blue Fairy casts a fairy dust bomb at Regina, but she neutralizes it. Can't fool her with the same trick twice. She turns it on Snow and Charming and immobilizes them. Emma tells her there's no way Henry will believe she can change now. He knows who she is and who she will always be. It's the worst thing Regina can hear at this point. She utilizes the oldest witch trick in the book, and disappears in a puff of smoke.
Emma waits to meet Henry's bus. She wants him to hear the news from her, his mother. Mary Margaret and David encourage her. How can she be a good parent if she never was one? David's been asking himself the same question since he found out Emma is their long-lost daughter. She claims it's different because she's grown and had a life before she came to Storybrooke where she wasn't good parent material. But they know who she has been since she arrived in the town. Emma is afraid she could revert to her old ways, just like Regina. David assures her she doesn't have to go through it alone. They are a family. Emma and Henry sit on a bench as she breaks the news to him. A distraught Regina watches from her car.
The banished Queen receives an unwanted visit from Rumplestiltskin. As her only friend, he came to raise her spirits on Snow and Charming's wedding day. Neither of them received an invitation. He reminds the Queen she cannot harm them in this land. He was very explicit about the wording. It plants the idea she could bring them to another land, and they would be at her mercy. She calls her father to bring the carriage. She's going to a wedding.
Cora returns to the docks and the waiting Hook. He reminds her she's supposed to be helping him get his revenge on Rumplestiltskin, his crocodile. She says she left him a present in the hold — a who, not a what. Then comes a very big twist, one you don't see coming. It's someone who knows all the secrets of Storybrooke. Let's just say, along with Cora, a cricket will chirp.