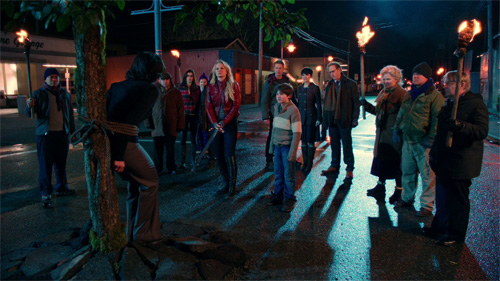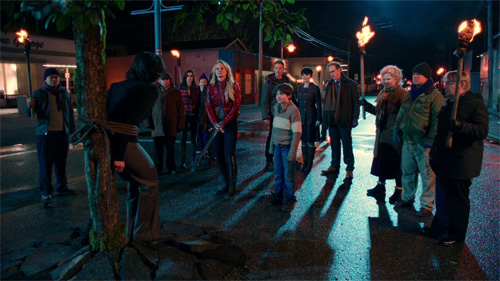 Episode: Once Upon A Time 1.21 – "An Apple as Red as Blood"
Original Air Date: May 6, 2012
Screencaps by Spinneresque.
Regina is losing control in Storybrooke. She's determined to do whatever is required to get rid of Emma Swan for good, even sacrificing the thing that is most important to her. In Fairy Tale Land, Snow White leads a ragtag band on a mission to rescue Charming from the Evil Queen in the Once Upon A Time episode "An Apple as Red as Blood." After the breakneck momentum of the past few episodes, the pace slows down as loose threads are tied up, setting up a showdown between Regina/Evil Queen and Emma/The Savior in the penultimate episode of Season 1.
Will Regina's true identity finally be exposed to the residents of Storybrooke? A group, led by Emma, shows up at Regina's door. With Henry's help, they tie her to a tree. David/Charming hands his daughter a sword. Emma swings and Regina wakes up. It was all a dream. Well, more like a nightmare for Regina. She realizes she's losing control over the curse but is unwilling to admit her vulnerability.
As the last episode ended, Emma drove away with Henry in tow, intending to leave Storybrooke forever. Henry wants to be with Emma, but he's opposed to running away. Emma is the only chance the people in Storybrooke have to break the Evil Queen's curse. He takes matters into his own hands, literally, grabbing the steering wheel and forcing the car off the road.
In FTL, King George prepares to execute Prince Charming. Regina stops the execution and offers to buy Charming from the king. She plans to use him to destroy his one true love, Snow White.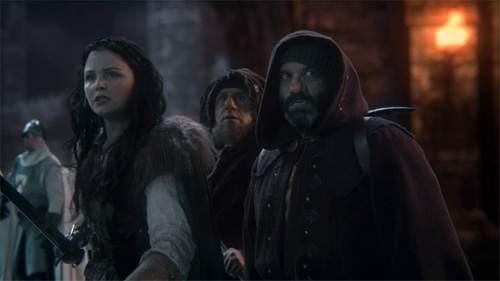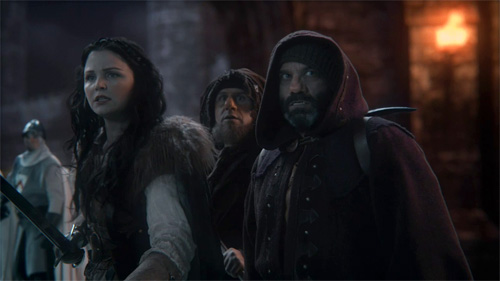 Regina confronts Mr. Gold about the weakening curse. Regina and Rumple have dropped all pretenses about their modern counterparts and the curse having no effect on them, a quality that gives all their recent conversations a juicy, crunchy bite. Regina blames Emma's presence for the weakening of the curse. However, Rumple is content to stand back and watch it all play out. In his opinion, giving Henry to Emma may be the only way Regina has to protect the curse. Regina's main desire is to be rid of Emma for good. But because of the way Rumple designed the curse, if the Savior (Emma) is killed, the curse will be broken. Regina demands he undo the curse. Even if he wanted to undo it, this world doesn't have enough magic for the task. Regina wants a new deal, one where she can get rid of Emma without shattering the curse. But Rumple has no interest in making any deals with Regina. He wants the curse broken.
Emma returns to the apartment and she and Mary Margaret share a mother-daughter moment. Mary Margaret chides Emma for running away. When Emma confesses she almost abducted Henry, Mary Margaret accuses her of reverting to the person she was before she came to Storybrooke. Mary Margaret thought Emma had changed to a person who does the right thing, not runs.
Snow White prepares to attack the castle with her band — the seven dwarves, Granny, and Red. Red brings word that Charming is still alive, but the Queen is also there — a trap for Snow, and the Queen's chance for revenge. She's determined to destroy Snow's happiness the way Snow destroyed hers. The Queen shows Charming her surprise for Snow, an enchanted, poisonous apple. I guess instead of "Chekov's gun", this is "Chekov's apple".
Regina summons Jefferson for help. Yes, the return of the delectable Sebastian Stan as the moody, tortured Mad Hatter. Regina's had the magic hat all the time. She needs him to use it again to create a door back to FTL. But the hat needs magic and this world has none. Regina brought some magical items with her, hopefully enough for one last journey. She's hit on a solution to a very delicate problem. How to get rid of the one person who can break the curse — Emma. Why would Jefferson help her stop that? If Emma breaks the curse, he gets his daughter back. Regina promises to wake up his daughter so she remembers, but Jefferson has a different price. He wants to forget his FTL life and have a fresh start in this world.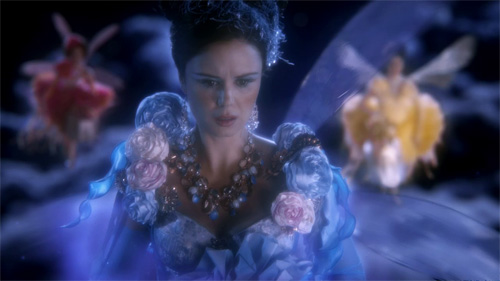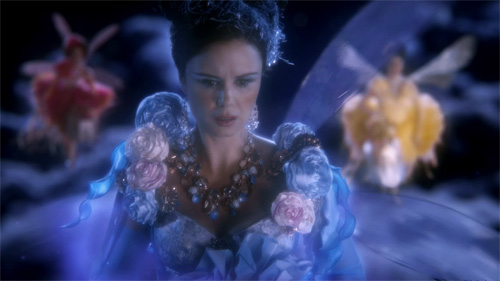 Snow White has another group of allies in her battle against the Queen, the fairies. Snow's "army" begins their assault on the castle. A fun action sequence follows, with the fairies throwing fairy dust bombs in a battle where the underdogs and misfits win.
Desperate to make Emma believe in the curse, Henry seeks August's help. He shows Henry the "unvarnished truth". His arm has turned to wood like his legs. Henry's been right all along. The curse is real, and the people in Storybrooke are fairy tale characters. Emma doesn't want to see the truth, so she can't. August doesn't have much time left, and he wants to spend it with his father, Marco/Geppetto. It's now up to Henry to get Emma to believe.
Emma seeks Dr. Hopper's counsel about her chances for gaining custody of Henry. He advises her to find a way to end the "war" with Regina that has brewed over Henry since Emma arrived in Storybrooke.
Snow locates Charming, but he's a reflection from one of the Queen's mirrors. The Queen requests a parley with Snow. Her allies, especially the ever faithful Grumpy, try to talk her out of the meeting, but it's something she has to do.
Regina leads Jefferson to a secret vault, the place she's kept the little magic she still has. None of it is enough to make the hat work. It requires something that has working magic. Regina has one thing — the ring her true love gave her. Her desire for revenge is stronger, and she sacrifices it to make the hat work. It's not enough to open a door, but she will be able to retrieve one object small enough to fit in her hand. That's fine with her. What she is after is the poisoned apple.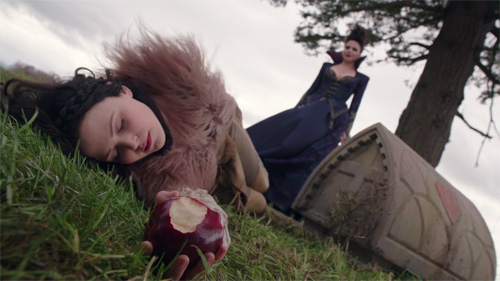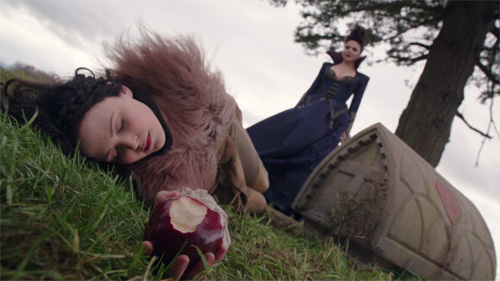 Regina and Snow meet at the stable. The Queen shows her Daniel's grave and walks her down memory lane, reminding her of her "betrayal". She offers the apple to Snow White. Snow's choice — take the apple or the Queen kills Charming. Snow takes the bite and falls over, apparently dead. The Queen's revenge is complete; she has won.
As the apple rolls away from Snow's hand, Jefferson retrieves it, using the hat. Now, Regina's conundrum is how to convince Emma to eat the apple. She decides to bake a tart to tempt Emma. To her delight, Emma shows up at her house to offer a deal concerning Henry. Emma will leave town, but she still gets to see Henry and be a part of his life. As a goodwill gesture, Regina presents the tart to Emma. Her problem is solved. She's back in control.
Snow's friends find her, but she is not breathing. They believe she's dead. The Queen watches through her mirror and revels in her victory. In Storybrooke, Regina gloats to Mr. Gold over her anticipated victory over Emma. She used magic, and with magic, there's always a price to pay. Once Emma eats the apple, the curse will be stronger and the price won't matter. The Queen will win, again.
Emma breaks the news to Henry that she's leaving Storybrooke. Henry believes Emma is the only one who can stop Regina. He understands that Emma can't believe in the curse. He sees the tart. He warns Emma that it's poisoned. Regina is trying to trick her into eating it, then she'll be rid of the Savior. Henry grabs the tart before Emma can. He knows there is only one way to convince Emma the curse is real. Henry takes a bite of the tart and falls to the floor, unconscious.
The stage is set for the finale of Season 1. In an interview with TVLine, creators Edward Kitsis and Adam Horowitz described the finale as "severely intense". For the creators, their goal for the end of the finale is to have viewers saying, "What the hell are they going to do next?" and to leave them at the end with a "combination of satisfaction and intense surprise."
The season finale of Once Upon A Time will start one minute earlier than normal Sunday. Be sure to tune in early or adjust your recording time. I'm sure you wouldn't want to miss even a minute.